"I have not done my recovery disks on my Windows 8 laptop yet and i forgot my password for my laptop! I've tried everything, help!"
No matter which situation you are troubling in forget laptop password in Windows 8, you don't need to worry at all. Here we gonna introduce four ways to you to solve this problem. Choose the way that works best for you.
Part 1. Free Ways to Solve Laptop Password Problems
For resolving the forgotten laptop password on Windows 8, there are multiple ways out there. But, we would introduce you with the freeways first in this segment of the article. Let's see the freeways what's in store.
Bypass Windows 8 password with Command Prompt
The first method for tackling the forgotten laptop password on Windows 8 laptop is by bypassing the Windows 8 password using command prompt. This method shows removing or resetting the user account password. Though, you need to stay careful, as this process will make your Windows 8 laptop vulnerable. Assuming that you have lost the user account password and have admin access to the laptop.
First login to your system and find power user menu. You can click the'Start' button while tapping'Windows' + 'X' keys simultaneously.
Now, click on the'Command Prompt(Admin)' option to launch'Command Prompt'. This command prompt has admin access.
You got to enable the'User Account Control' option followed by typing'control userpassword2' within the command prompt field. Hit the'Enter' key to move ahead.
Uncheck the option reading "Users must enter a username and password to use this computer" checkbox. It will disable all the user account login passwords.
Enter the admin password twice after hitting'Apply'. Click'OK' to exit the setup.
Reset Windows 8 Password with Reset Disk
The next method is resetting the forgotten laptop password on Windows 8 with the help of a reset disk. You got to remember, though the process is free. You have to create a reset disk beforehand, to allow the password reset activity run smooth. A reset disk created over the same system is used to unlock it in future. Let's assume that you already have a password reset disk for your Windows 8 laptop. Here is what you can do:
Enter wrong passwords on Windows 8 laptop for multiple times. The password reset link'Reset Password' is visible right under the password box now. Press'OK' now.
Click'Reset Password' link and the'Password Reset Wizard' pops up here.
Hit'Next' and plug in the password reset disk to your laptop. Pick the drive and hit'Next'.
Set a fresh password when prompted, confirm it and hit'Next'. Click on the'Finish' button at the end.
Unlock laptop with Windows 8 installation CD
The last method in this section to resolve "I forgot my laptop password for Windows 8" is using the installation CD. You got to install the Windows 8 from the CD and reset password for free.
The installation wizard appears as soon as you boot your laptop with the installation CD. Don't hit install now. Press the'F10' and'Shift' keys simultaneously and command prompt is launched.
In command prompt, you got to replace'utilman.exe' and get'cmd.exe' instead. Make use of these commands to serve the purpose.
"D:" and push Enter.
"cd Windows", hit Enter.
Again type, "cd System32" and then Enter.
"ren Utilman.exe Utilman.exe.old" followed by Enter.
Subsequently, type "copy cmd.exe Utilman.exe" and Enter again.

Now, exit the installation disk and restart laptop.

Press the'Ease' icon over the bottom-left to run Command Prompt. Type 'net user username newpassword' within the Command Prompt interface. It resets the laptop password.
Restart the PC and login to your user account with your new password.
Part 2. Using PassFab 4WinKey to Reset Laptop Password
We would introduce the best method for combating forgetting laptop password on Windows 8 issue is using PassFab 4WinKey. Though, the freeways can reset the local user's password. They are just not capable of resetting an admin password which can be effortlessly done using this powerful application PassFab 4WinKey. Creating a new user for a locked computer is also possible with this software.
Step 1: Get the software installed on your laptop and run it. Connect an empty USB flash drive and click the'USB Flash Drive' option from the program window.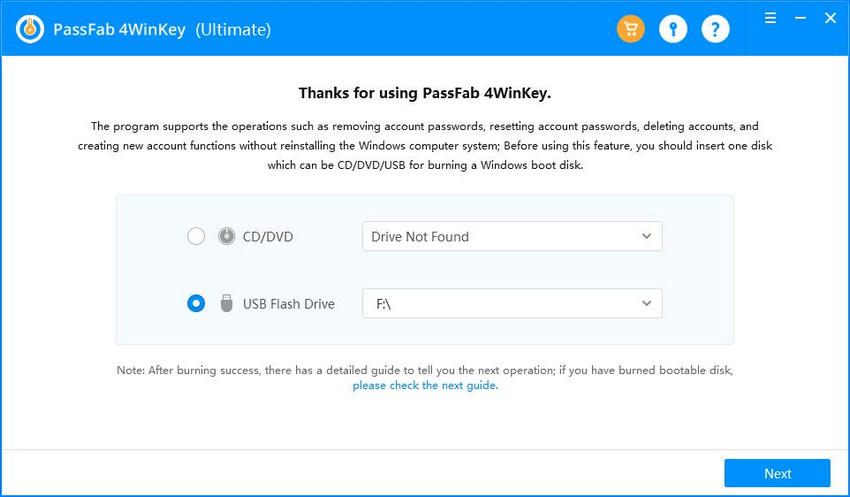 Step 2: Burn the software by hitting the'Burn' button and then click'Yes' from the popup window. After the disk is burned, tap'OK' and eject the flash drive.
Step 3: Reboot the PC and press the'F12' /'Esc' button to enter the Boot Menu. Select your USB drive as the boot media and click'Enter'.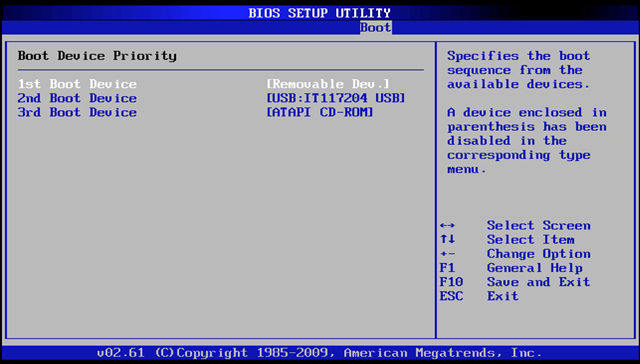 Step 4: Choose the operating system as'Windows 8' from the'Select Windows Installation' screen and opt for "Reset your password" option from below. Hit'Next' and select the account name you want to reset password for. Again press'Next'.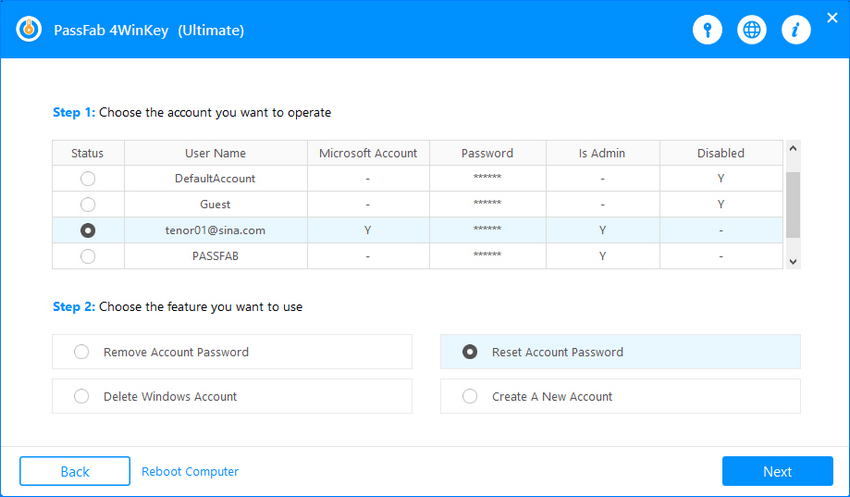 Step 5: Restart computer by hitting'Restart Now' button right after pressing'Reboot'.
Final Words
With this we now conclude today's post and hope that you now have full understanding on what to do if you forgot laptop password in Windows 8. We appreciate your time and do hope you enjoyed reading the article and liked our efforts. If you have any query, please feel free to ask it using the comment section below.