If you are just upgrading from Windows 7 to Windows 8 users, you may required to enter your Administrator password. If you forgot the password, how to do? Actuallt, you don't need to worry about it. There have an easy way will help you reset Windows 8 Administrator password for free. Besides, if you have doubt about change Microsoft password we also have a solution for you.
Part 1: Reset Windows 8 Administrator Password with PassFab 4WinKey
If you want to save your time with 100 percent recovery result, we recommend you to use PassFab 4WinKey. Because the free ways not easy to operate, if you make a mistake, you may destroy your computer. By using professional Windows password recovery tool you can reset the password easily and safely. If you are interested in it, please check it below or you can check part 2 directely.
Step 1. Download and install PassFab 4WinKey on your accessable PC or Mac, then select any media on which you want to burn (CD, DVD, USB). Here we are using USB.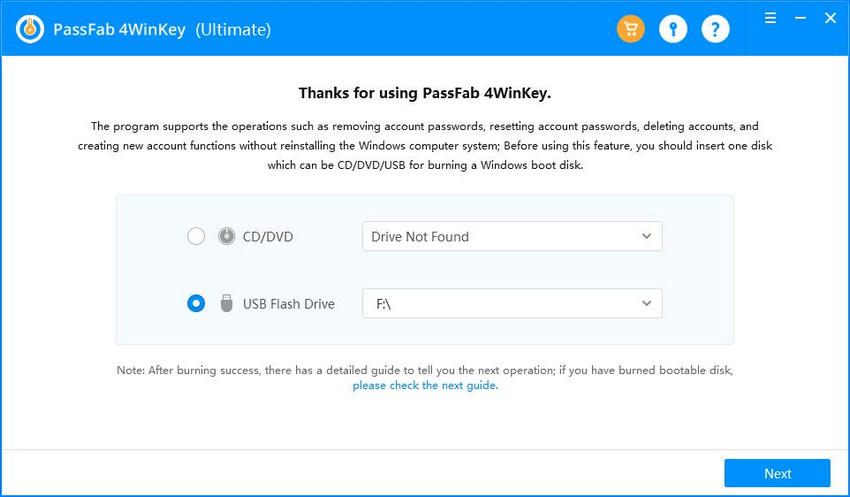 Step 2. After clicking on "Burn", software will prompt about formatting your USB. Click "Yes" and burning will start. It will take some time to burn your drive but as burning completes it will prompt success message on your screen.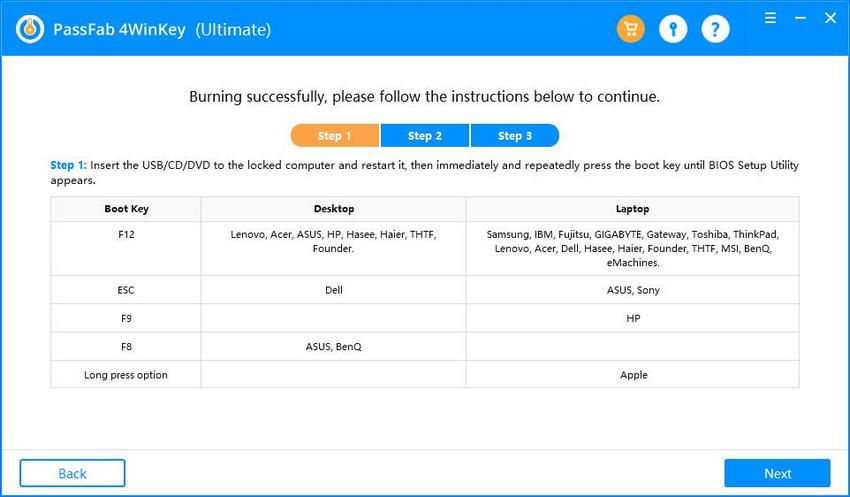 Step 3. Now reboot your system and let it boot from your media that you have just burned. After successful boot you will see a list of options including your USB/DVD/CD drive name. Locate and select your media.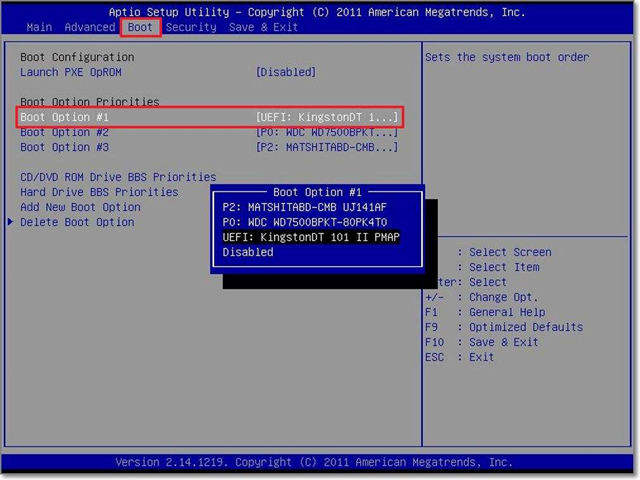 Step 4. Once you've entered the locked Windows from boot disk successfully you can change password as well. Now select your Operating system and click "Reset password".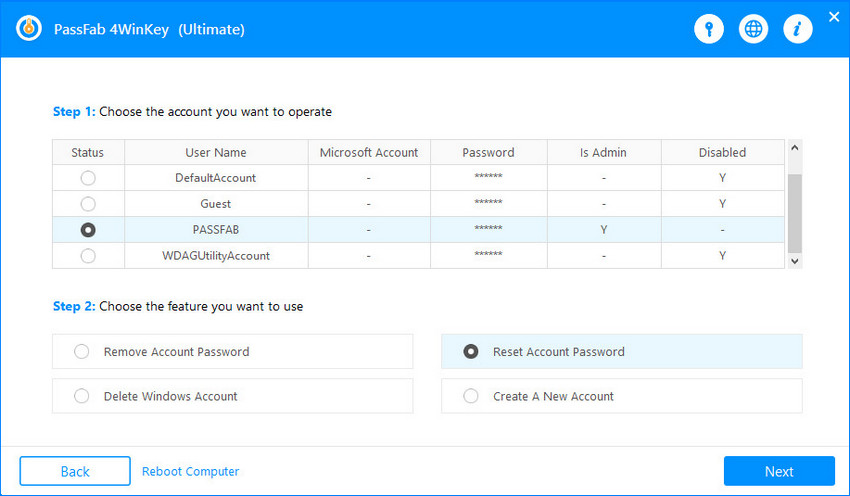 Step 5. After that you will see list of usernames. Go find yours and select and add new password in the box given below and press "Next".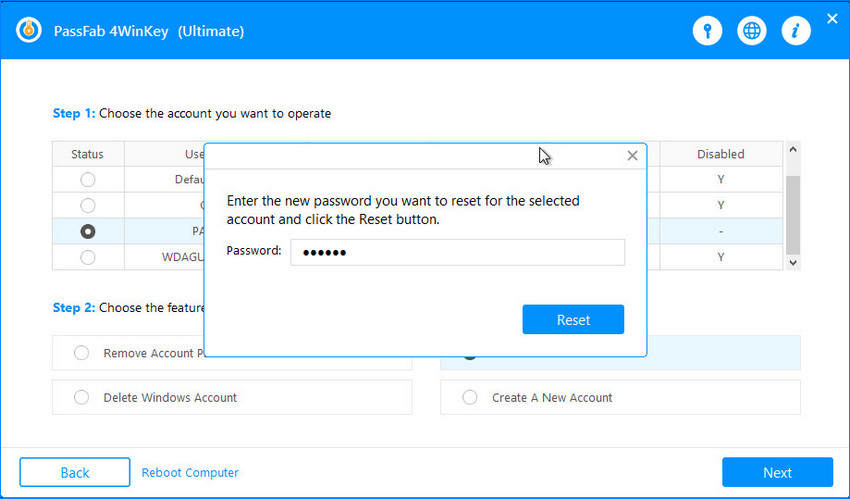 Step 6. After successful resetting click "Reboot" and sign in with your new password. Don't forget to remove media before rebooting.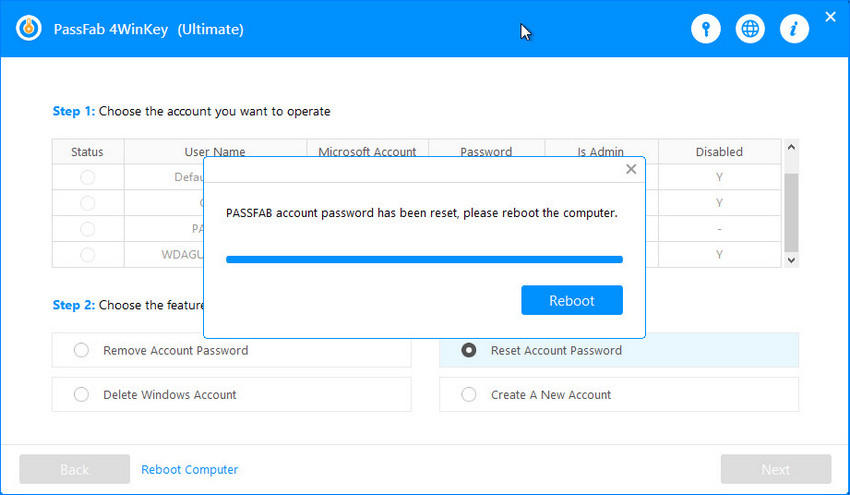 Part 2. Reset Windows 8 Administrator Password for Free
There are many free ways for resetting Windows 8 password, but not all of them can be mastered. Because some ways too complicated to operate it. In here, we will introduce two easy ways.But you must know that the free way has some limitations. I will list it in each way.
1. Using Reset Disk
If you created a password reset disk before your computer got locked then you can use this way to reset the Administrator password. If you didn't, you need to use
Windows password recovery tool
to create one.
Step 1. Enter any password that you remember in password field and press Enter.
Step 2. System will generate error message that "Password is incorrect" but don't worry again press Enter.
Step 3. Hint will be shown along with the password reset link.
Step 4.Now plug-in the disk that you created for resetting password. Now select reset password option. Password Reset wizard will be started as you press reset password. Click "Next" from the wizard.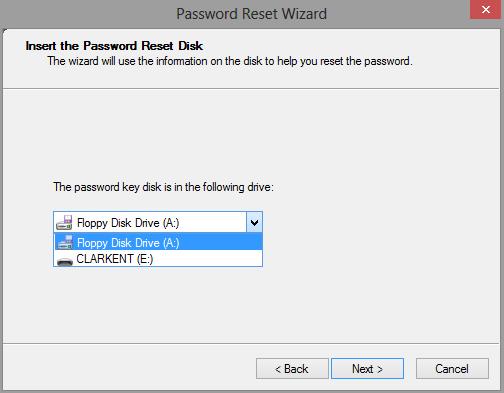 Step 5.Now you will be asked to select drive which contains reset password information. Select your remove-able device and click "Next".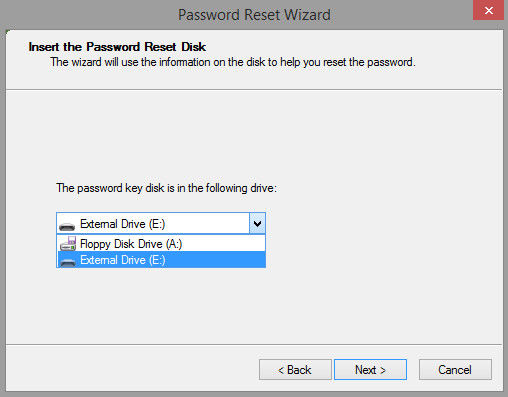 Step 6.If your disk contains information regarding password you will be asked to setup a new password. After setting new password click "Next".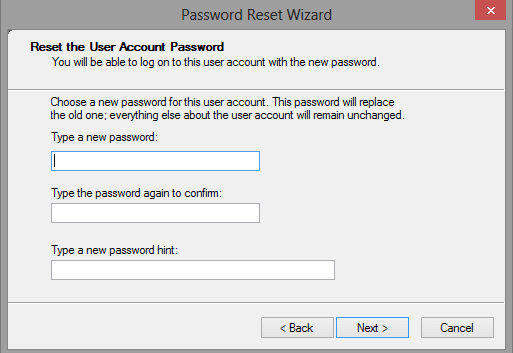 Step 7.Your password has been changed successfully. Now you can log into your computer with new password.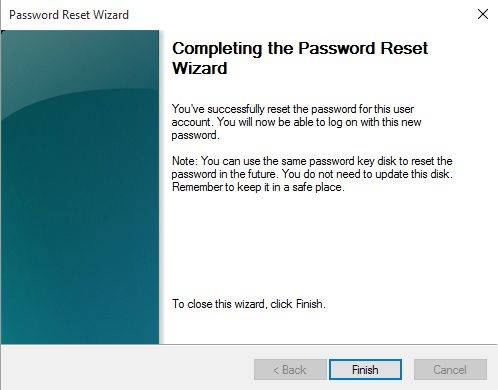 Problem with this solution is that only a handful of people know about password reset disk and among them some don't find it useful to create, so if you don't have it don't worry we are not finished giving solutions.
2. Using Command Prompt
Another option for Windows 8 administrator password reset is using command prompt (CMD). If you are not aware of CMD's interface don't worry its really simple. you will be needing Windows 8 DVD or burned on flash. Just go step by step:
Step 1.Insert DVD in DVD ROM or flash in USB port and restart system. System will boot from DVD and will ask you to select language and keyboard layout.
Step 2.After choosing, you will see "Troubleshoot" option, then select "Advanced options" in Troubleshoot screen and click on Command Prompt from the options. CMD will pop up.
Step 3.Type your drive name where your OS was installed by default it is in C so type "c:" (without inverted commas).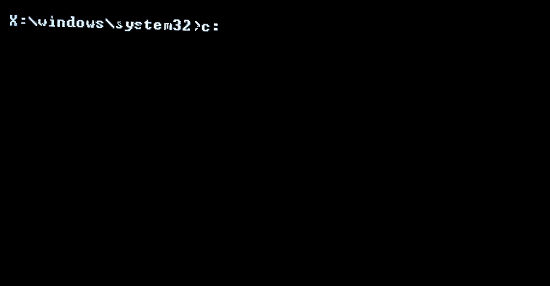 Note: For every command in CMD don't use inverted commas. These are placed to differentiate commands from text.
Step 4. Now type "cd Windows" and press enter.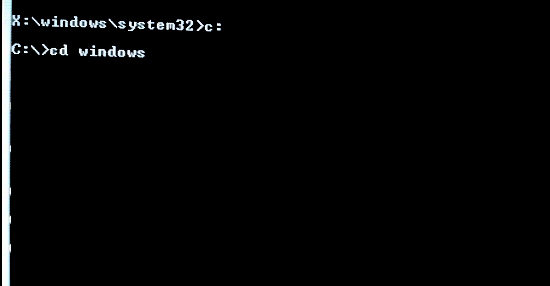 Step 5. Now type "cd system32" and press enter.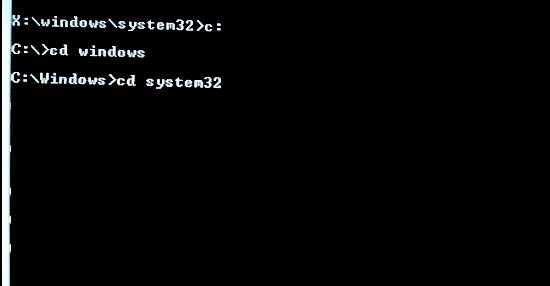 Step 6. Now type "copy cmd.exe cmd.exe.cmd2". Press enter. You should now see 1 file copy confirmation.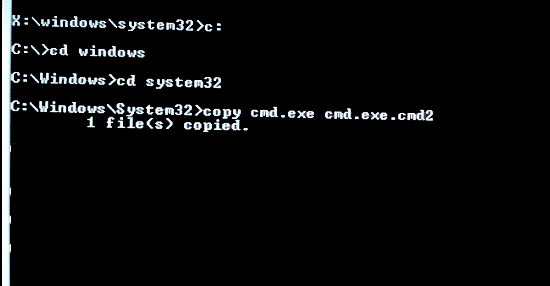 Step 7. Then type "copy Utilman.exe Utilman.exe.Utilman2" and press enter. You should now see another file copy confirmation.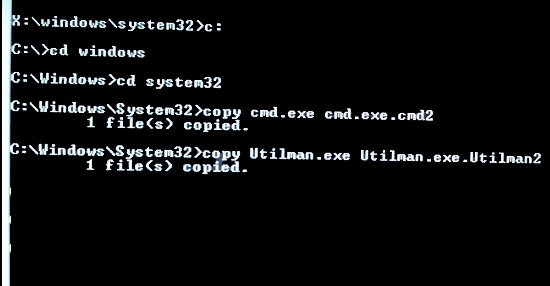 Step 8. Now type "del Utilman.exe" press enter. Again type "ren cmd.exe Utilma.exe" and press enter.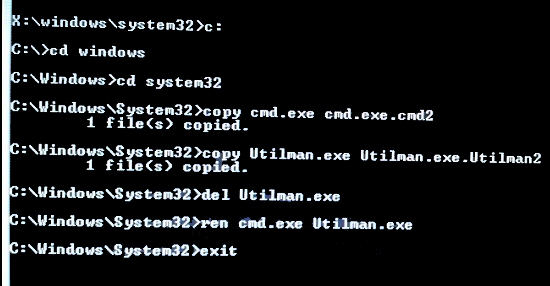 Step 9. Now remove DVD or flash from which you booted in 1st step and restart your PC. Once login screen appears click "Ease Access icon" on bottom left corner of your screen which will open CMD again.
Step 10. Now type "net user" and press enter.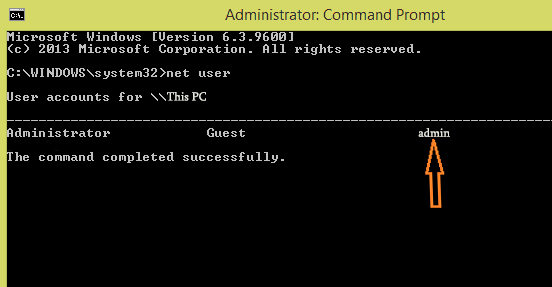 Step 11.You will see name(s) of your account(s). Now type "net user account_name *" (account_name the name appears on screen, in my case its admin) and press enter.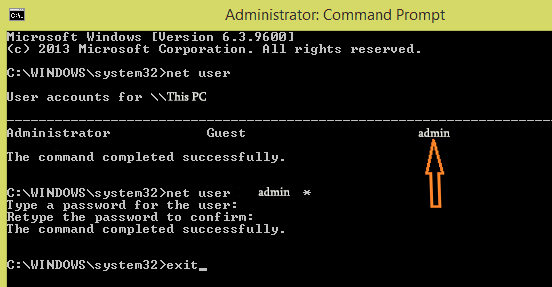 Finally, you will be asked to type and retype your new password. Type password and close CMD. Now you can login with your new password.
Summary
Now with these solutions especially with PassFab 4WinKey it is easy to reset Windows 8 admin password. Now you can also use complex and strong passwords to secure your files without any fear of losing data. By using this tool you can also reset Windows 10 password easily. Please let us know if you have any further question.