Almost every other person who uses Windows to protect it with a password. There are some times when people actually forget their password for Windows. People actually try to recover their old password for their Windows as they don't want to lose all the precious data they have stored on their device. For that reason, there are large number of Windows password recovery tools to unlock Windows password, and one of them is NTPasswd. In this post, we will discuss about a Windows password recovery freeware - NTPasswd and the alternative to it.
NTPasswd was actually based on Windows 95 design but it had every single new feature. So basically, it was a very efficient operating system in an old design. NTPasswd provided the feature of unlocking the password from any other NT computer regardless of the user account this system is using. NTPasswd can be applied to any version of the Microsoft Windows.
Part 1: How to Reset Windows Password with NTPasswd Freeware
Step 1. First of all, download NTPasswd from another computer which you may get it from https://pogostick.net/~pnh/ntpasswd/. Insert a CD/DVD to another computer and burn its ISO file to it. Right click NTPasswd and choose "Burn disc image".

Step 2. Once the burning is finished, take CD/DVD to your locked computer. Enter BIOS and choose to boot the computer from CD-Rom.

Step 3. Restart your computer and you will see main interface of NTPasswd. Choose the Windows system that you would like to reset the password.

Step 4. Enter to start the password reset process, then select "Edit user data and passwords" by pressing Enter.

Step 5. Select the user account which you want to reset forgotten Windows password. Then hit Enter.

Step 6. Choose "Quit editing user, back to user select" and go ahead to next step.

Step 7. Type "Y" to confirm writing back the changes to the User data. The Windows password reset process is finished.

Part 2: Best Alternative to NTPasswd - PassFab 4WinKey
Password helps you secure a lot of things but can become a pain if you forget it. Recovering the password is not that easy as you have to go through a booting process. Some people immediately re-install the Windows as they don't know how to unlock the password. However, there's is a program named 4WinKey, which is able to reset or remove Windows password easily and quickly. By using PassFab 4WinKey, you can unlock any Windows login password very easily.
Some of the key features of NTPasswd and PassFab 4WinKey are as follow.
| | |
| --- | --- |
| NTPasswd | PassFab 4WinKey |
| You go through a complete boot process manually. | It does the whole process within some clicks only. |
| You can find it on many websites but they can't always be trusted. | It has a free trial and provides you a trusted source. |
| As you have to go through the process manually, it takes more time. | This tool does it itself and consume less time. |
PassFab 4WinKey provides you 100% Windows password recovery surety. To do so, you need to follow these simple steps.
Step 1: Run the program and select the USB you want to make boot into.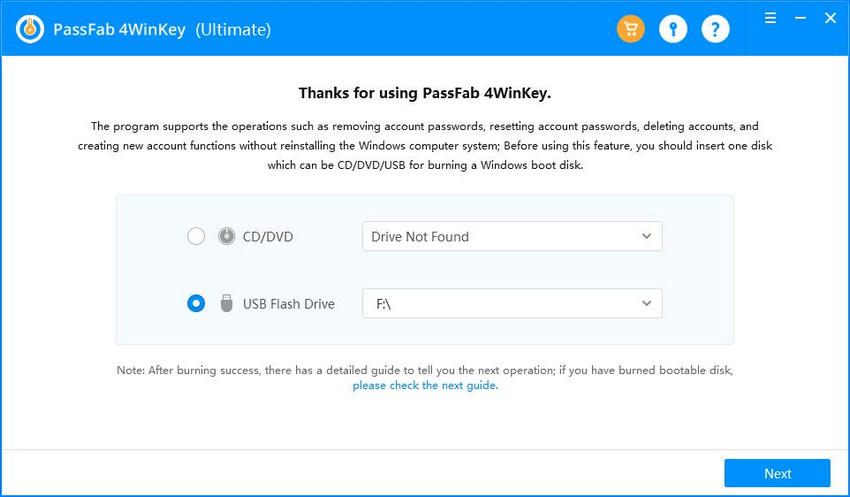 Step 2: After selecting the USB, click on Burn. After some time, your USB will be burned successfully and will be ready to be used as a bootable device.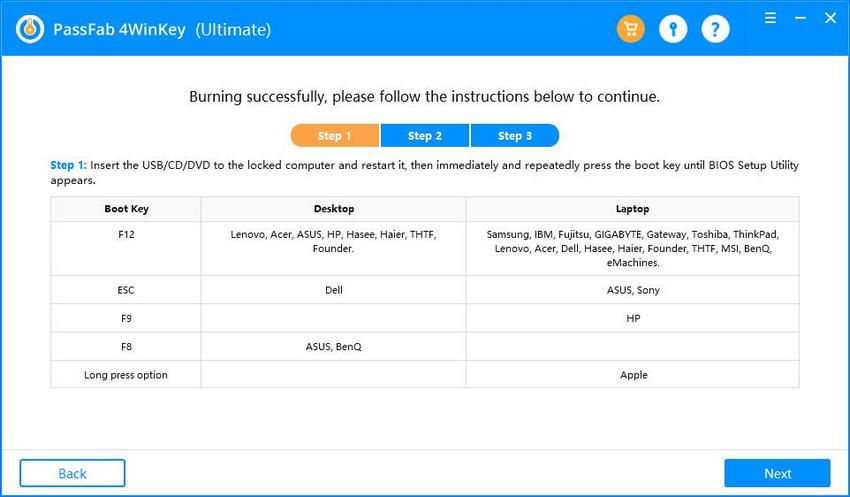 Step 3: Restart your computer and go to the boot menu and select your bootable USB to boot the computer.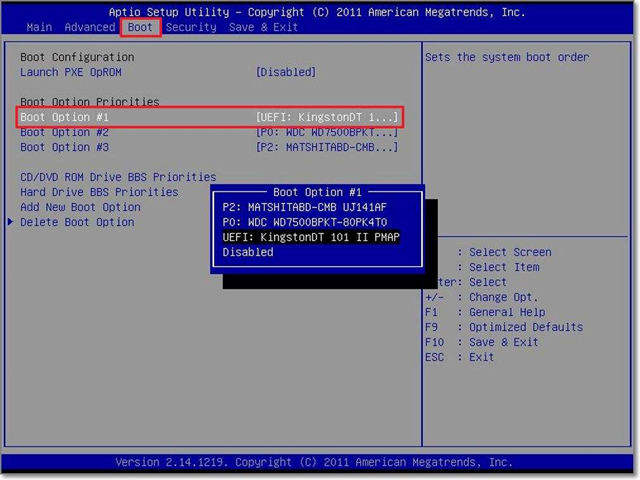 Step 4: Once the boot is done, you have to select the operating system for which you want to bypass Windows password.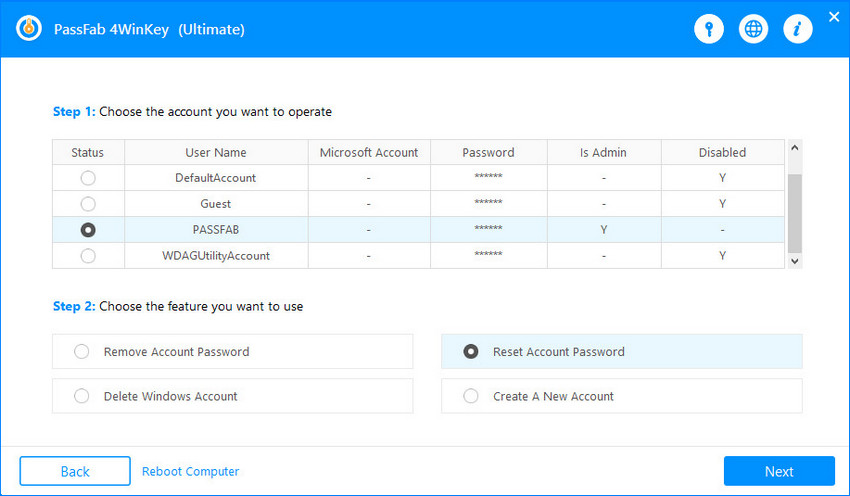 Step 5: Now that you have selected the operating system, select the user account for that particular operating system and press next.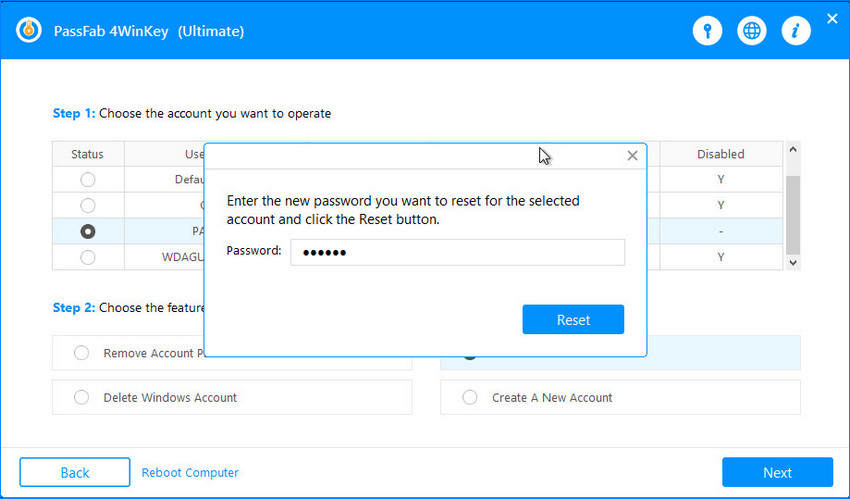 Step 6: When you press next, your password for that particular user is automatically set to blank.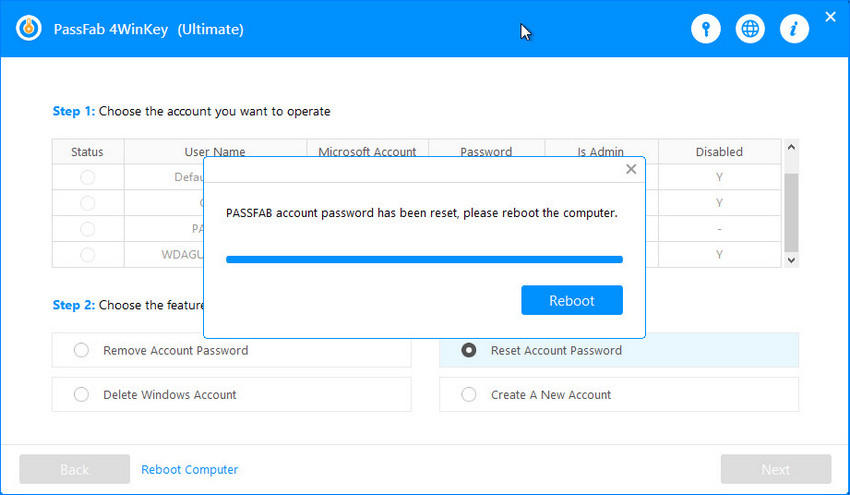 Step 7: Finally, click on Reboot button and then select Restart Now to remove the password from your Windows.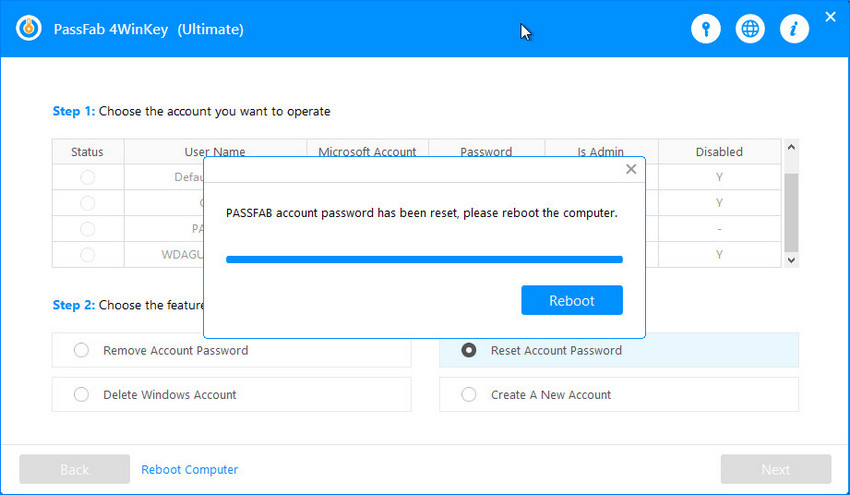 Summary
This article is about NTPasswd through which you can boot your forgotten Windows password. We also describes a professional alternative to NTPasswd, known as PassFab 4WinKey, that is very efficient and easy to use. If you have any other solutions than these, feel free to tell us and we will look into it. Thank you.