Windows Xpand Windows Vista will never get outdated because users are extremely loyal to both these versions. However, you might run into problems with them if you do not remember the Windows password that you set upin the beginning. This password helps you access the Windows OS and your administrator account, and you will need to remove it if you want to restore access.
There are different ways how you can remove your Windows password, but PassFab 4WinKey is one of the most functional which allows you
remove Windows Vista/XP password
easily.
Part 1. How to Remove Windows XP/Vista Password Using PassFab 4WinKey
This software will not burn a hole in your pocket, and yet give you access to your Windows in case you forget the password. It is compatible with almost all Windows operating systems. There are two ways that you can use PassFab 4WinKey. You can either use a CD/DVD or a USB to get the job done. Both the methods are easy, and will not take upa lot of time.
By CD/DVD:
1. Once you have launched PassFab 4WinKey, you will have to select your boot media, which in this case would be CD/DVD.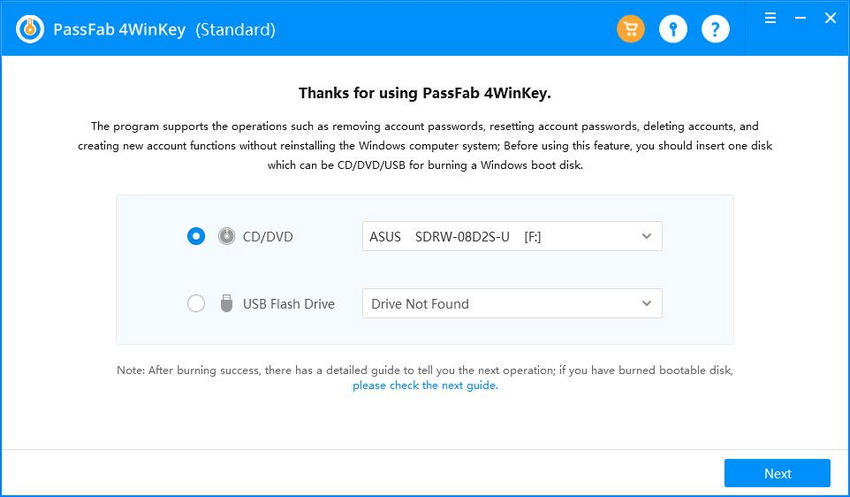 2. Press "Burn" if you want to start the burning process. A prompt will inform you that burning the boot disk will lead to the CD/DVD getting formatted. This will lead to complete loss of data.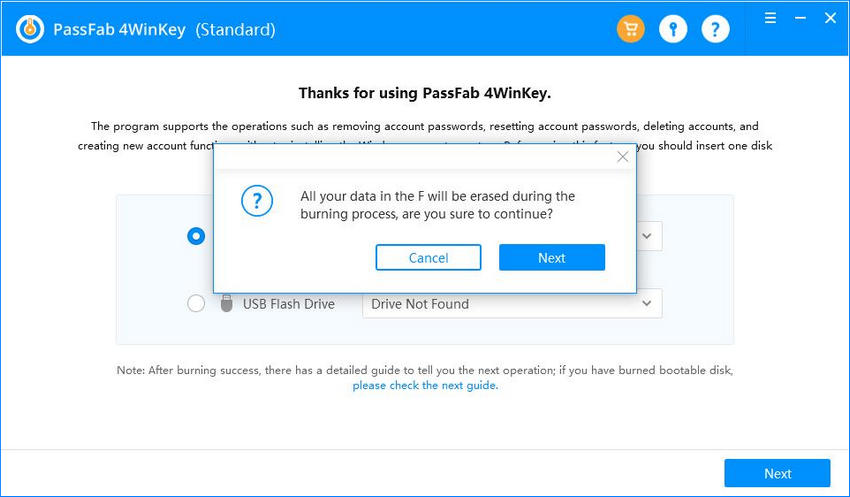 3. If you select "Yes", it will begin to burn theBootable CD/DVD.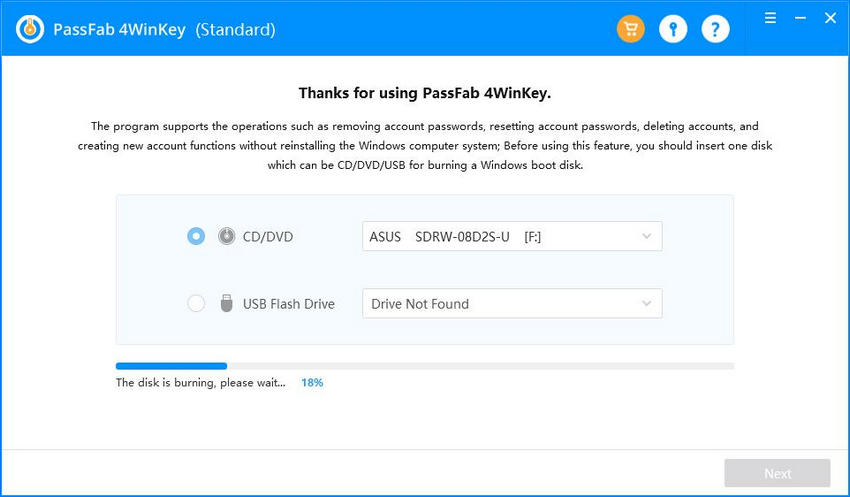 4. Give it some time, and you will find that the CD/DVD has been burned successfully.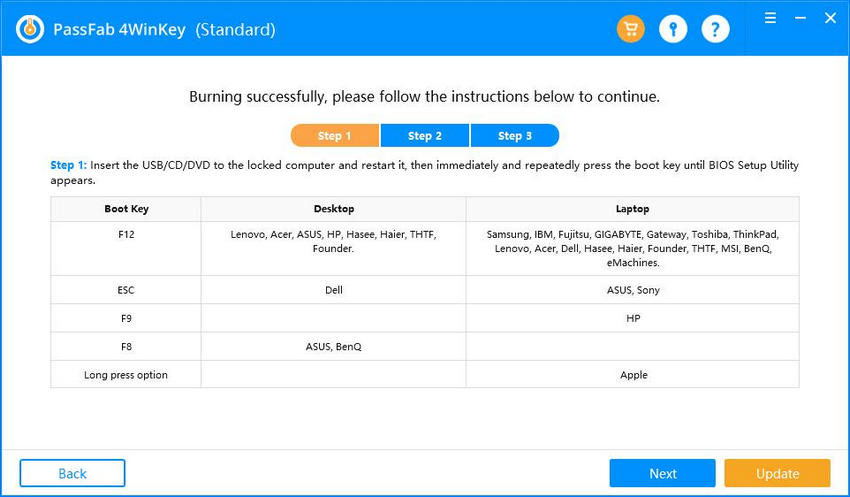 By USB Flash Drive:
Note: USB flash drive is only supported in Professional or higher
1. The steps of burning Bootable disk almost same, you only need to insert the USB flash drive into the locked computer choose USB flash drive option. Then continue the process no matter the Bootable Disk is CD/DVD or USB flash drive.
2. Restart the computer, and then click on "F12" or "ESC" to get into the Boot Menu interface.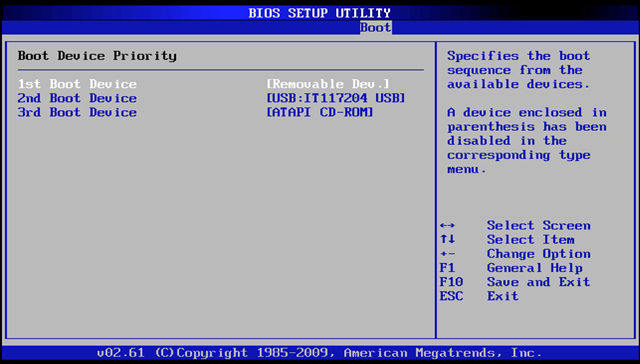 3. Once you have entered the Boot Menu, you will find that there is a list citing all your boot choices. If you inserted a CD/DVD drive, you would be able to identify from the DVD/CD name. A USB device will be identified in the same way. All you have to do is use the arrow keys to select it and then press Enter.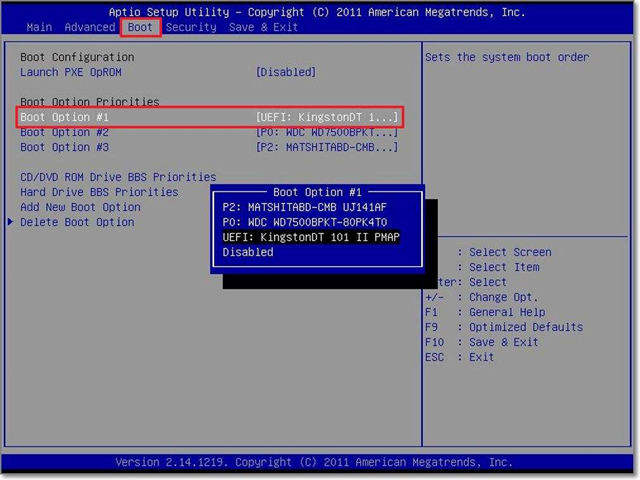 4. Now that you have managed to enter the locked Windows, you will be able to use PassFab 4WinKey to remove vista password or remove Xppassword. Select your OS and then press Next.
5. Select the account that you want to manage from the list and then click Next to remove the password from it.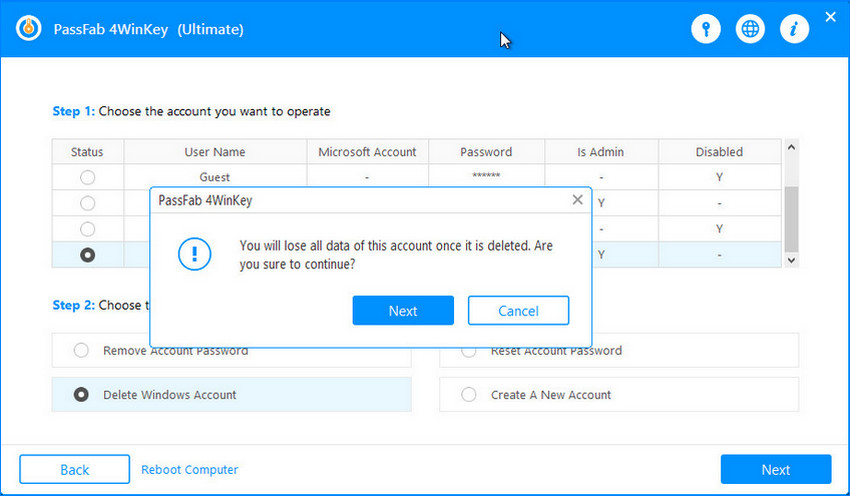 6. Now you need to reboot your computer so that you can log into the Windows system afresh.
Part 2. 5 Reasons Why You Should Choose PassFab 4WinKey
Compatible with all Windows versions: The PassFab 4WinKey works well with all Windows versions including Microsoft Windows Vista, XP, 10, 8, 7, and 8.1.
Works with a range of different passwords: You can also use this software to bypass Windows 10 Login password or reset Windows 7 Administrator password. Moreover, it will also work with Microsoft Office depending on the version that you are using.
Offers a choice of boot media: You can either use a CD/DVD or a USB according to your convenience, and that is one of the biggest advantages of using this software.
100% recovery: Other software will often not give you assurance about how much data you will be able to recover. On the other hand, PassFab 4WinKey promises you 100% rate of recovery and is extremely reliable. You can also simply reset the forgotten password to make the process hassle-free.
Easy and simple interface: If you are a beginner who does not have much experience in using Windows password recovery, then this software will be perfect for you. It is uncomplicated and effective at the same time.
Summary
I believe you already know how to use PassFab 4WinKey to remove Windows XP/Vista password after reading this tutorial. Besides, this way also suits for remove all kinds of Windows password on all Windows version. So, you don't need to worry Windows password problem anymore. If you still have questions need to ask please leave the message below to let us know.