"When I login my account on Windows 7, I got an error message: The user profile service failed the logon. User profile cannot be loaded. What should I do?"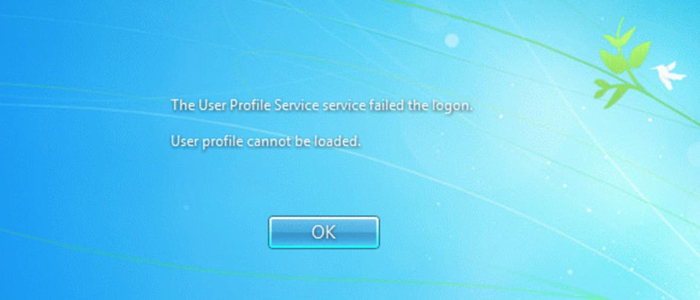 If this is what your error message being displayed on your computer screen. No need to panic or lose hope. There are 2 explanations for that. First, a recent Windows update has corrupted your user profile. Secondly, the user profile corruption might be due to a malware attack. In this article, we are going to explain you the solution for getting rid of Windows 7 user profile service failed for once and all. Keep reading to explore more!
Step by Step to Fix User Profile Service Failed the Logon
When you encounter user profile service failed the logon Windows 7 issues, there are quite a few solutions to help you through. In this section, we are going to explain, how using the "Advanced Boot Menu" option, you can refer to this guide and get going.
Restart your PC and hit the "F8" key back to back until the "Advanced Boot Menu" is displayed on screen. Repeat the process in case you can't see the "Advanced Boot Menu" at the first attempt. After that tap "Safe Mode with Networking" by navigating with the arrow keys and login to your computer system in safe mode by pressing the "Enter" key.
Now, press the "Start" button on your computer as you re-login using safe mode. Tap the "Start" button and go to the "Start Menu". In its search box, type "system restore" and hit "Enter" key right after that. Alternatively, you can also open the command prompt by tapping "Ctrl" + "R" keys and then typing "rstrui.exe" followed by tapping "OK". Then find "System Restore" and hit it.
Here, you need to allow sometime to get it loaded and then need to verify the "Show More Restore Points". Tap "Next" right after that.

Note: You can scan the repositories and replace missing and corrupted files by using third party applications, such as Reimage Plus in case your laptop or computer has issues in doing do.

Decide a restore point after /powsing through the dates while your system was in working condition. Pick the restore point and then tap "Next" followed by "Finish".

Now, your computer starts restoring the system and reboots. You need to login to your system in normal mode once the reboot has been done.

In this step, download the Reimage Plus software and launch it. Let it scan your computer and repair them as well. Go to "Start" and run the command prompt, i.e. "Ctrl" + "R" and then choose "run as administrator".
On the following black screen key in "sfc /scannow" and press "Enter". Within 30 to 50 minutes the system file check scan will be over and the issue gets resolved after that.
Summing Up
Though, the aforementioned method would help you solve problem. What if there is some other crucial system issue that Reimage Plus can't take care of? In such a crucial situation, you can look for a more reliable and trustworthy option. PassFab 4WinKey in that matter sounds a feasible option to opt for. In case you have forgot the password while rebooting or re-logging into your Windows 7 computer, this tool can efficiently reset, change it to make things easier for you.