Removing the iCloud Activation lock is not easy. But these days, it seems like it is more difficult to select a proper tool for removing the activation lock. There are numerous tools on the market, claiming to be able to do the said task, but ultimately, they are taking money from the people. CellUnlocker is one such popular tool. There are some glowing reviews available online, but you will know more if you check out our CellUnlocker net review.
FAQ 1. What is CellUnlocker?
CellUnlocker is a tool that provides services for unlocking mobiles. They claim that they are capable of unlocking 99% of the available mobiles regardless of their brands and models. This tool provides 2 different unlock services. The first one is Network unlock and the second one is iCloud unlock.
FAQ 2. Is CellUnlocker Legit or Reliable?
Well, CellUnlocker is a legitimate tool. There are hundreds of users from the USA and Canada who claim this tool to be 100% legit. Unfortunately, if you don't live in the USA or Canada, you will have to get permission from your network provider to unlock your mobile.
FAQ 3. Is Cellunlocker Reliable? Does It Work?
CellUnlocker claims to be a reliable tool but and there are numerous claims made for its reliability. But we decided to check it ourselves. Sadly, the results were not good. The tool failed to unlock our iPhone 6 and iPhone 11 Pro Max. And after that, we got an email from the company stating that both of the devices were reported as lost or stolen. Which is ridiculous! Also, we didn't get any refunds.
FAQ 4. Pros and Cons of CellUnlocker
Overall, there are mostly good things to say about the CellUnlocker tool. It has been proven, legit and safe.
Advantages:
Works fast and very effective
Easy to use
Disadvantages:
Very expensive tool
Bad customer service
Refund policy is all over the place
FAQ 5. How to Download CellUnlocker and Use It?
You have to visit www CellUnlocker net for more information. But we can give you a general overview of the procedure. You have to provide all the information about your device. The IMEI, Network, Country, etc. Then, CellUnlocker will scan these details and verify them. Then, they will search for the unlock code. If an unlock code is available for your device, CellUnlocker will email it to you along with the instructions to unlock it.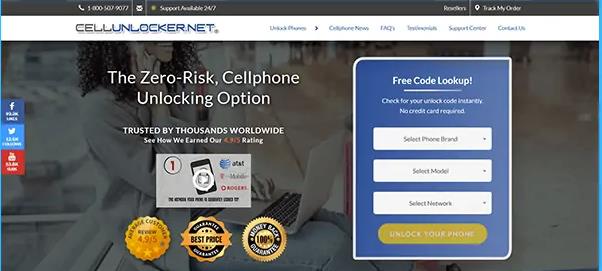 FAQ 6. Is There Any CellUnlocker Coupon Code?
You can check for the CellUnlocker net coupon code. Unfortunately, we weren't able to locate any such coupon codes. We had to pay the full price, which was wasted.
FAQ 7. Cheap Alternative to CellUnlocker
After our research and going through a lot of CellUnlocker net reviews, it is clear that CellUnlocker is not a completely legitimate tool. The service they provide is real, it is safe to use, and there are complications involved. Not only they failed to unlock our devices, but they are also charging a very high price for their services. So, we wouldn't recommend CellUnlocker. So, if you need an iPhone unlocking tool but unable to acquire its services; we recommend using PassFab Activation Unlocker.
PassFab is a capable tool, but it is available at a cheaper price. But there is a catch too. PassFab Activation Unlocker is great, but as the name tells it; this tool is designed only for iOS activation lock removal. It uses a simple method to get rid of the activation lock. You can check out the steps below.
Step #1: Download and then install the program on your computer. Now, click on the 'Start' button to initiate.
Step #2: After that, an agreement message will appear on the screen. Click 'Next' to proceed. Now, connect the iOS device to the computer. The program will detect the connected device automatically.
Step #3: Now, you have to jailbreak the device. Then the program will download the jailbreak tool for you. After that, follow the provided instructions to complete jailbreak.
Step #4: After successfully jailbreaking the iOS device, click on 'Start Remove' to remove iCloud account lock.
This one of the best tools to successfully unlock iCloud Activation lock from an iOS device.
Bottom Line
Therefore, our experience was not good with CellUnlocker. It does have some glowing reviews which make us even more confused. But we don't have good things to say about the tool. It is expensive; there is no guarantee that your device will get unlocked. And if you are expecting a refund after failed tries, then forget about it. So, you will need a better alternative to bypass the iCloud Activation Lock on your iOS devices. The one we are recommending is cheaper too. Get PassFab Activation Unlocker; it comes highly recommended. And we have checked its performance; it really is one of the best on the market.