Part 1:How to Unlock an LG Phone with a Pattern in the Most Efficient way? [100% Works]
Unlocking an LG phone is not easy and is frustrating also at times, particularly when all your important data is in the phone and you can't reset it either. Under such circumstances, you may use softwares to unlock your device. One such tool that will help you is PassFab Android Unlocker.
Here are some of the features of this tool.
PassFab Android Unlocker can unlock Fingerprint, pin and pattern.
It is a good FRP lock-removal tool for bypassing Google account on Samsung devices without password.
It can reset a locked LG phone without password.
These features have proved that PassFab Android Unlocker is a great tool to be used for unlocking LG Stylo without password.Now Let's look at the steps to Unlock LG Phone without Password using PassFab Android Unlocker.
Launch PassFab Android Unlocker on your PC and click on "Remove Screen Lock". After that, use a USB cable to connect both the devices i.e. computer and tab.

For LG phone, click on "Start" to begin the process.It'll give you a reminder: "Removing the lock screen password will erase all data on the device. Are you sure you want to proceed?". Press "Yes" to let it proceed further.

Wait for some time and you won't see the Android Lock Screen anymore. Press "Done" to completely finish it.
However, the only flaw is that you'll lose your precious data using this feature. But that's not the case with all the devices. If you have an early Samsung device, PassFab Android Unlocker will unlock them without the loss of data.The link to the YouTube video of "How to use Remove Screen Lock feature on Early Samsung Devices?" is given below for further guidance:
Part 2:How to Unlock an LG Phone with a Pattern in other Useful Ways?
Here are some of the ways on how to unlock a lg phone pattern.
Way 1: Factory Reset your LG Phone
Factory reset is a good option to unlock your LG phone with pattern but you will end up losing all your data. So, it is important to save all the data somewhere before resetting your device. Here is how you can do it:
First of all, turn off your LG phone.

Then Press & Hold "Volume Down Button" and "Power Button" simultaneously.

Release the Power Button when LG logo starts to appear. Press & Hold the Power Button immediately again.

After that, release all the buttons when factory reset screen is being displayed.

Press the Power Button twice to confirm it. 
That's how you can hard reset your LG phone with a pattern in order to unlock it.
Way 2: Use Backup Pin to Bypass Pattern Lock on LG
A backup PIN, as suggested by its name, is a backup option to unlock your LG phone in case if you forget the pattern. But what if you don't remember this PIN also? No worries, you can follow the below-mentioned steps to bypass the pattern. But this method will work only if you know the details of your Google Account.
After a few incorrect attempts, your phone will ask you to try again in a few seconds. Click "Forgot Pattern?" at that moment.

You will see two options then, one for entering the backup PIN, other is to type the details of Google Account.

Type the "Backup PIN" there along with the details for activating the phone.

It will take some time to reset the screen lock. You can then choose the preferred option for setting up new lock.
In this way, you can easily bypass pattern on LG phone.
Way 3: Use ADM to Bypass Pattern Lock on LG
This is one of the best methods for setting up a new pattern for your LG phone. But you need to have a Google Account to use this way and the LG device must be linked to that account. With ADM, it's easy to locate your device, erase data and change the pattern. Follow these steps to use ADM:
First of all, you need to log in to ADM with the Google Account linked to your phone.

Click on your device's icon, you will see many features there. Click on "Lock" for changing the pattern.

You will then see a new Pop-up window on the screen. Set the new password or pattern and confirm it.
So, these steps ensure that you can use ADM to bypass Pattern Lock on LG easily.
Way 4: Use Custom Recovery to Bypass Pattern Lock on LG
You can remove the pattern on your LG phone using Custom Recovery method also. But you need to have an SD Card to use this method, it will work only if the card is removable.
Follow the below-mentioned steps to use this method:
First of all, download a "Pattern Password Disable" app on your PC and save its zip file. After that, insert the SD Card into the PC for moving the recently downloaded file to it.
Start rebooting your phone in Custom Recovery Mode by pressing "Power Button", "Home Button", and "Volume Up Button" simultaneously.
Once you enter recovery mode, you'll see many options appearing on the screen. Click on "Install" for browsing the "Pattern Password Disable" app.
Install the app and wait for some time. After that, restart your device. If you see a lock screen, start entering random digits to bypass it.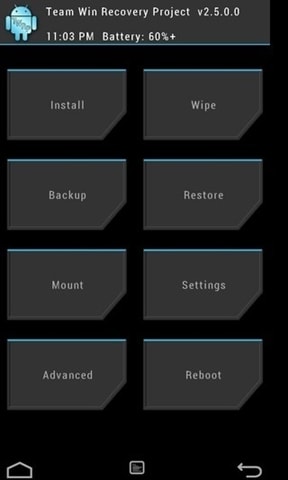 Custom Recovery Method will take some time but it will help you bypass LG phone pattern with ease