Are you facing errors in Windows? Do you want to fix them yourself? If yes, you will learn how to choose the best PC repair software in this guide.
Computer users face different problems such as blue/black screen, booting issues, restart loop, etc. Resolving simple errors is easy, but some require advanced troubleshooting. Besides, resolving them can be dangerous, especially if you lack technical knowledge. Therefore, we brought you a list of the best system repair tools so you can confidently resolve any error within minutes. Besides, we found many people asking the same question on Reddit, i.e., how to choose the best Windows repair software. So, here you go with the best repair tools for Windows。
Part 1: What is the Best PC Repair Software?
What you should consider when choosing pc repair tool
Computer repair software is a set of tools that detects the problem-causing factor on your system and resolves the issue most securely. You can find many such tools on the web, but not all suit every situation. While choosing a PC repair software, you should always choose the one that resolves the most errors. Besides, consider the factors like the tool's performance, security, operability, and success rate. Always use the tool with the best performance, high security, user-friendliness, and maximum success rate.
The best freeComputer repair software
PassFab FixUWin is the best PC repair software that provides the most convenient way to mitigate 200+ Windows errors. Besides resolving the errors like blue/black screen, boot errors, startup issues, etc., it also offers some extra computer management features. Moreover, this tool fully satisfies the criteria for the best system repair tool due to its high performance, super high success rate, and outstanding usability and features. It scans your system to identify the root cause of the error and then resolves it automatically. The interface is user-friendly, so it is much easier to use.
You can use this most recommended tool as follows:
Step 1. Install and Launch PassFab FixUWin
Launch it, and click Create boot disk now.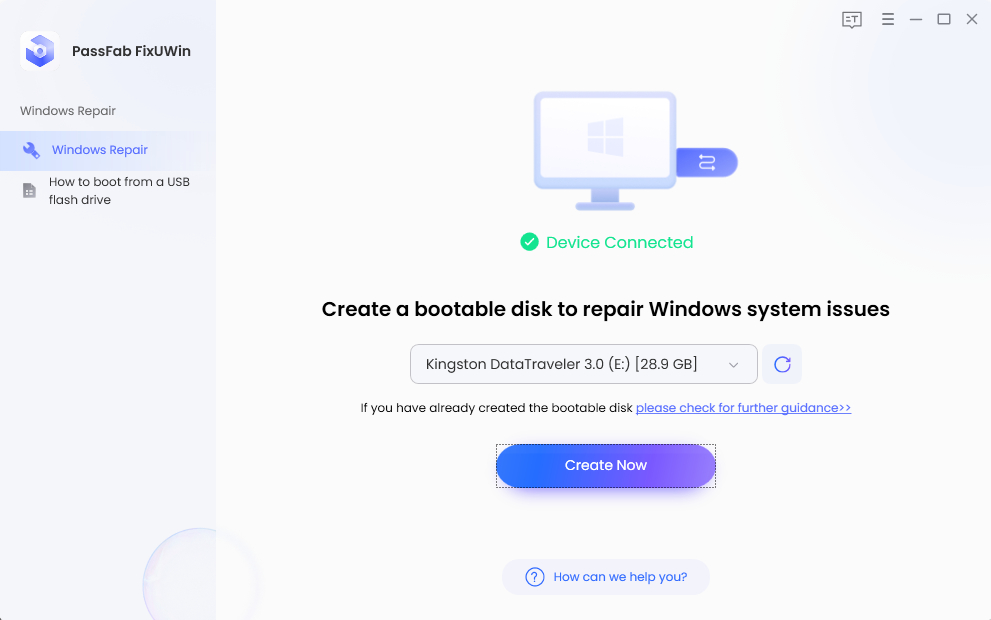 Step 2. Create Bootable Disk
Connect a USB drive to your PC. Choose it within the software and click 'Next'. Wait for the software to prepare the bootable disk.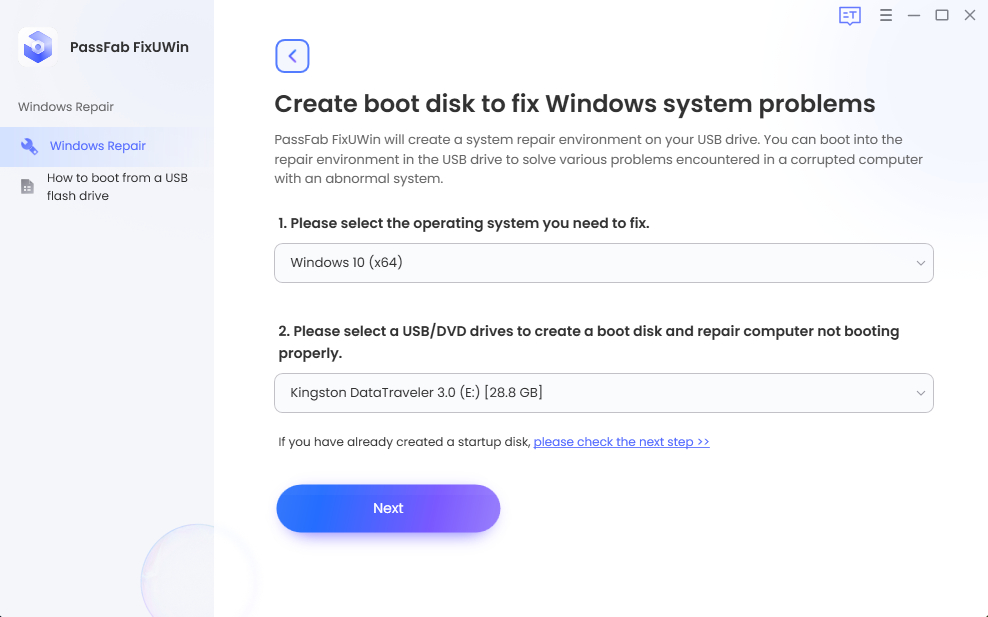 Wait for the bootable disk to be prepared. Once done, switch to the problematic PC and plug in the bootable drive.
Step 3. Configure Boot Settings
With the USB drive connected to the problematic PC, restart the system. Access the system BIOS/UEFI and set the USB as the primary boot device.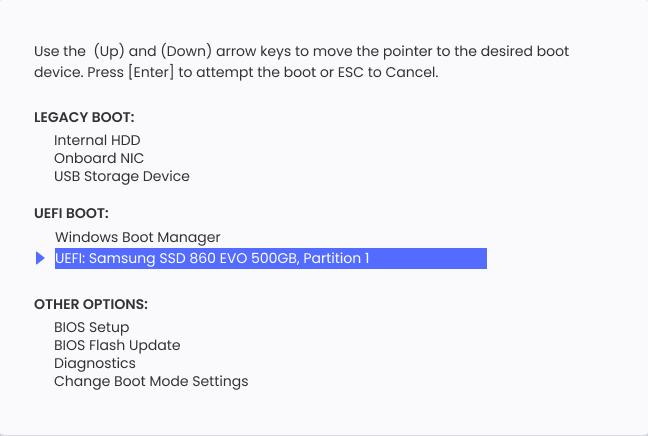 Step 4. Automated Repair
When your PC boots from the USB, you'll see the PassFab FixUWin interface. Select 'Automated Repair' from the available options.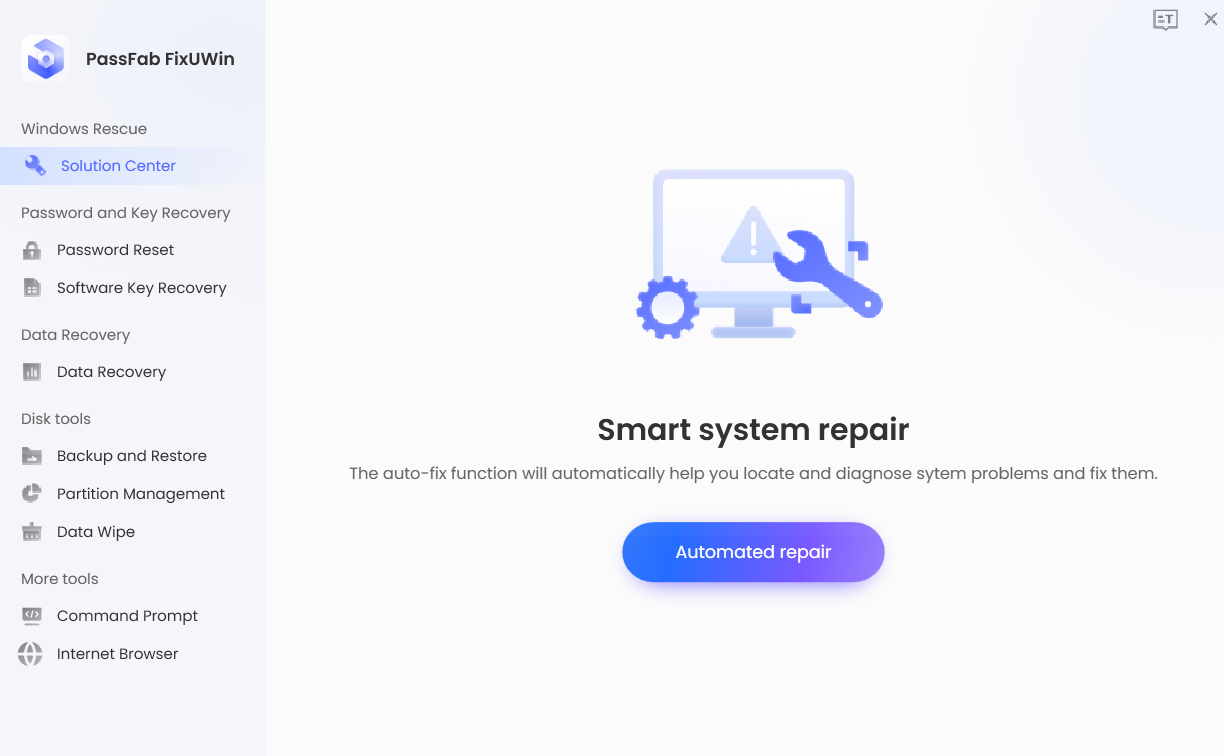 Step 5. Repair Partition
Choose the problematic partition from the list, then hit 'Start Repair'.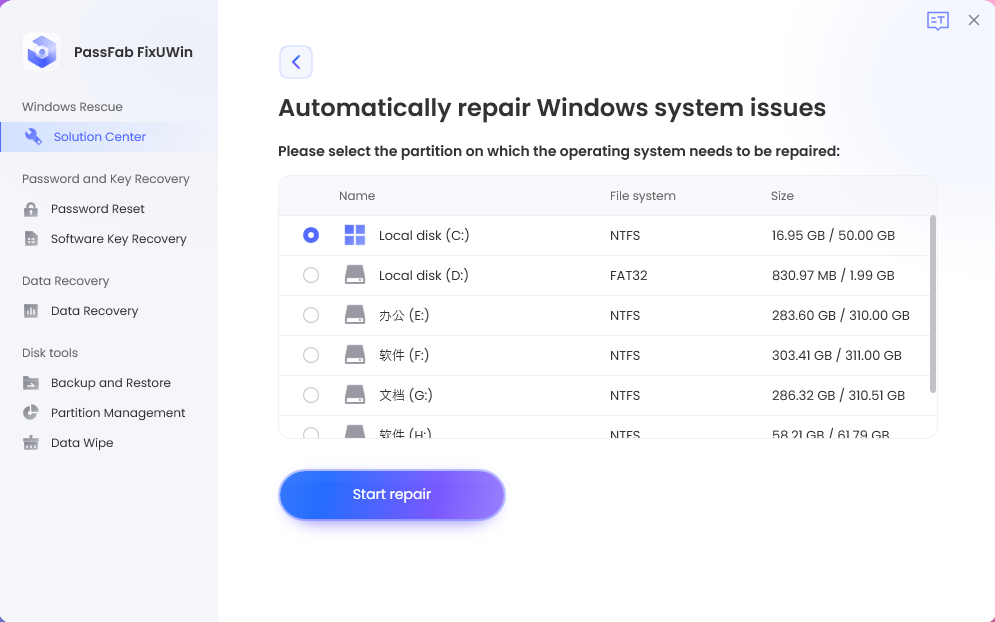 Step 6.Restart your PC
After the repair process, click 'Restart'. Your PC should now operate without issues.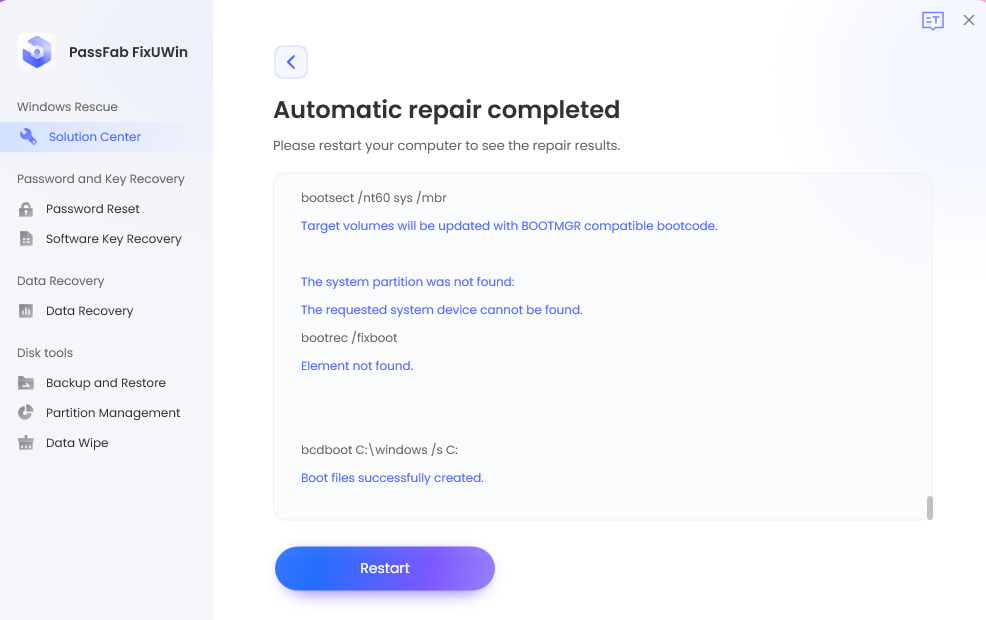 Part 2: Free PC Repair Software for Windows 11/10/8/7
If you don't want to use a third-party system repair software and looking for free PC diagnostic and repair method, you can try the following workarounds.
1. SFC tool
System File Checker (SFC) rescues you when you face errors due to corrupted system files. You only need to run a command in the command prompt to automatically detect the corrupt files and replace them with healthy ones.
Step 1. Open elevated CMD window.
Step 2. Type "sfc /scannow" and press Enter button to execute it.
Please note that this process may take some time because it relies on the amount of data, so it is recommended to wait patiently until the command completes.
2. DISM Command
The Deployment Image Servicing and Management (DISM) is a powerful Windows utility that assists in repairing system issues linked with the Windows image. It is used to fix corruptions within the system's Windows image, which can improve your PC's functionality.
Step 1. Open elevated CMD window.
Step 2. Type "DISM /Online /Cleanup-Image /RestoreHealth" and press Enter button to execute it.
The best PC repair software often includes utilities like DISM to provide a comprehensive solution to system issues. Such software may automate or simplify the use of DISM, making it even more user-friendly and effective. Utilizing DISM in combination with tools like the System File Checker (SFC) ensures thorough system repair and maintenance.
3. CHKDSK Scan
You can use Check Disk scan to repair corrupt drive sectors by scanning every part of the disk drive and resolving the errors if found. The Check Disk (CHKDSK) utility is a powerful tool in Windows for maintaining the health of your hard drive. It checks for and repairs disk errors, addressing both physical issues on the hard drive and errors within the file system.
Step 1. Open File Explorer.
Step 2. Right-click on the drive to be scanned and select properties.
Step 3. Switch to the Tools tab, go to the Error Checking section, and click Check.
After this, an error-checking window will display on the screen, letting you know whether the scan is required. However, it is recommended that you run the scan anyways.
4. System Restore
There is also a tool called System Restore in Microsoft's Windows OS that retains track of important system files to be restored if needed. allows you to revert your system's state (including system files, installed applications, Windows Registry, and system settings) to that of a previous point in time. This can be useful when troubleshooting and repairing PC issues, particularly those triggered by recent system changes.
Step 1. Search "Create a restore point" in the search bar and click the first option.
Step 2. Go to the System Protection tab, and click System Restore -> Next.
Step 3. Select a Restore point, click Next, and Finish.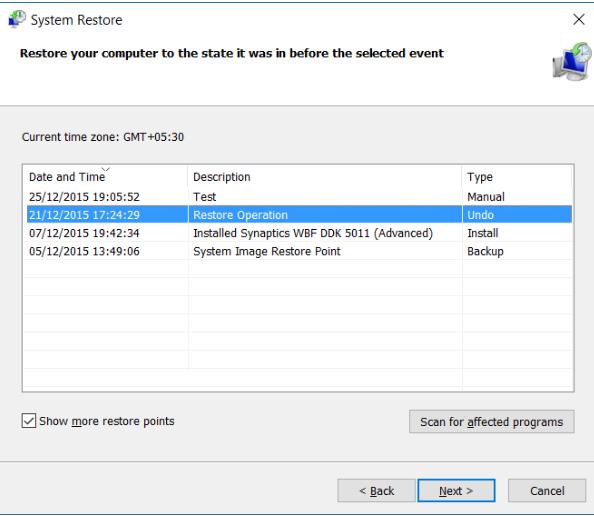 By reverting to a previous state, System Restore can effectively undo recent system and software changes that may have caused instability or other issues. To use System Restore, it must be enabled on your Windows system and there must be available restore points to revert to. Additionally, sufficient disk space is necessary for storing these restore points.
Part 3: Other Free PC Diagnostic and Repair Software
If you found none of the solutions mentioned in the above section helpful, you still have other amazing options to repair your PC yourself. Here are some best free PC repair software for Windows 10/11:
1. Tweaking Windows Repair – Fixes a wide range of errors
Tweaking Windows Repairis a powerful and versatile tool that addresses a wide array of common Windows issues. From registry errors to file permissions problems, Internet Explorer glitches to internet connection and Windows updates issues, and even Windows Firewall problems, this tool provides comprehensive solutions.
Features:
Enhanced performance.
Speed tweaks.
Memory drive cleaner.
Windows drive cleaner.
Cons:
Outdated interface and it appears that the tool hasn't been actively maintained for quite some time, and it requires significant updates and improvements.
2. Fix-it Utilities Pro – Userfriendly and basic features
Fix-it Ultimate Pro is a PC repair tool with options to improve system performance by eliminating errors. Compatible with Windows XP to Windows 10, it has many tools to repair your system in a few clicks. With its privacy-oriented features, you can remove your online and offline activity.
Features:
Resolve Windows Security vulnerabilities.
Reduces loading time.
Enhanced privacy.
Cons:
Takes a long time to scan.
3. Restoro – Best repairing and scanning
Restoro is the best free pc repair software that can resolve Windows errors by scanning the system. This tool securely brings your PC to a healthy state while protecting it from new viruses.
Features:
Replace missing and corrupt Windows files.
Protect the system from viruses.
Free up disk spaces from unnecessary data.
Detects harmful apps in real-time.
Cons:
Limited customization options and advanced features compared to other PC repair tools.
The price is relatively high.
4. Outbyte PC Repair – Overall functionality
Outbyte PC Repair addresses a wide range of Windows problems. It can clean up your drive and optimize performance, improving privacy and security. It is adaptable with Windows 10, 8, and 7 and macOS.
Features:
Detect and remove unwanted files.
Protection against viruses.
Resolves 100+ errors.
Cons:
The tool may not be compatible with older or less common operating system versions, limiting its usefulness for certain users.
Less user-friendly.
Difficult to uninstall.
5. FixUWin 10 – Dedicated problem fixer
FixWin 10 can quickly resolve all the basic to advanced problems in Windows PCs. It has different tools to fix specific problems, and all tools are available on the main screen to help you find the required tool easily.
Features:
Fix File Explorer issues.
Fix internet and connectivity issues.
Disable OneDrive File Synchronization.
Cons:
Users have limited control over the troubleshooting process, as the tool follows predefined steps without offering much customization or advanced options.
6. Microsoft Fix It Tool – Performance enhancer
Microsoft Fix ToolMicrosoft.com is a built-in tool that scans your system, detects the issues, and resolves them. It looks for official solutions from Microsoft and works on all parts of your system, i.e., hardware and software.
Features:
Built-into Windows.
Uses the latest official solution.
Cons:
Lack of regular updates and improvements compared to dedicated third-party repair software.
FAQs
Q1: Is PC repair software safe?
Not all PC repair softwares are safe. Therefore, it is recommended to download the installation file from the authorized sources.
Q2: Does Microsoft have a PC repair tool?
Yes, Microsoft Fix It is a Windows in-built PC repair tool.
Q3: Which software is used to repair computers?
There are many software that you can use to repair pc, as you will find in this article, Restoro, Fix-it Utilities Pro, etc. Above all, PassFab FixUWin is the most recommended one.
Conclusion
Errors in Windows are a frequent event that happens to every Windows user. This guide lists some best free pc repair software to fix corrupted or damaged files. You can use DISM, SFC, CHKDSK, and system restore for minor issues. Besides, you can use other free PC diagnostic and repair software like, Restoro, Fix-it Utilities Pro, Tweaking Windows Repair, and others according to your preference. However, we recommend using PassFab FixUWin for its amazing features.