As a second-hand iPhone buyer, the last thing you want is to finish the payment, only to find there is an activation lock on your newly received iPhone. Although you can find hundreds of iCloud activation lock removal free software on the internet, not all of them can truly get the activation lock bypassed for you.
Keeping that in mind, today we have come with the list of top 5 iCloud activation lock removal that you can't miss. So. Without any further ado, let us dive right in.
Best 5 iCloud Lock Removal Software
1. PassFab Activation Unlocker
PassFab Activation Unlocker is one of the most effective iCloud activation lock removal tool ever made. The software is a hassle-free experience, even for beginners who have no idea what they are doing. And for tech geeks, the opportunity is limitless.
To start things off,
Open the software and click on the Start button at the bottom to initiate the process.

Now you will be faced with the user agreement. Make sure you have read the agreement carefully, and then click on Next to continue.
Now it is time for you to connect your iPhone that you are looking to unlock via the USB cable. The PassFab Activation Unlocker will automatically detect the device.
Once you have connected your iPhone to the computer you are working on, the PassFab Activation Unlocker will automatically start the download of the jailbreak tool required.
Then you will be required to insert a USB Flash Drive to Burn the Jailbreak Environment into.
After that is done, click on Start and you will be greeted with an "Installing the jailbreak tool will erase all data in the USB flash drive. Are you sure you want to continue?" sign. Now click on Yes.

After the environment is burned on to the USB Flash drive, you will be greeted with a jailbreak tutorial. Also, you can scan the QR code to read the tutorial on another device.

Restart the computer, and follow the given instruction to jailbreak your device.

After the jailbreak is complete, simply click on Start remove to initiate the removal.
2. Tenorshare 4MeKey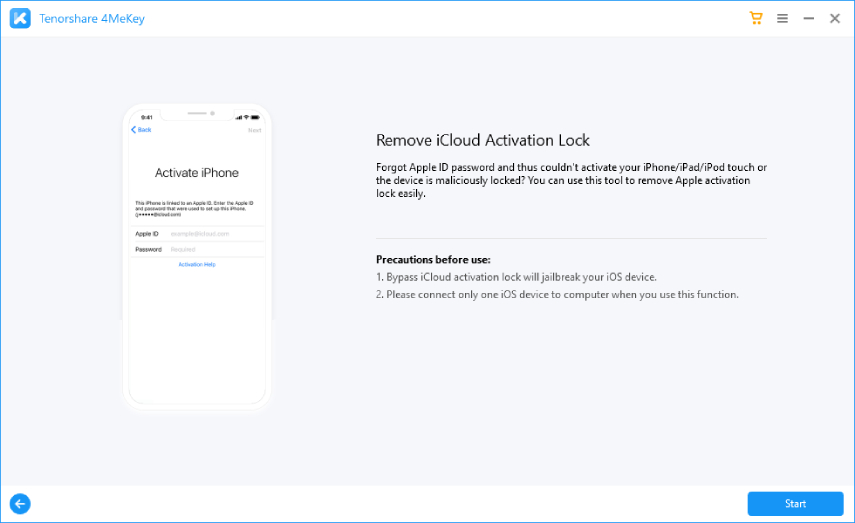 If you forget your Apple ID along with your password for the activation or bought an iPhone just to realize it has an Activation lock-on and no way to reach the previous owner, Tenorshare 4MeKey can be a great help. It is rated to be one of the best iCloud unlock activation lock removal along with the clear winner, PassFab Activation Unlocker. The software offers support from iPhone 5s to the iPhone X.
3. iCloudin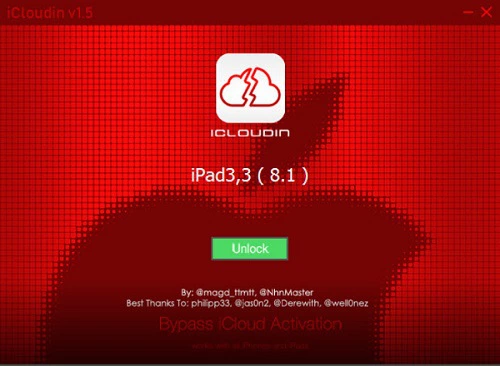 It has become almost five years since the famous iCloudin has been a popular choice for iPhone activation lock removal. The application is still to this day can be downloaded for free on various websites, including the official one.
The iCloudin offers a very simple and effective way to bypass the activation lock for everyone. The only downside of the app is, it is not guaranteed to work on all new Apple devices with the recent IOS version.
For what it is worth, iCloudin does a pretty decent job for the one it is suited for. So, make sure the application supports your device before you invest your time in it.
4. Doulci iCloud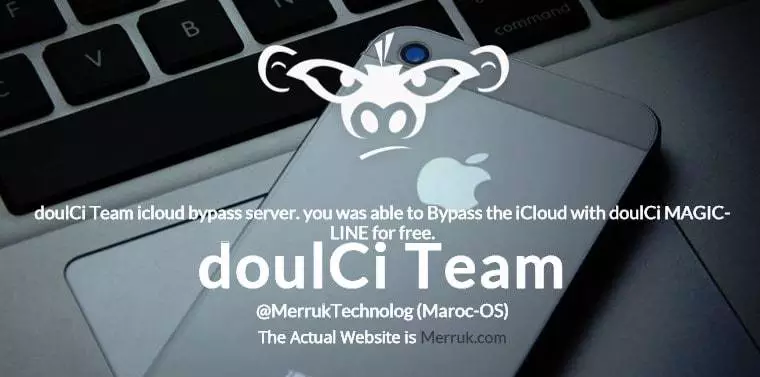 Doulci iCloud activator is another popular iCloud activation lock removal jailbreak tool that has been a go-to choice for many users.
Doulci iCloud activator might not be a very attractive option at a first glance for many of the users. But according to many users and the description provided on the website, the software is pretty easy to use, offering a hassle-free experience for users.
However, Doulci iCloud activator offers support up to the iPhone 10. Many iPhone 11 users tried to use the Doulci iCloud activator and seemed to fail in completing the process.
So if you want to get for the option, you have to try it out yourself.
5. iCloud Activation Bypass Tool 1.4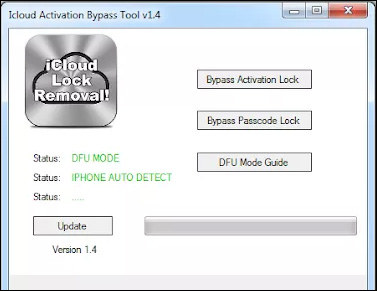 With their latest update back in 2019, iCloud Activation Bypass Tool 1.4 is still a viable option for many users. The tool is easy to use, has a simple interface, and most effective for the older generations of iPhone.
So, if you are dealing with any newer iPhone on the latest iOS version, you are out of luck. Then it will be a good idea to opt for the other options on the list.
Frequently Asked Questions: You May Want to Know about iCloud Activation Lock
Q1: How do I check iCloud activation lock status?
Just go to icloud.com/activationlock from the device, and you will be able to check your iCloud activation lock status.
Q2: How do I remove my Apple ID from a stolen iPhone?
To do that you have to: Go to icloud.com and Sign in. Click on Find My Phone. Now got to the All Devices option and select on the device. Now click on Remove from Account.
Q3: How do you reset an iPhone when it is locked?
In case you want to reset when your iPhone is locked, simply hold down your volume button until you have reached the recovery mode. Now you can simply reset the iPhone. But keep in mind that it will reset all data and settings.
To conclude
So that ends our list for the Best 5 iCloud Lock Removal Software. For the best iCloud activation lock removal experience, we suggest to check out PassFab Activation Unlocker. With PassFab Activation Unlocker, say goodbye to the frustration of the activation lock. Stay tuned for more updates.