HP laptops are one of the most credible laptops among all. The reason behind success is the fact that HP offers sophisticated features and some of the most amazing characteristics of hardware as well as software. It offers higher security and that's why you can set up your password so your confidentiality is not compromised. However, what if you forgot your password? You don't have to worry about it because there are methods which can answer your question of how to reset password on hp computer without disk without reinstalling Windows and compromising data.
Part 1: Reset HP Laptop Password without Disk When You Can Login
There is more than one method to reset your password if you have forgotten. You can choose different methods for different Windows after Windows 7 because the option is available in every OS after Windows 7. You can use following methods if you want to reset your password for HP laptop without disk if you are still able to log in to your laptop.
1.1 For Windows 10
You can use following steps to reset password for Windows 10 on HP laptop without disk.
Step 1. First of all, sign in to Windows 10 by using other sign in option like using another account which can be used as admin account
Step 2. You will have to type "cmd" in the search box, you will see search results of "command prompt" and select "run as administrator" by right clicking on it.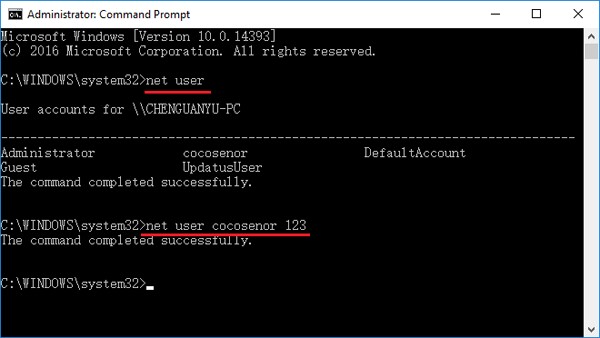 Step 3. Type "net user" in the command line and then press "enter" and all the user accounts will be shown to you.
Step 4. Now find the user account which is yours and run the command "net user cocosenor 123".
1.2 For Windows 8.1/8
You can follow these steps to reset password hp laptop without disk for Windows 8.1/8.
Step 1. Log in to computer by using another account which also has administrator privilege.
Step 2. Now after logging in, right click on "computer" and open "computer management" after selecting "manage'.
Step 3. Go to "groups" after clicking on "local users" and then go to "users".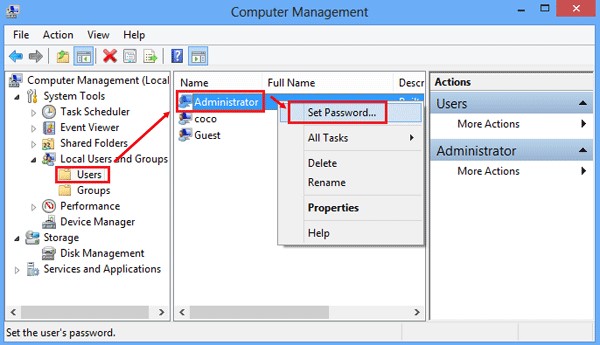 Step 4. You will see your user account on the right panel, right click on it by selecting "set password" and then proceed and you will have on-screen instructions to change your password.
1.3 For Windows 7
You can reset your password for Windows 7 of hp laptop by following the steps given below.
Step 1. You will have to log in with another account with administrator privileges.
Step 2. Click "start" and then go to "control panel", then you will have to go to "user accounts and family safety" and then "user accounts".
Step 3. Choose "manage another account" and find the account you have forgotten the password to and select the "change password" option and change your password.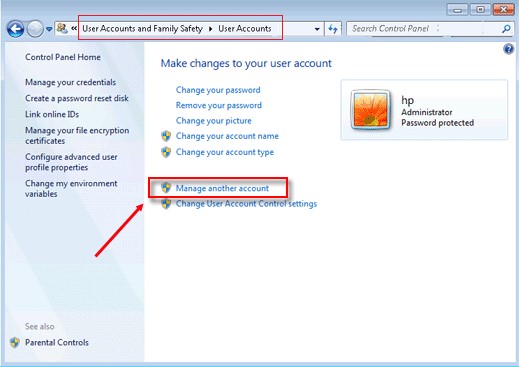 Step 4. Select a different password and confirm it and then add the password hint to remember it for future.
Step 5. Now click on "change password" and now your password is changed.
Part 2: Reset HP Laptop Password without Disk When You Can't Get Access to It
You can use this easy method of PassFab 4WinKey to reset your hp laptop password if anything else doesn't work. Enjoy smooth experience of your computer software with the help of this powerful and professional Windows password key whenever you face any difficulty in using your computer or recovery of your passwords. Use these steps to reset your password.
Step 1. First of all, download and launch PassFab 4WinKey and choose any of the boot media like USB Flash Drive or CD/DVD.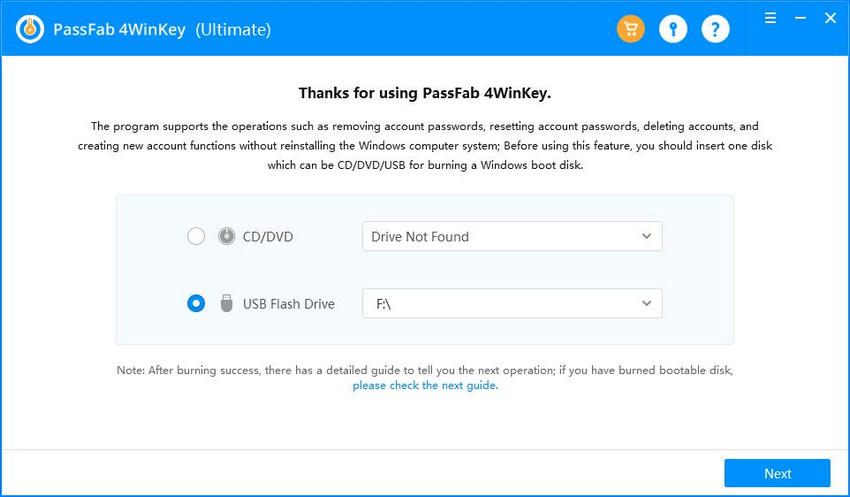 Step 2. Now click burn and your USB Flash drive will be formatted.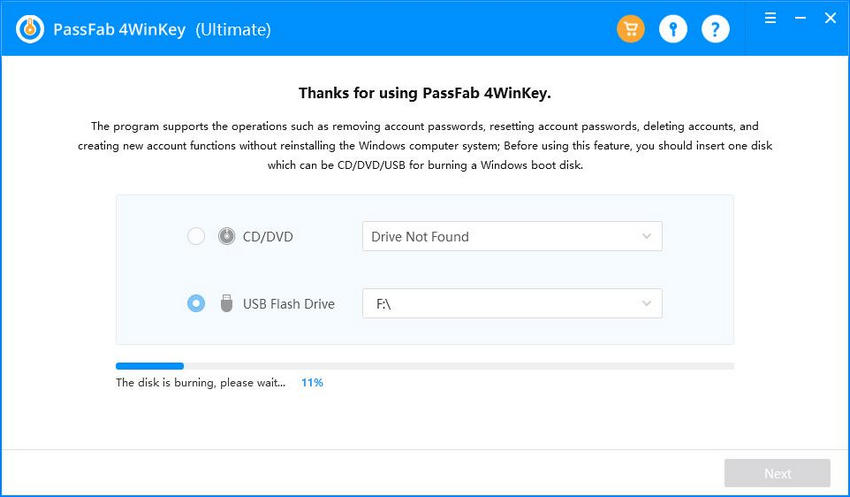 Step 3. Now click on "Yes" and the software will be burned to your flash drive. After a few moments, your device will be burned successfully. This bootable media device can be used to recover Windows login password.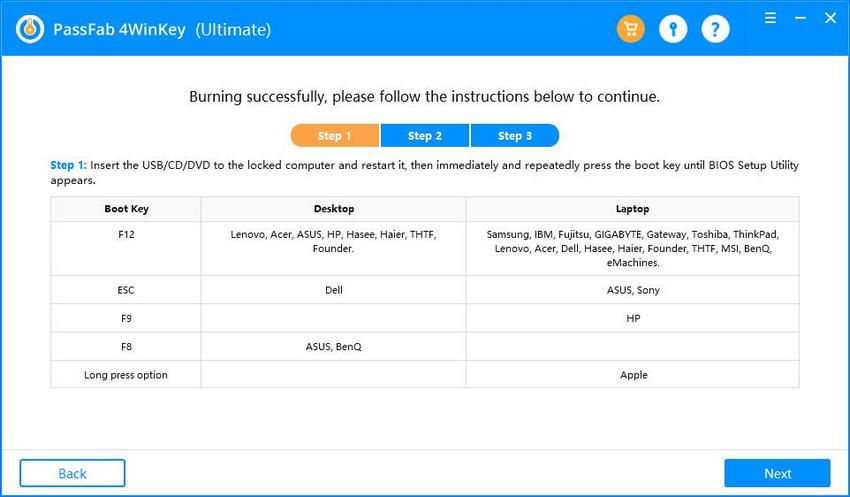 Step 4. Now get this device and put it in your laptop which is locked and restart your computer and press either "F12" or "ESC" and you will enter in boot menu interface.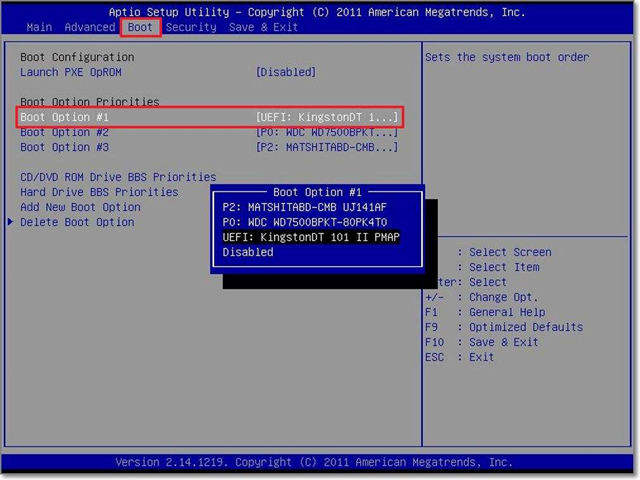 Step 5. You will have a number of choices from the boot menu and you can choose the device you have put in the computer, highlight the choice and enter press to enter this device. Once you are entered you can reset forgotten Windows password or even remove it.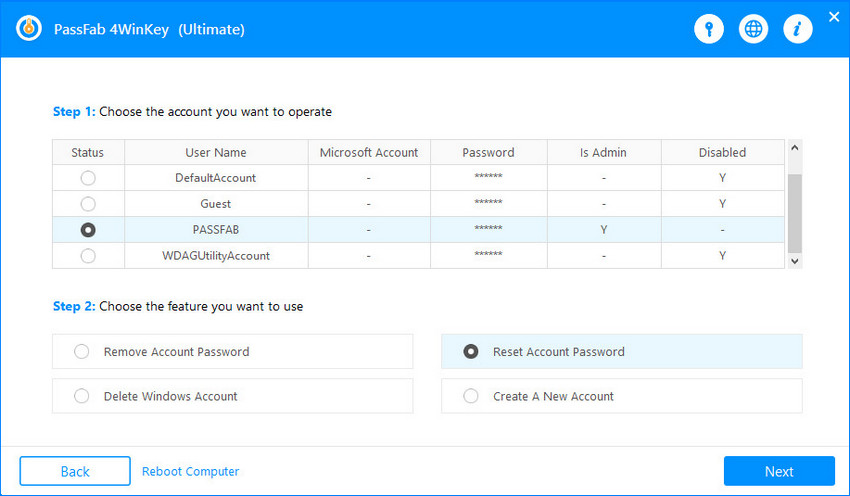 Step 6. Now select operating system of your Windows and click "Next".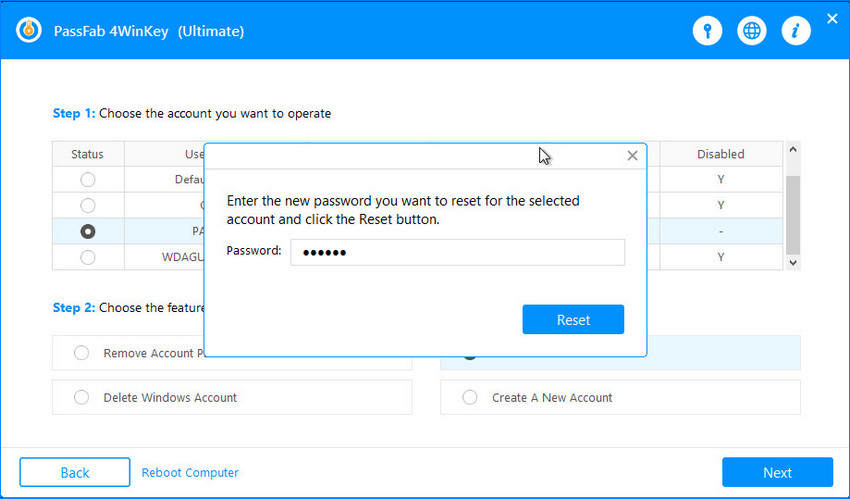 Step 7. You need to select an account from the list of account like admin, guest or Microsoft account etc and then click "Next" and your password will be reset.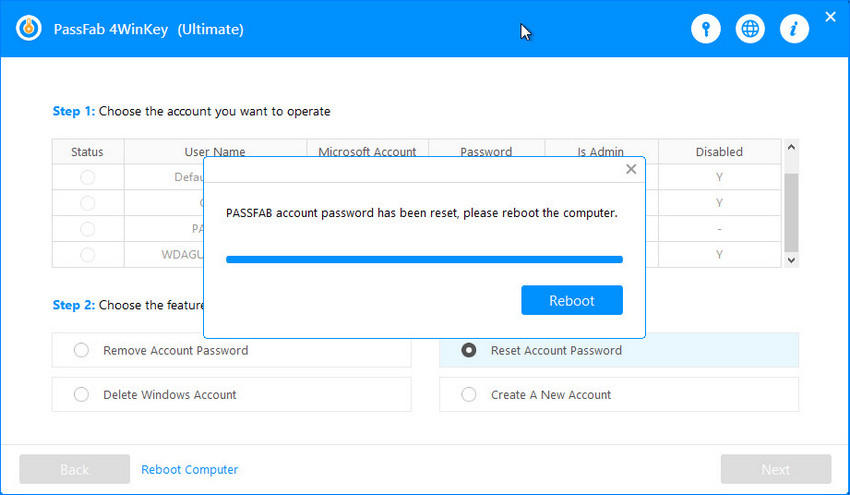 Step 8. Now restart your computer and now you can use your new password for it.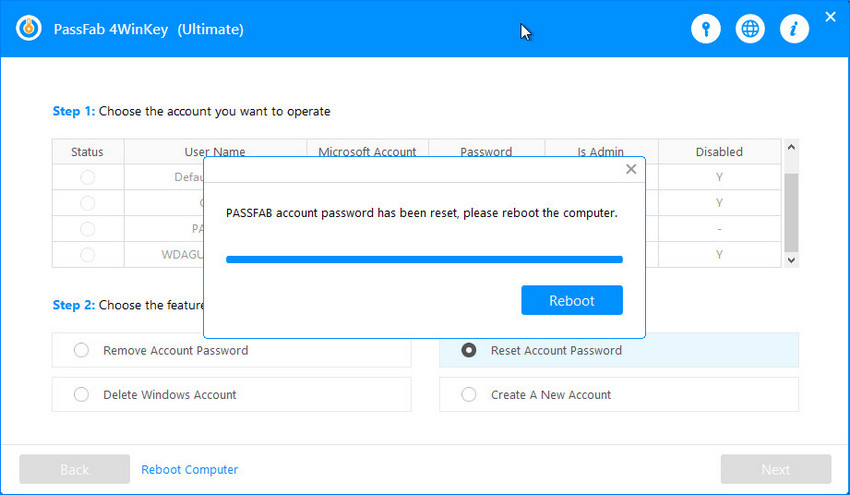 Summary
People often worry about how to reset password on hp desktop without disk after they forgot password on HP computer. However, it is easier for you to reset Windows admin password on your HP machine if you know all these methods given in above article. If any of these methods doesn't work, you can always rely on PassFab 4WinKey for your ease and convenience.