I have a laptop with Windows 7 and 1 user. The user is admin, but I don't know the password. Every method I try to perform a factory restore or unlock requires this user password. Unfortunately such problems are not covered by the warranty, Any help?
Forgetting password is a rather common problem. At this point, many people felt frustrated about how to unlock a dell inspiron laptop without the password. Once encountered a similar problem, most users think of restoring factory settings. It is not actively recommended this solution because it will erase all data. Certainly, don't worry, in this detailed guide, you could look towards different problems and simple solutions.
Part1: Top 6 Solutions to Unlock Dell Computer
The following charts lists 6 TESTED ways. Some of them are rather unchallenging, while others are a bit more complicated, but here are all the widely applicable and guaranteed solutions.
Solution 1: Reset Dell Laptop password by using Windows Password Reset Disk
A Windows password reset disk is a special disk created with a USB flash drive using a local account before forgetting the password, which can help you to restore access to your laptop. If you create the password reset disk, so you can reset your password no matter how many times you have changed it easily.
Did you have the pre-created windows reset disk on this (locked) system?
If YES, please operate according to the following steps: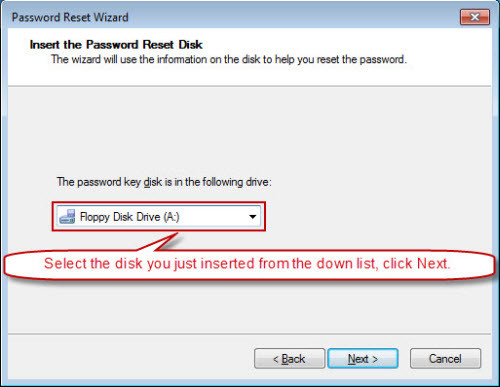 Go to your Dell Laptop login screen. Since you do not remember your password, enter any random password you want to.
Your Dell Laptop shows that your password is incorrect in prompt box. Click OK on that box.
Below the password text box, you will find Reset password option. Click on it. Insert the password reset disk.
On the password reset disk, you will find Password Reset Wizard, and click on Next.
Now, to reset your password, type in the new password in your password reset wizard. If you don't want to continue with the password, you can leave the field blank.
Without any doubt, you can reset your password when forgot password for dell inspiron. But how to unlock dell laptop forgot password without creating reset disk? Please read continually.
Solution2: Forgot Dell Laptop Password? Using Password Reset Tool-- PassFab4winkey
One of the most reliable solutions to unlock a Dell password without a password is to use a dedicated password reset disk, which will help you solve the problem about how to reset password on dell inspiron laptop without having to manipulate any OS settings.
Now, even if you don't have a password reset disk, you can create one using PassFab 4Winkey (Windows 10 Password Reset Tool) for free. It is an exclusive password recovery software that's specifically designed to help users unlock their devices when they don't remember the password. This kind of windows password recovery tool is applicable to all the dell laptop models, such as dell inspiration 1525, dell inspiration 1510 and etc. Know how it works!
Get the tool downloaded installed on another computer. Launch the program and insert an empty USB/CD/DVD flash drive to get a password reset disk created for locked Dell.

Go for the media that you just inserted like "USB Flash Drive" option given in the software window. Click on "Next" button for confirmations. You will notice the tool starting creating the password reset disk.

Detach the password reset USB insert it in the locked Dell laptop. Then, reboot Dell laptop and use "F12/Esc" key to get boot menu. Choose "USB device" as the boot media.

Pick out the operating system from where you've been locked out and press "Next".

You will see a list of user accounts available in selected OS. Choose whose password you want to reset. Click "Reset Account Password" now and then "Next".

Enter the new password and click on "Reset". Press "Reboot" and restart PC. Congrats!
After your PC restarts, log in to your Admin Account using the new password.
PassFab 4WinKey can help you solve the problem of how to unlock dell laptop forgot password easily and successfully. But if you mind paying for this kind of recovery tool. Please try other ways in this article.
Solution3: Unlock Dell Laptop by using Your Microsoft Account
If you've signed in with a Microsoft account on your laptop, you can also use it to unlock a Dell laptop without the password. Forgot Microsoft account? You may also wanna know how to recover Microsoft account password.
Go to account.live.com/password/reset on any device that's connected to the Internet.

Type in your Outlook email ID and click "Next".

You'll be asked to verify your identity. Enter the last 4 digits of your registered mobile number and click "Get Code" to generate your code.

Enter the received code and click "Next".

Once you're in the password reset window, enter your new password and tap "Next".
Power on your Dell Inspiron laptop and unlock it by entering the new Microsoft account password.
If you don't want to go through the hassle of creating a password-recovery disk and have signed in with your Outlook account, this is the most suitable solution to unlock your laptop.
Solution4: Change Dell Laptop Password by using Installation Disk
The previous method will only work if you've logged in with a Microsoft account. However, if you're using a local account, you'll have to look for other solutions. One such solution that'll help you to unlock a Dell laptop without the password is to use a Windows installation disk. But if you are a novice user, you can turn to help about ""dell inspiron forgot password" from your experienced friends, or it will make you crazy again.
Insert the installation disk and make your laptop boot from it by pressing F12 during the startup.

Press "Shift+F10" to open Command Prompt and execute the following commands. move d:\windows\system32\utilman.exe d:\ copy d:\windows\system32\cmd.exe d:\windows\system32\utilman.exe

Once these commands are executed successfully, remove the installation disk and type in "wpeutil reboot" to reboot your system in normal mode.

Now, tap the "Utility Manager" button in the bottom-right corner. If the previous commands were executed successfully, this will open the Command Prompt window instead.

Execute the "net user" command twice (as shown in the image below) to add a new admin account.

Close "Command Prompt" and again insert the installation disk. Reboot your system and make it boot from the disk once again.
Now, launch command prompt by pressing "Shift+F10" and execute the following command. copy d:\utilman.exe d:\windows\system32\utilman.exe

Type "Yes" to restore "Utility Manager" and remove the installation disk. Restart your laptop in normal mode and unlock it using the new "Admin Account". You can also use this account to reset passwords for your local account.
Solution 5: Reset Dell Laptop password by pressing Ctrl+Alt+Del on Safe Mode
If you PC system is windows Xp, This method is workable for you. In Windows XP, an Administrator account is set up with a blank password at the time of windows installation. This Administrator account can be used to access the other account's password and then resetting it. This method is important and an easy method for Dell password reset.
Here's how to login the administrator account:
Boot your Windows into Safe Mode. This is done by pressing F8 when the Windows starts. Pressing the F8 key will lead the Administrator account to appear.
After getting into the Safe mode, the Windows will display its normal welcome screen. At this time, press Ctrl+Alt+Del.
This will display the logon screen. Here type "Administrator," and leave the password field empty.
Hit "ENTER" to login.
Solution6: Forgot Dell Laptop Password? Factory Reset
If any of the above solutions do not work, then you will have to perform a factory reset on your Dell laptop. Before performing, please consider again if you really unlock dell laptop with this way of causing data loss. IF "No", you can browse the above ways and choose the right one! Highly recommend the solution 2 because of simple operation and high success rate.
Click the Power Icon on the bottom right corner of the locked login screen. Press the Shift key and hold it.
Click restart. The system will show a new screen asking you to Choose an Option. Choose Troubleshoot.
In the troubleshoot window, click Reset you PC.
After sometime, you will be presented with two new options i.e. Keep my Files and Remove everything.
The option Keep my Files allows you to save all of your important files. But for this, you will have to connect an external backup hard drive to your Dell laptop.
"The option Remove Everything" will present with further two options i.e. Just remove my files, and fully clean the drive.
If you will choose the first option, the system will remove your files only. But if you want to get a fresh new Dell laptop, then go for fully cleaning the drive. However, this process is lengthy and can take several hours.
Part 2: Top FAQs about Unlocking Dell Laptop
Q1: Forgot password to Inspiration 1501, how to do?
A1: You can use above ways at the beginning of the article and unlock your laptop after confirming your laptop system. Warmly remind you to focus on the conditions of use requirements of some methods. If you are urgent to login your laptop, it is recommend you to try PassFab 4Winkey, because it is easy to operate and time saving.
Q2: How do I bypass dell laptop password on windows 10/8/7/xp
A1: There is no difference between bypass and unlocking password, the above ways all work for you.
Final Words
You won't need to ask for the help about "how to unlock my dell laptop forgot password", because here are the detailed solutions to this kind of problem. Some of these methods are complicated, and inexperienced users may hesitate to adopt them because they require some technical support, for example, using the command prompt.
I recommend that you can try the PassFab 4Winkey referred in solution 2. It is easy to operate and 100% security, fast, no data loss, applicable to all HP models. Highly recommend!