Microsoft Outlook has been a part of our life to send, receive and store emails. And we can say that the longer you use Outlook, the larger size your Outlook mailbox will be. The large database has confused many users so much. To avoid or solve this, we suggest that compact PST file to reduce the size of Outlook data files.
Part 1: Why Compact PST File?
Here comes the question: Why I should compact Outlook PST file? There is one thing you should know, whenever you delete an item in Outlook, it will be moved to the deleted items, and the size of your Outlook data files won't be smaller. The increasing size of Outlook data files will result:
Slowness while running Microsoft Outlook
Corruptions in Outlook files
Performance errors in Microsoft Outlook
Outlook stop responding or won't open
Now, will you compact your Outlook PST files?
Part 2: How to Compact PST File
Then, how to compact PST file Outlook 2013, 2016 or 2010? Here we provide several ways to help you reduce the size of Outlook PST files easily.
Method 1. Compact Outlook PST File with Stellar Toolkit for Outlook
The most safe and simplest way to compact PST file without opening Outlook is to use a third party tool. Among various software for Outlook, Stellar Repair for Outlook is the most valuable one. With this tool you can compact and split PST file easily without opening Outlook. And you don't worry if your large Outlook data file has caused corruption in the files because this software can repair your file while scanning. Is that really cool! Then download and install it to have a try.
Before use, check if your Microsoft Outlook is MS Outlook 2019, 2016, 2013, 2010, 2007, 2003 or older versions. Now follow steps below:
1. Launch the software on your computer.
2. Click "Select Outlook PST" and click "Browse" or "Find" to select your PST file.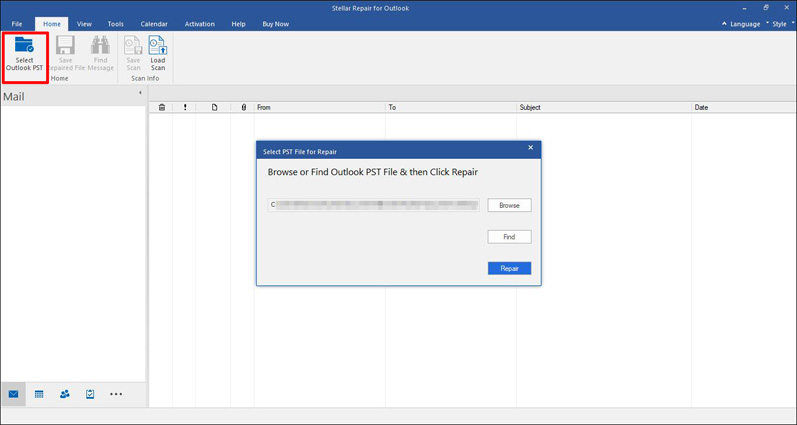 3. Then press "Repair" button to start scanning.
4. When the process completes, click "OK".
5. Then select "Save Repaired File", in the next dialogue, choose "Compact and Save PST". And select destination by clicking "Browse". Last, click "OK".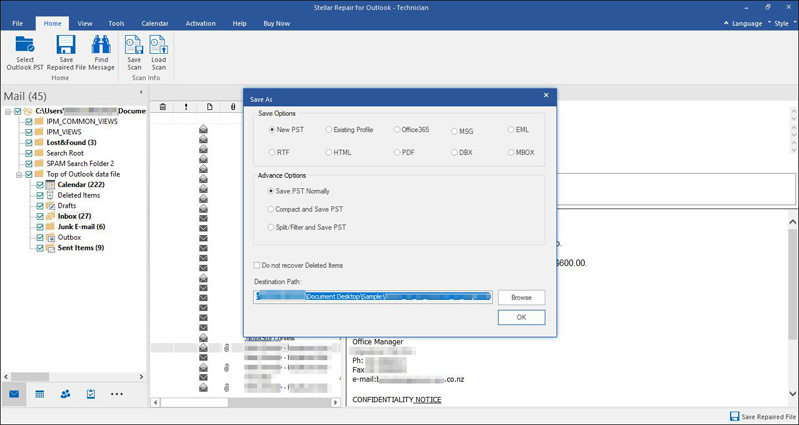 Method 2. Compact Outlook PST File in Account Settings
Microsoft Outlook also provides to compact Outlook data files. Just follow these steps to compact Outlook PST file manually.
1. Launch Microsoft Outlook and click "File" tab.


2. Click "Info" option, in the menu, select "Account Settings".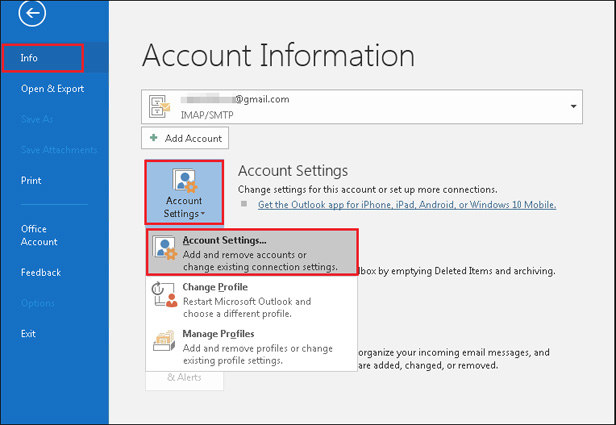 3. Click "Data Files" tab, and select the file you want to compact, and click "Settings".
4. In the next dialogue, press "Compact Now".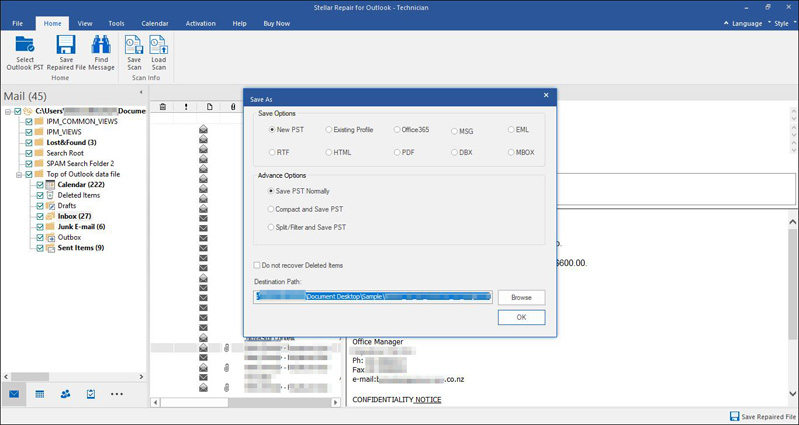 5. Click "OK" to exit.
Method 3. Compact Outlook PST File with Inbox Tools
To reduce the size of Outlook data files, you can also cleanup your mailbox. Here are two ways to compact PST file with Mailbox Cleanup tools.
1. Cleanup types of items
First, open Microsoft Outlook and click "File".
Second, select "Info" option and click "Tools", then choose "Mailbox Cleanup".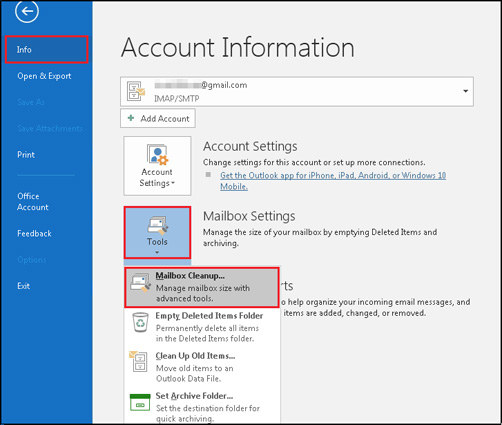 Last, click the options one by one in the dialogue. "Find items older than" and limit the condition, "Find items larger than" and manage limitation, then "View Deleted Items Size" and "Empty", next "View Conflicts Size" and "Delete". After all these, click "Close".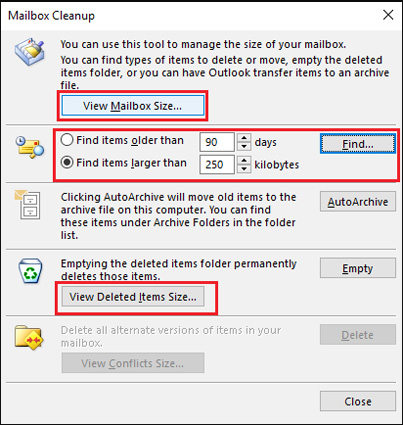 2. Cleanup old items
First, start Microsoft Outlook and click "File" tab.
Second, choose "Info" and click "Tools" in the menu, then select "Clean Up Old Items".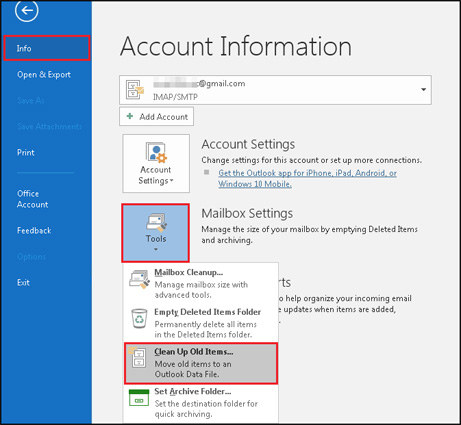 Third, choose "Archive this folder and all subfolders" and select the folder you want to archive.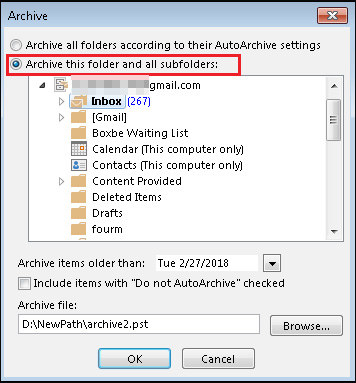 Last, tick "Include items with "Do not Auto Archive" checked" and click "OK".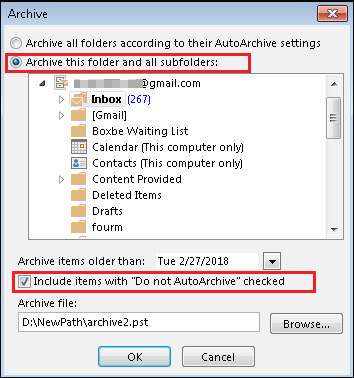 Read Also: Full Guide on Recovering Deleted Outlook Email [2020]
Part 3: FAQs about PST File
Q1: What does Compact PST do?
After you have deleted items, your file will be automatically compacted while Outlook is running in the background. If you want to reduce the size of Mailbox directly, you can compact PST file.
Q2: How large can PST file be?
The PST file or OST file is limited to 20 GB by default in Outlook 2003 and 2007; and in Outlook 2010, 2013, 2016, 2019, the size of file is limited to 50 GB by default.
Q3: How do I reduce the size of my PST file?
You can use a third party software like Stellar Repair for Outlook, or compact your PST file manually in account settings. Also you can use cleanup items in your mailbox use cleanup tools in Outlook to reduce the size of PST file.
Read Also: [Solved] How to Fix 'Your Outlook Data File Cannot Be Configured'
Conclusion
Oversized PST Outlook file may cause many problems in Microsoft Outlook, such as corruption in Outlook data files, no response of Outlook, errors in Outlook and so on. To these issues, we advise to compact PST file. And in this article, we introduces 3 ways to compact, use Stellar Repair for Outlook, compact in account settings, and cleanup items. Additionally, if you meet difficulties on passwords of Microsoft Office, you can use PassFab for Office.