Before you go ahead and remove Windows password, you have to figure out the operating system first. Due to the difference of the Windows version, the ways to change Windows password also are different. And one of the biggest difference is that 8.1 comes with a missing Start button, which eight didn't have. You can also customize the Start screen and an easy way to start and shut down the computer along with hundreds of more features.
The process to remove password on Windows 8.1 is a little different in each OS version. However, generally, you need to go to PC Settings > Accounts > Sign-in options > Password > Remove. The only worry? You need to be able to access your computer first. If you are locked out of Windows, please follow the tutorial to remove the password.
Part 1. Best Way to Remove Password in Windows 8/8.1
If you can't remember the login password and want to remove it, give PassFab 4WinKey a try. It supports all Windows versions and you can use the software not only to remove the password but also reset it. Furthermore, most of the computer brands are supported by this powerful Windows password recovery tool.
Remove User/Administrator Password
No matter you are using Windows 8.1, Windows 10 or another version, PassFab 4WinKey are always stand by your side to help you solve Windows password problems. Here are the steps below for using it.
Step 1. Download and install PassFab 4WinKey on a computer that is unlocked and available. Insert a removable disk; either USB Drive to burn the software.
Note: USB flash drive only allowed in Professional version or higher, the download button for Standard edition which enables you to use CD/DVD.
Step 2. Select your choice of removable disk. Hit Burn.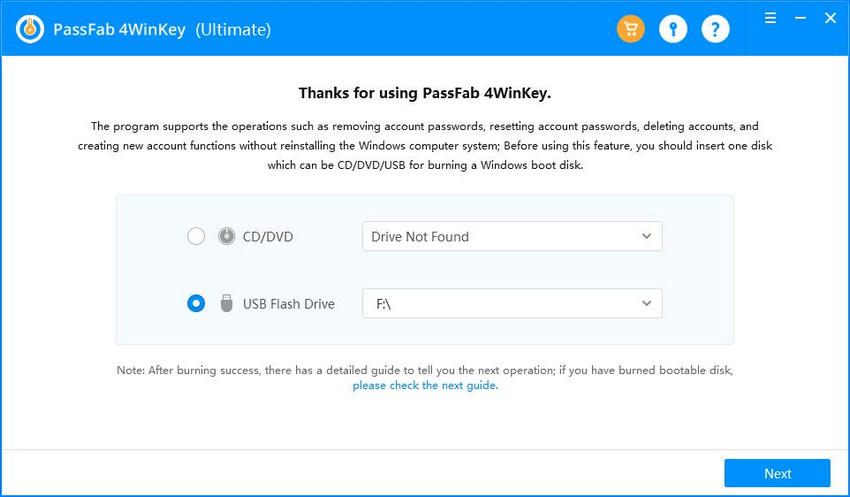 Step 3. On completion of the process, a dialog box will pop-up on your screen where it is mentioned that it is complete. Click OK and remove the removable disk.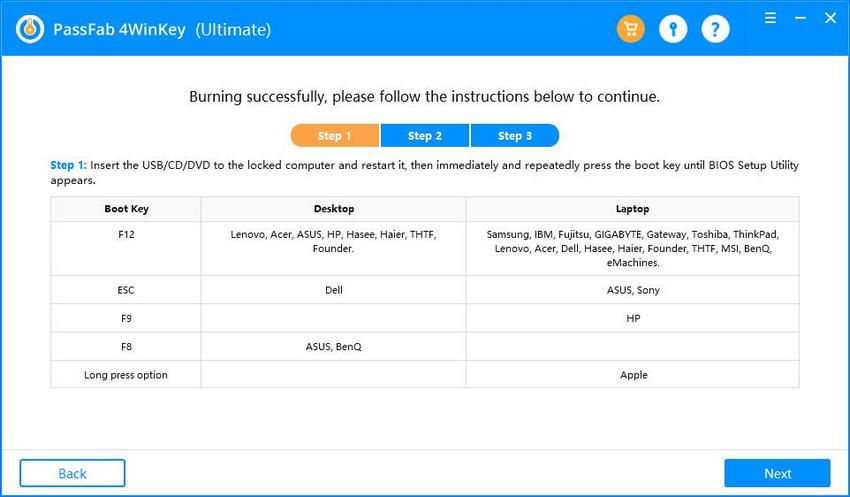 Step 4. Insert the USB Drive in your locked computer. In Select Windows section, select your operating system on the window that appears on your screen. Hit Next.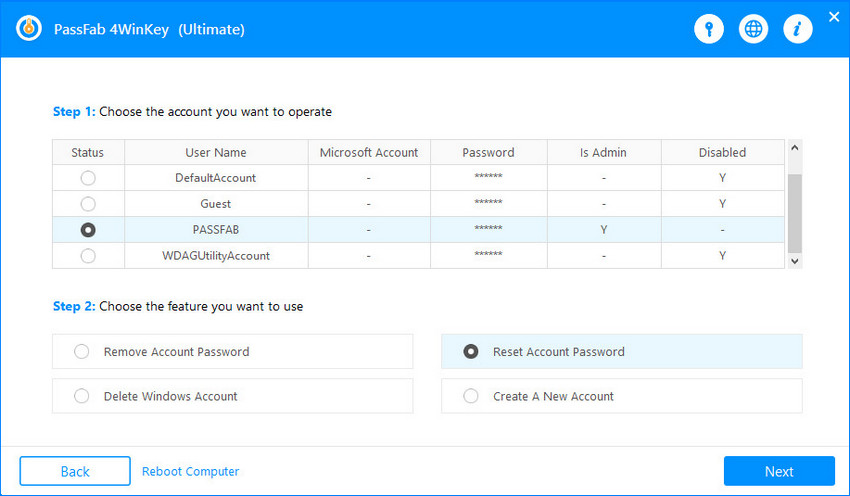 Step 5. In the Manage Accounts section, select your user account and click on Next.
Note: You can select User/Administrator/Microsoft account in this step. The professional version support all these accounts, It's the most worth buying version.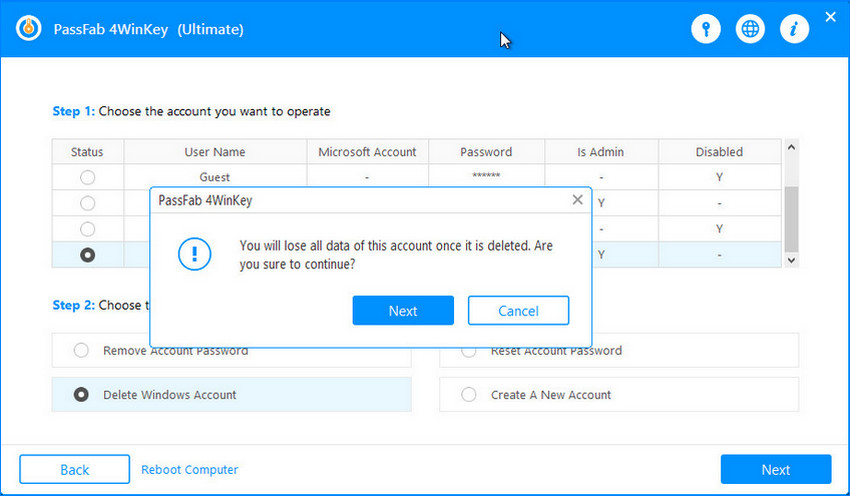 Step 6. In the Process section, the recovery process will begin. In the end, your password will be reset to blank. Reboot your computer to apply the changes.
Part 2. Free Ways to Remove Windows 8.1 Password
Windows password recovery may get complicated when you are looking for free ways to remove it, but you can do some simple things with a free tool too. Here are two free ways to remove your password.
Use the Command Line Version
In this method, you can change your password and remove it even if you cannot log in to your administrator account. To do it, you will have to follow the following steps.
Step 1. Go to any account in Windows 8.1 including a Guest account
Step 2. Then, go to the Start button and select "Command Prompt".

Step 3. You will find the command line prompt box opening up. Just type the following inside it and press enter "net user coco". Note that "coco" is the admin user name. Each user has his own account name, you should replace "coco" to be your target user name.


Use the Password Reset Disk
If you have installed Windows 8.1 yourself before on your PC, chances are you created a password reset disk as well. If you have the disk or USB where you have stored the file with you, you can follow the steps below.
Step 1. Go to the password screen, and type the last password you remember. When the message pops up that the "password is incorrect", you can plug in your USB or disk to your PC and then click on Reset Password. Your screen will look somewhat like the one below.

Step 2. Now, you will see the Windows Password Reset Wizard starting up. You will need to click when you see the image like this.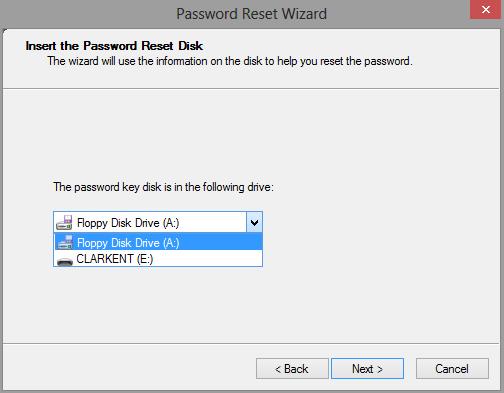 Step 3. Now, select the right drive, type your password, retype it to confirm it, and then click Next. You might also want to create a password hint that will ensure you don't forget your password in the future.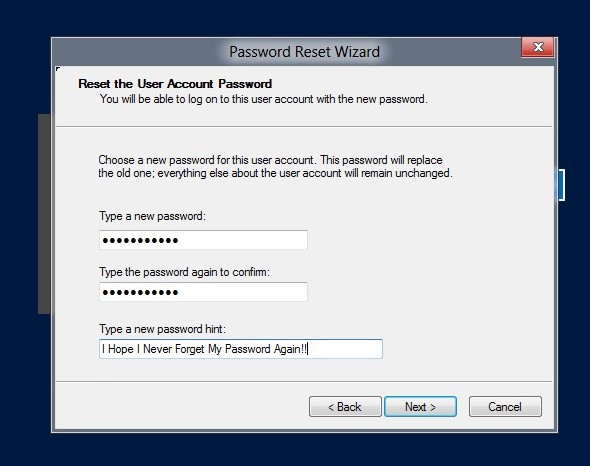 That is all that you need to do! The only worry about using a free tool like above is the following.
Technical knowledge

To use the free software, you will need technical knowledge of the computer version. Even then, there is a high chance that the computer or laptop shuts off because of a misstep and it will turn into a complete piece of nothing.

Time-consuming

The process can take hours together and requires a lot of concentration.

No guarantee

Despite all the efforts you put, the free software might not work, so it isn't worth the trouble.
Summary
In this article, we talked about to remove the password on Windows 10, What's more is it also will help you remove Windows 7 password or reset Windows 10 password. No matter what kinds of password problem you faced, PassFab 4WinKey will always by your side. If you still have questions please leave the message below to let me know.