Be it your office computer or your home PC, forget password on Windows 8 is a headache. As the computer is home to multiple vital data that you can't part ways with, reset Windows 8 password becomes paramount. But now, in this artile we collected the professioanly ways to help you reset the forgotten login password in Windowsn 8 . Some need a bootable disk to reset the password, whereas some do it without any disk.
Part 1. 3 Ways to Reset Windows 8 Password without Reset Disk
This part comprises of three free ways for Windows 8 password reset, without suing any reset disk. Well, we must warn you there is always the fear of data loss with these methods, if you are not paying enough care during the process.
Section 1. Windows 8 Password Reset Using User Account Settings
First method that is a freeway for Windows 8 password reset is using the User Account Settings. You can remove or reset the user account password on your Windows 8 system with this method. Your computer will be vulnerable to remote unauthorized access.
1. First, you need to login to the admin account of your computer and access the power user menu, by right clicking "Start" or "Windows"+"X".
2. Press "Command Prompt (Admin)" and open "Command Prompt" having admin authorization.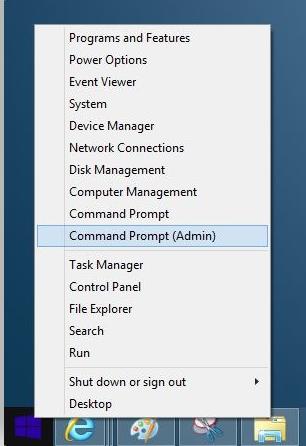 3. Activate "User Account Control" and enter "control userpassword2" in command prompt field. Now, press the "Enter" button.
4. De-select the "Users must enter a username and password to use this computer" checkbox. All user login password for this computer gets disabled. Check this while reboot or login.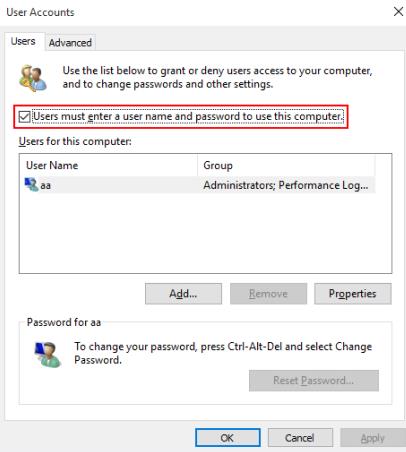 5. Key in the admin password two times, once you have tapped 'Apply'. Exit the window by clicking "OK".
Section 2. Password Reset Windows 8 Using Command Prompt
Another method to bypass Windows 8 password is using the Command Prompt from Windows Recovery boot screen:
1. First, you need to power off your computer. Then, you need to hold the "Shift" key down and simultaneously hit "Power" button to boot up your PC. Ensure to keep the Shift key down until you see the Windows Recovery boot screen.
2. Now, choose the "Troubleshoot" option and then opt for the "Advanced Options".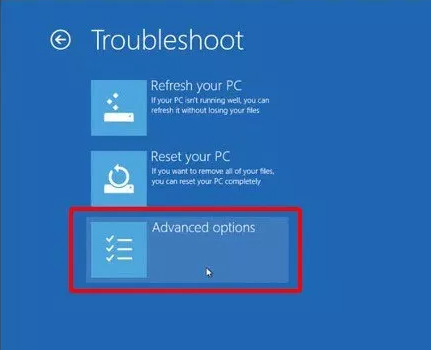 3. Next, you need to select the "Command Prompt" tab from list of options available.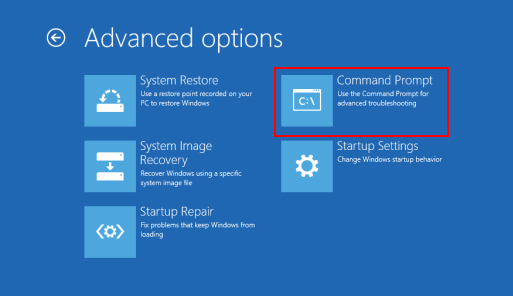 4. Then, punch in "D:" hit Enter. Again type, "cd Windows" and hit Enter. Once again type, "cd System32" followed by Enter.
5. Next, use command line "ren Utilman.exe Utilman.exe.old" followed by Enter. Again type "copy cmd.exe Utilman.exe" followed by Enter.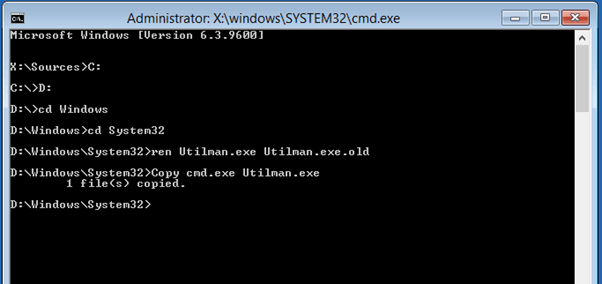 6. Reboot your PC now and let it load like normal. Now, hit on the "Utility Manager" icon on the login screen.
7. The command prompt window will now open up. Type in "net user Administrator Welcome@123" and hit Enter. That's it, you need to reboot your computer now and then you can login with the new password, i.e. Welcome@123.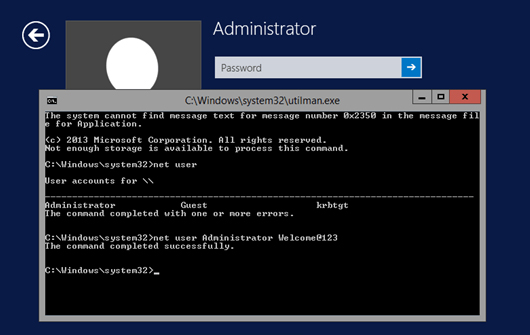 Section 3. Resetting Windows 8 Admin Password by Reinstallation (Causes Data Loss)
In case, the computer is bought from someone else, this method is quite fine for you as none of your data is at stake. But, for your own computer, we wouldn't recommend this to you. Moreover, you will need a fresh installation CD and license key to carry out the process. You won't be able to back up your device if it's already locked.
Get the Windows 8 ISO file from Microsoft.com and create an ISO file by burning it. Insert the disk and restart your PC. Enter BIOS while the system is booting using the F1 or F2 keys, depending on the BIOS version of your computer. Now, select the boot device as CD/DVD Drive.
Upon restart, your PC screen displays "Press any key to boot from CD or DVD". Tap any key and hit the "Install Now" button on the following screen. The online instructions will guide you through Windows 8 installation. Key in the license key to activate the software, when prompted.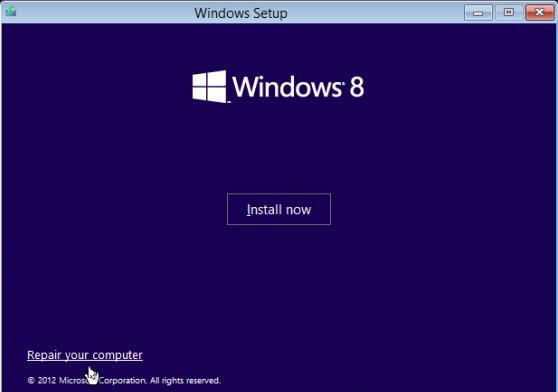 Part 2. How to Reset Windows 8 Password with PassFab 4WinKey
With free ways, you can only do Windows 8 password resetting. Recovering the lost password is not an option with these methods. So, to ease the pressure and let you get the best in this situation, we would recommend you to go for PassFab 4WinKey. It supports all Windows versions, furthermore, it enables you to create reset disk on Mac.
PassFab 4WinKey guide to reset Windows 8 password –
1. Install PassFab 4WinKey and run the program on another computer.
2. Hit the "USB Flash Drive" and plug in an empty USB flash drive to your Windows system and hit the "Burn" button. Allow sometime after tapping the "Yes" button. Hit "OK" and then eject the flash drive. Your reset disk is burned into the USB.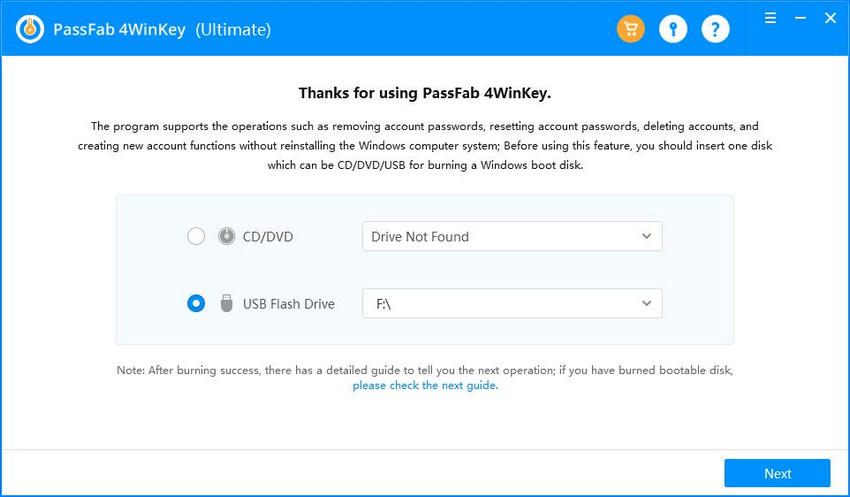 3. Now, connect the USB drive to your locked or password forgotten Windows 8 system. Press the "F12" key for entering "Boot Menu". Pick the USB drive from the "Boot Menu". Hit the "Enter" key after highlighting your USB drive.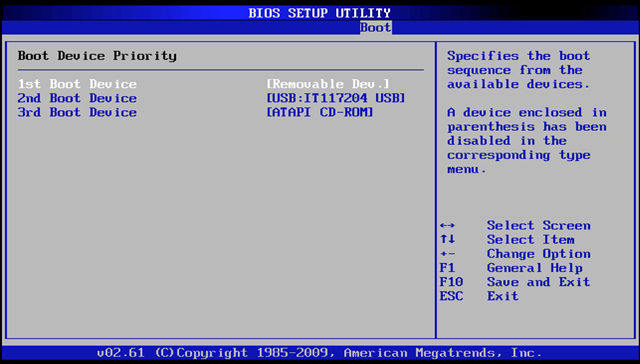 4. Pick "Windows 8" and tap "Next". From "Admin, Microsoft, or guest" select the account type and account by marking the checkbox against its "User Name" and press "Next".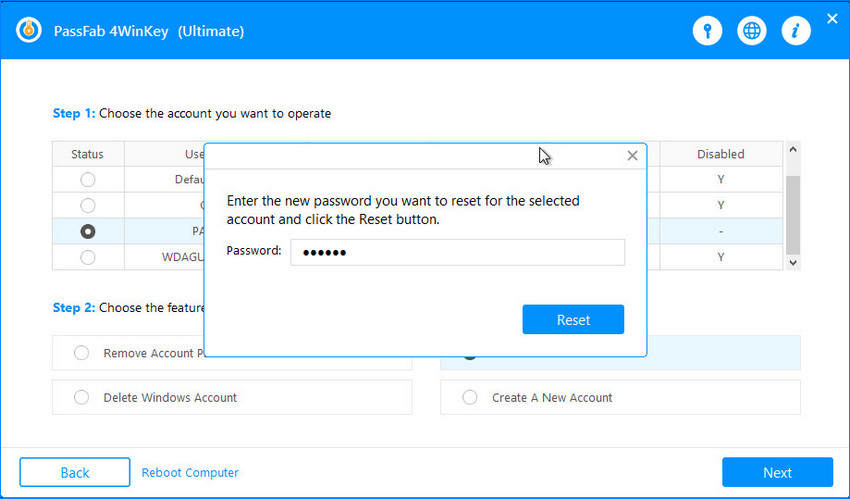 5. Tap "Reboot" afterwards and then click "Restart Now". Your Windows 8 password got reset now.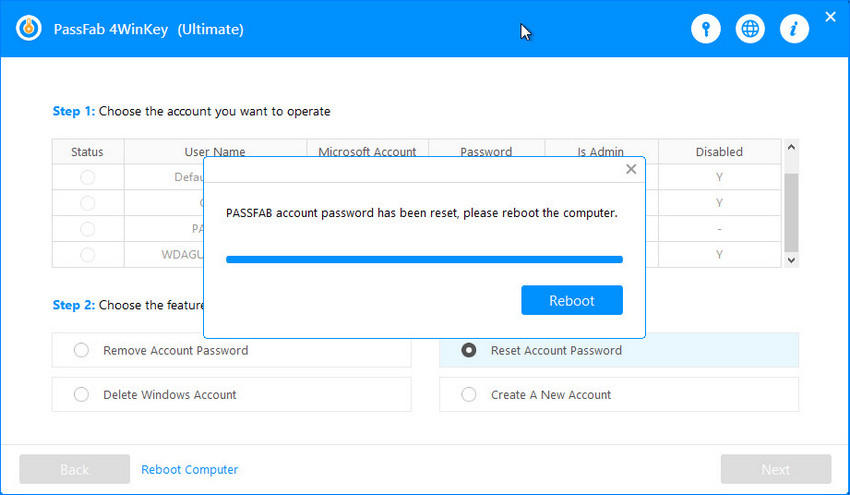 Conclusion
From the above article, we are confident that PassFab 4WinKey is among the ultimate solutions for performing any kind of operation with Windows passwords. You can also choose the free ways to reset or change Windows 8 password if you can handle it. Still have questions about Windows 8 password? Please do not hesitate to let us know by leaving comment below.