As you can see that this article is about iSunshare Windows Password Genius best alternative but a question, that comes first in every mind that why people want to recover Windows password. Here is an answer, well most of the people secure their PC's by setting up a password in order to secure data but the most annoying thing is that in most of the cases they forgot that password and lost access to that PC, So in order to unlock computer they want to recover Windows password.
iSunshare Windows Password Genius
Now you don't need to be worry of being locked anymore because with a little effort now you can get your Windows log in details back by using iSunshare Windows Password Genius advanced. Just 4 to 5 steps can get back your log in details.
Advantages of iSunshare Windows Password Genius
It supports all Windows operating systems.
Disadvantages of iSunshare Windows Password Genius
Most of the users usually stuck with few unknown errors while using iSunshare Windows Password Genius to burn a USB or CD. They usually got errors like "Failed to detect USB Drive".
According to our research, we found that PE used by this software is too old that can be the reason of a blue screen.
I agree iSunshare Windows Password Genius is good but not the best. But don't worry I am going to mention an amazing alternative, that will not only good but will be more efficient and made by using the new algorithm.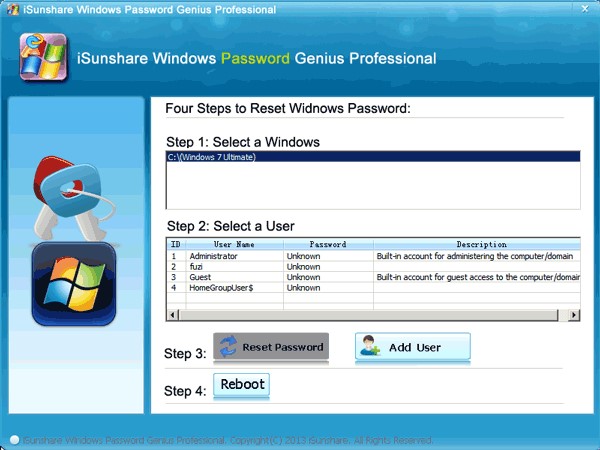 Best Alternative to iSunshare Windows Password Genius
Alternative 1: PassFab 4WinKey
This one is the best alternative. My first preference will be only PassFab 4WinKey to recover Windows password. Let's have a look below to know why my first preference to recover lost Windows password is PassFab 4WinKey.
This software is made by using advanced technology. You will not find any unknown errors while using it, like most of the users got unexpected errors while using iSunshare Windows Password Genius but PassFab 4WinKey is an extraordinary tool.
Advantages of PassFab 4WinKey
Recovery rate is 100%.
Very easy to use, not complex like Ultimate Boot CD.
Your system is also secure; there is no chance of system damage.
Four editions for PassFab 4WinKey is available, it's up to you which version do you choose according to your choice.
It supports almost all Windows and Mac versions.
The main advantage of this software is that it supports FAT16, FAT32, NTFS5 file system.e. It also supports RAID/SCSI/SATA drivers too.
Many Users encountered a lot of unexpected errors while using iSunshare Windows Password Genius but you will not find such errors by using 4WinKey.
Disadvantage of PassFab 4WinKey
Hardly, I found 1 drawback which is that your CPU must be 1GHZ otherwise PassFab 4WinKey will not work because PassFab 4WinKey is made by using new technology and using new PE. So for recovery process 1GHZ CPU is a must.
Step by step guide to bypass Windows password by using PassFab 4WinKey:
Stage 1: First step will take you to download the 4WinKey software.
Stage 2: Install and launch the software and select boot media. If you use 4WinKey Ultimate, your best preference will be USB Flash drive.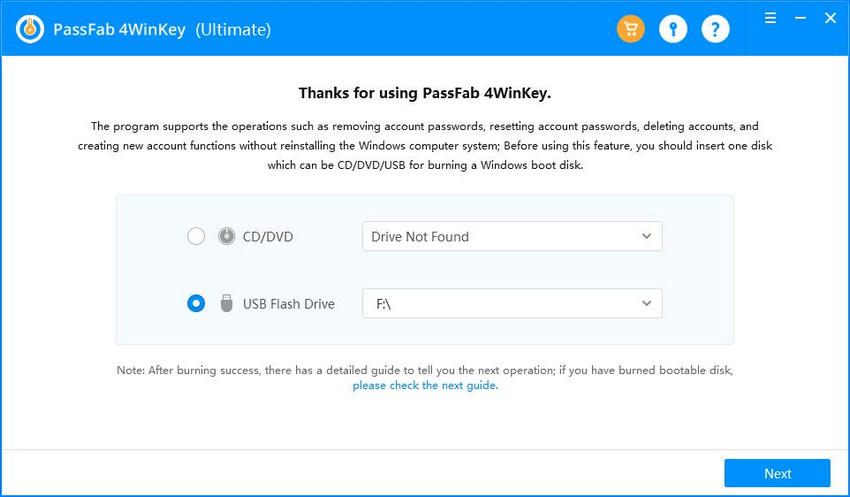 Stage 3: If you have selected USB Flash drive, then burn that USB.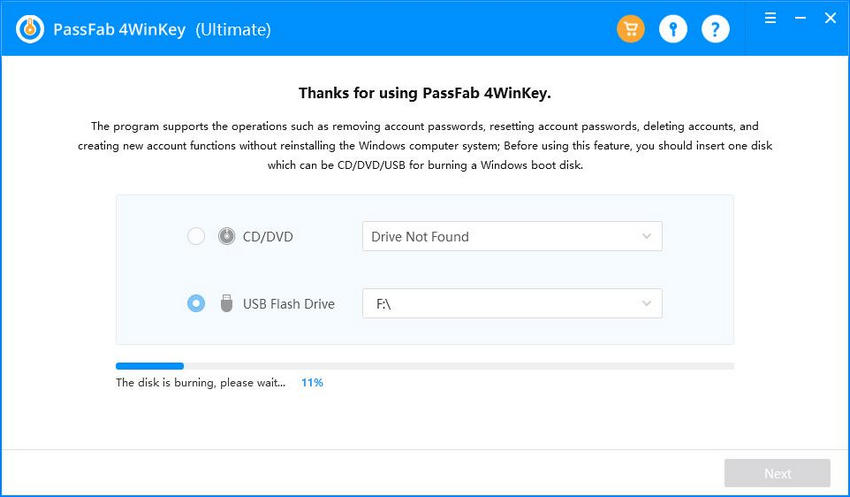 Stage 4: When you start burning USB, after a few seconds a pop-up screen appears that shows USB is successfully burned.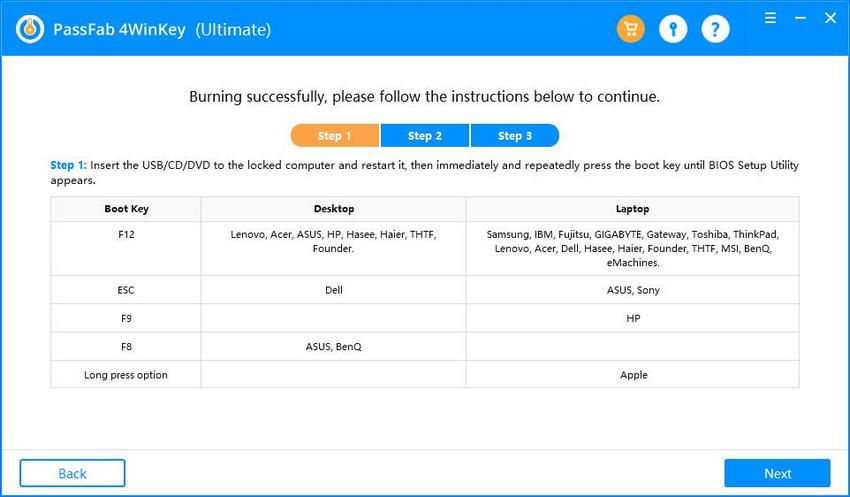 Stage 5: In this step, put USB to the locked laptop/desktop. When you put that USB to PC, you need to restart your PC and enter BIOS Menu to enable your USB to be the fist boot priority. After that, exit BIOS and restart computer again.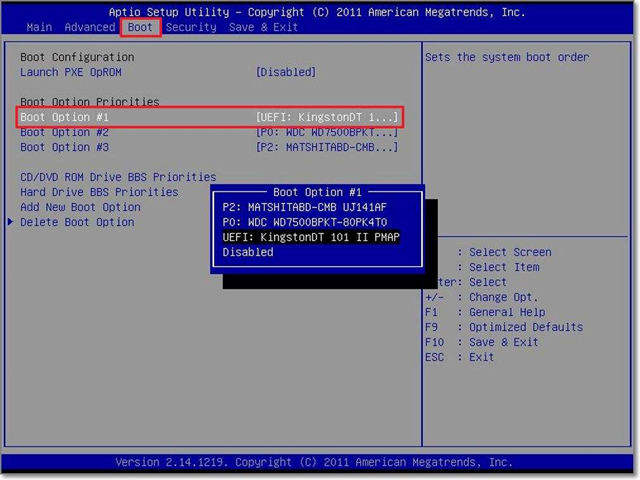 Stage 6: After that, your will see the 4WinKey interface. Choose Windows installation whose password needs to be unlocked and select reset or remove your password, too.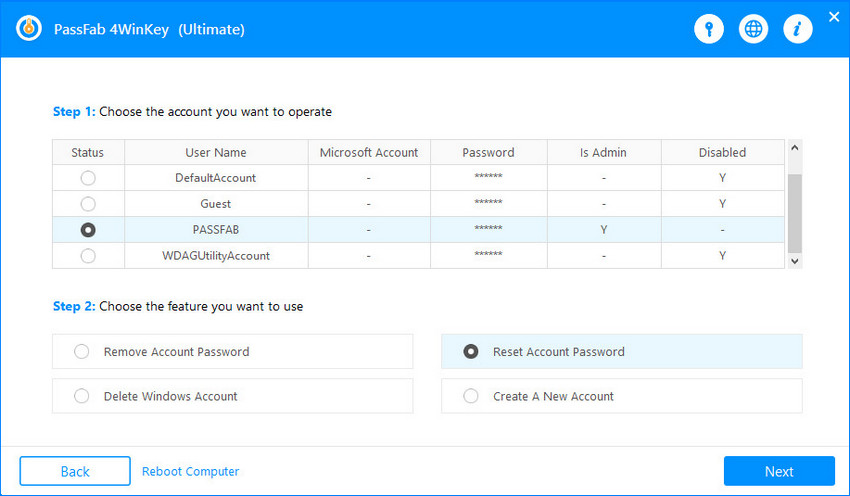 Stage 7: This stage takes you to select "User Account". Select User Account carefully, because 4WinKey will unlock password for User Account that you will select.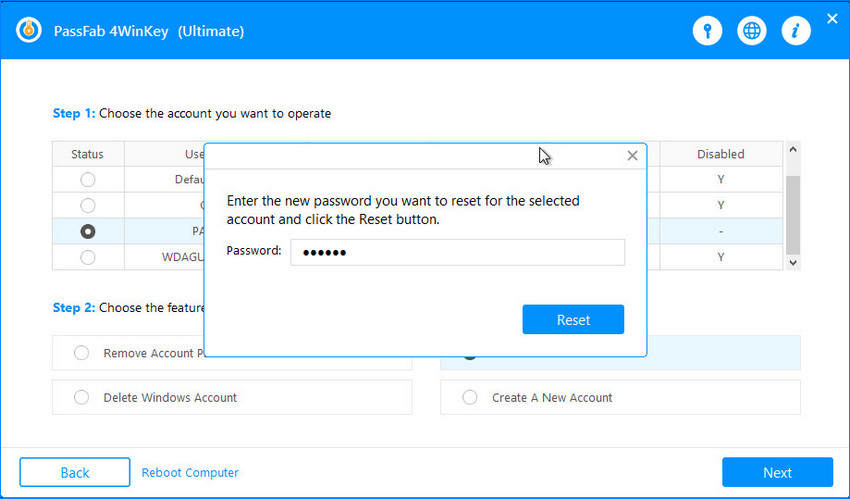 Stage 8: This alternative to iSunshare Windows Password Genius will reset or remove your login password within 5 minutes. This is almost end, select "Reboot".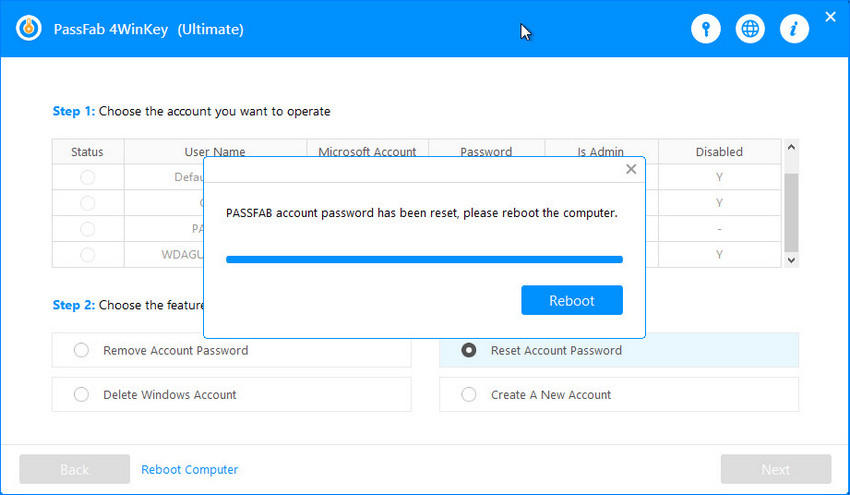 Stage 9: In the end, don't forget to take away the USB and restart PC by clicking "Restart" button.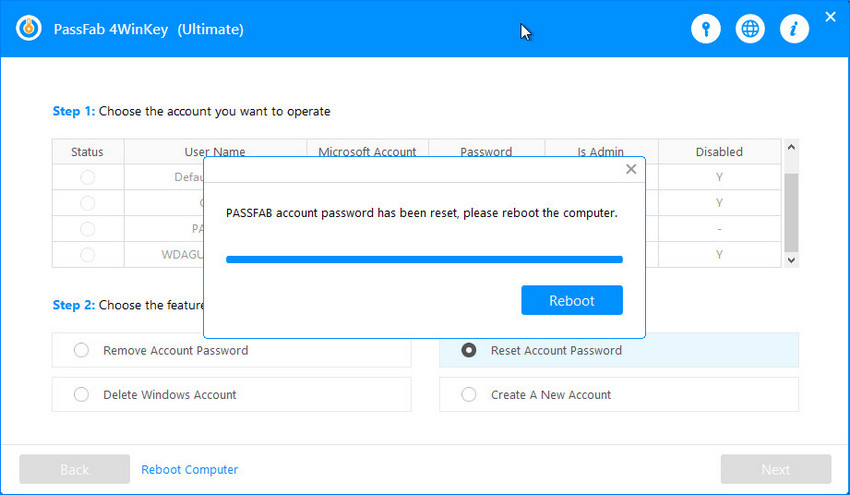 Finally, password has been recovered with a few easy steps. These steps are quite easy even a kindergarten student can do easily. You can also read PassFab 4WinKey review to get more details about it.
Alternative 2: Ultimate Boot CD
This one is also the best alternative to iSunshare Windows 7 Password Genius. Ultimate Boot CD is a Linux-based-bootable disk that can help to fix Windows issues. Chntpw disk is built in Ultimate Boot CD, Chntpw can easily reset a password for Windows.
Disadvantages of Ultimate Boot CD
Very complex process
Your system can be damaged
Chntpw disk can be used by those who are familiar with this otherwise it will be difficult for those who cannot use Command Prompt.
Step by step guide for using the Ultimate Boot CD:
Step 1: Boot locked PC with Ultimate Boot CD, select Parted Magic and press Enter
Step 2: Select System Tools from the left corner of the screen and then select Change Windows Password.
Step 3: Now you can see all Windows users, here your need to select user and press Enter
Step 4: Now you need to type 1 and press Enter, doing this will remove the existing password. This is almost the end of recovery process press q to quit the menu and make sure to restart your PC.

Summary
The short conclusion of this article is that if your Windows locked out and iSunshare Windows Password Genius Standard is not working then PassFab 4WinKey is not only good but best alternative to recover or reset forgotten Windows password. So get to use it today with your full confidence and if you have used it already then share your thoughts with us. If you like then don't forget to share it with family and friends.