Forgetting the password to your Windows account is a common issue, and "hacking" into your PC isn't something many people often do, so it's no wonder we get so many questions. Do you know what a Windows password recovery tool is? Have you ever used such a tool? PassFab 4WinKey is an efficient utility to help you recover or reset login passwords for Windows. It can be a saver when you are locked out of the computer. Maybe you think it is none of your business, but you are wrong as you may need it someday.
Introduction to The Best Windows Password Recovery Software
PassFab 4WinKey is the world's number one Windows password recovery software for recovering your forgotten or lost password either on your domain account or local computer. It is a Windows-based software that runs on all versions of Windows including Windows XP, Vista, 7, 8, 8.1,10 and 11.
Did you forget Windows computer login password? Do not worry, you can remove or reset local/domain, guest/administrator user account/ Microsoft account password with PassFab 4WinKey in a matter of minutes. With PassFab 4WinKey you can reset or delete your password without reinstalling the operating system. This software is easy to use and helps you to return to your system quickly.
You may come across many scenarios that may require a Windows password recovery tool to access your computer; for example, you do not have a password reset disk, or you have forgotten your Windows administrator password and do not have any other administrator account. Or maybe you changed your password, but unfortunately, you cannot remember it. Whatever the reason, PassFab 4WinKey is a useful tool that can restore your vital data. With this Windows password key, you will be able to recover a Windows password for each computer, whether it is a laptop or a desktop computer. It supports all popular computer manufacturers on the market Lenovo, Acer, Samsung, HP, Dell, Sony, ASUS, and Toshiba, etc.
Why Choose PassFab 4WinKey
So why choose this Windows password recovery usb? There are six main reasons you should select Passfab 4WinKey which are as following:
Fast and Accurate.
99.99% success rate.
Unconditional support
Free technical help for life.
Very easy to use, with complete screenshots. No need to call a technician.
100% money-back guarantee for the first 30 days of your purchase.
Respect your privacy and protect your financial/personal situation with advanced encryption and advanced fraud protection.
Key Features
Reset Administrator, Local Password for Windows Server
Reset local administrator and other user passwords
Delete the password for the local administrator, guest, and other users
Create a new local user
Create a reset password stick via a USB
Support for Windows 11/10 / 8.1 / 8/7 / Vista / XP / workstations
Reset the password for the Microsoft Windows 11/10/8 account
Support for a UEFI-based computer from a USB / DVD / CD drive.
Pros
The wizard-like interface is user-friendly
It is easy to use
Lightning Fast Performance
It is very secure
Bypass password without harming a single file
The application works for almost all kinds of laptops, desktops, and workstations
It has USB support if paid for the whole version
It is reliable
Cons
It does not work on Linix and Mac.
How Does PassFab 4WinKey Work? A Detailed User Guide!
As the most straightforward Windows password recovery pro, PassFab 4WinKey offers you the easiest, safest, and the most powerful way to unlock your computer in just three simple steps which are as following:
Step 1. Download and Install
Once you have done Windows password recovery download, all you have to do is locate where the software was downloaded on your system and run it. Now, you will see an installation wizard on the screen, simply follow the guidelines in the installation wizard and you are all set.
Step 2. Create A Bootable Disk
You can use two methods to create a bootable disk, either using a USB key or a CD / DVD drive.
To use a USB drive
First of all, you must have at least a USB flash drive of 1 GB. Download the Passfab 4WinKey and burn it to the flash drive, making this USB stick a bootable USB drive that you can connect to your computer.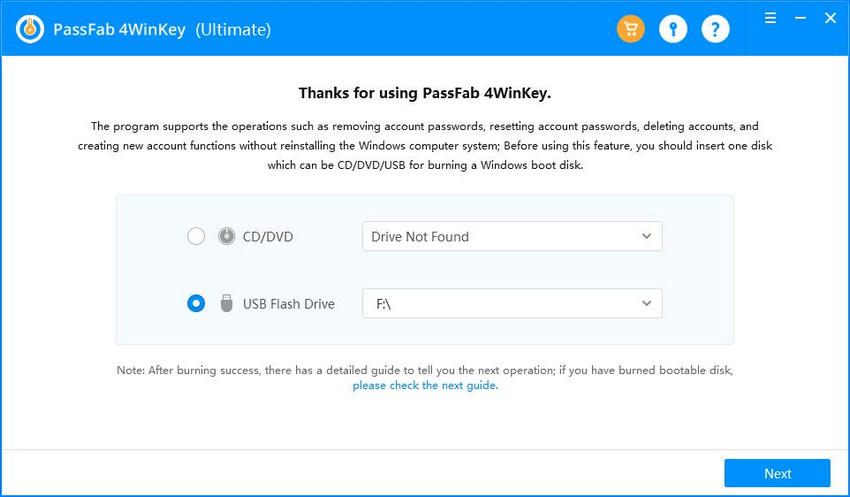 To use the DVD/CD drive
Set up a bootable CD / DVD drive is same as setting up a bootable USB. All you have to do is select a respective CD/DVD instead of USB.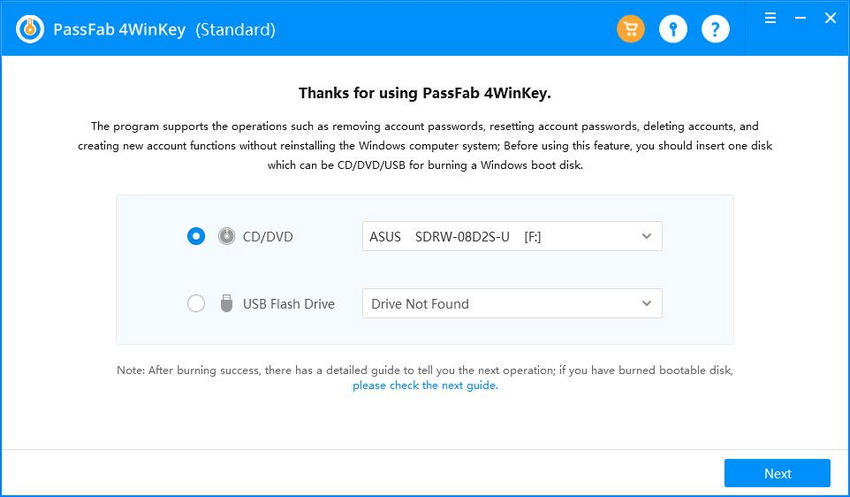 Step 3. Reset/Remove Windows Password
Once you have burned a bootable password reset disc, insert it into the locked computer. If your computer does not boot from disk (DVD/CD or USB), go the BIOS setting where you will be able to set the boot sequence then select the boot priority to the DVD.CD or USB option and restart the PC after saving changes. Now, your PC will boot from the burned disk which will open the PassFab 4WinKey program. Choose the operating system and select the account for which you want to reset the password. Now, press the reset button. That's all!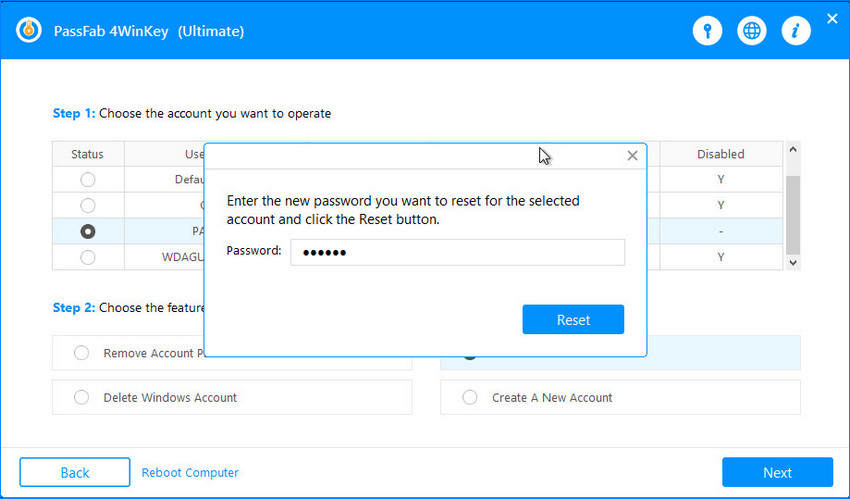 PassFab 4WinKey Specification
You must meet the following specifications in order to enjoy the services of PassFab 4WinKey:
CPU: 1GHz (32 bit or 64 bit)
RAM: 256 MB or more of RAM
Editions of PassFab 4WinKey
| | | | | | |
| --- | --- | --- | --- | --- | --- |
| Features | Trial (free) | Standard | Professional | Enterprise | Ultimate |
| Support Windows 11,10, 8.1, 8, 7, Vista, XP,2000 workstation | Yes | Yes | Yes | Yes | Yes |
| Support Windows 2016/2012 R2/2012/2008 R2/2008/2003 servers | Yes | Yes | Yes | Yes | Yes |
| Create Windows password recovery CD/DVD disk | Yes | Yes | Yes | Yes | Yes |
| Create Windows password reset USB disk | Yes | No | Yes | Yes | Yes |
| Clear local Administrator password | No | Yes | Yes | Yes | Yes |
| Clear passwords for other local accounts | No | Yes | Yes | Yes | Yes |
| Reset local admin/standard user password | No | No | No | No | Yes |
| Reset admin/standard user password for Microsoft account | No | No | No | No | Yes |
| Reset Domain Administrator password | No | No | No | No | Yes |
| WinPE Recovery CD Builder | Yes | Yes | Yes | Yes | Yes |
| Has BartPE Plugin | No | Yes | Yes | Yes | Yes |
| License | No License | Home license | Small Business license | Enterprise Business license | Ultimate/ Technician License |
| Price | Free | $ 19.95 | $ 29.95 | $ 39.95 | $ 69.95 |
Summary
PassFab 4WinKey is a reliable Windows-based software that helps you recover the Windows password or reset the Windows password. If you are into Windows password recovery tool download, you are using the free trial version, we highly recommend you upgrade to gain access to an unlimited number of Windows password recovery options. 4WinKey justifies the price you pay to get the paid version. Last but not the least, it works, all these great feedback clearly shows how good it is.