macOS Ventura 13.4.1 is Apple's latest update for its Mac users. It introduces enhanced security, bug fixes and improved features. It also boosts your system performance, but some people forbade installing this update.
In this article, you will learn everything you need to know about macOS Ventura 13.4.1 new release, which will help you decide whether to install it.
macOS Ventura 13.4.1 Full Review
Although macOS Ventura 13.4.1 has no new features, it brings some important security patches to enhance your system security.
We have been using macOS Ventura 13.4.1 for quite some time now, and we will give you all the information about my experience in this section. Let's begin with the download process.
If you use macOS Ventura 13.4 on your mac, the download file will be less than a gigabyte. Besides, the installation file will be much bigger if you upgrade from macOS Monterey or an older version. However, we will see how to download it later.
Apart from that, the app's performance is important to consider while installing it. Here is what we have found so far in this regard:
The third-party apps run smoothly.
There are no issues with inbuilt apps like Safari, Facetime, etc.
In addition to this, let's see what impacts it made on battery life and connectivity:
The battery is working optimally.

No issues with Internet connection or Bluetooth.

Lastly, speed is what determines an OS's success, so here is what we think:

The OS is not lagging at all. It feels faster than older versions instead.
If you are struggling with older macOS versions, you may consider upgrading to macOS Ventura 13.4.1. Hold on for a minute and learn about its disadvantages below before proceeding.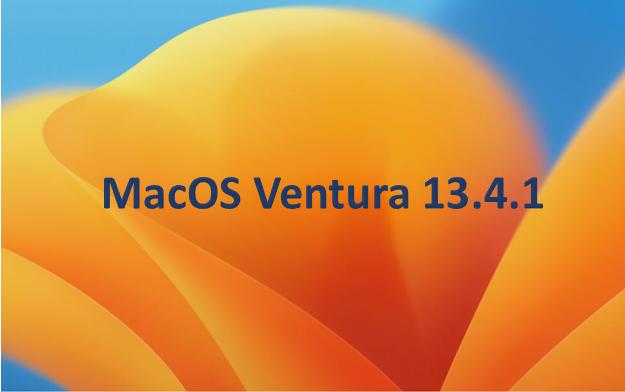 What's the Disadvantage of macOS Ventura 13.4.1?
Before releasing macOS Ventura 13.4.1, Apple performed various tests to eliminate bugs, but eventually, they appeared in the final release. Although we didn't face a problem with it, many users have been reporting some bugs and issues as follows:
WiFi and connectivity problems
Abnormal battery drainage
Issues with some built-in and third-party apps
Should I Update to macOS Ventura 13.4.1?
Apple released macOS Ventura 13.4.1 update that consists of several critical zero-day security patches. According to Apple, this update includes"important security fixes and is recommended for all users" (from Release notes).
Regarding the features, it does not have any major feature updates or new features. It solely improves the security and has few bug fixes.
So, should I update to macOS Ventura 13.4.1?
We recommend you update to it as it brings a more secure experience. However, you can skip this update if you want to until macOS Ventura 13.5 release.
How to Download macOS Ventura 13.4.1?
If you decide to update to macOS Ventura 13.4.1, here are some prerequisites that you should comply with:
Back up your data
It would be better first to back up all the data on your mac to the cloud and then install macOS Ventura 13.4.1 on your system. It will come in handy if you use Time Machine Backup. Doing this will help restore your apps and data from the backup if you encounter a problem during macOS Ventura 13.4.1 installation.
Make Sure You Know All the Related Passwords
After installing macOS 13.4.1. you will need to log into your PC and Apple ID. Therefore, ensure you know all the related passwords before installing macOS Ventura.
Using a password manager such as 1Password, LastPass will come in handy in such a situation. Otherwise, you should test log into your Apple account before proceeding.
Deep Research about macOS Ventura
Before installing the macOS Ventura 13.4.1 on your system, you should be familiar with this update's changes. You can read related articles, official release notes and customer reviews.
Learn About Downgrade Process
Before installing macOS Ventura 13.4.1, you should learn the downgrade process. In case you do not like the new update or face issues after installing it, you can easily downgrade to the previous OS version.
The best way to do this is by restoring the Time Machine Backup created before installing the macOS Ventura 13.4.1.
Once you have taken all the measures mentioned above, you can download the macOS Ventura 13.4.1. First, ensure you have a stable Internet connection, then proceed as follows:
Step 1: Go to the Apple menu and click on System Settings.
Step 2: Now, choose General, which will appear in the left sidebar.
Step 3: In the main menu, click on Software Update.
Step 4: The system will check for the updates. A description will pop up on the screen if any update is available. Click the Update Now button to initiate the installation process.
The update will download, and installation will be done automatically. You will need to restart your mac after installation.
Extra Tips: How to Repair Computer Issues?
PassFab FixUWin is a comprehensive Windows repair and management tool with a spectacular set of dedicated features. When you use a computer frequently, you encounter various errors and problems. This amazing tool eliminates such issues by simply scanning and diagnosing your system. It is specifically designed to help users troubleshoot and resolve common Windows problems, such as blue screen errors, system crashes, startup issues, registry errors, DLL file errors, and more.
Conclusion
The macOS Ventura 13.4.1 new release is the latest version of the OS released by the company. On the one hand, Apple recommends installing this update, but on the other hand, users forbid others from doing so as they faced some problems after installing the update.
In this article, we have done macOS Ventura 13.4.1 review to help you decide whether to install it.
Lastly, we have suggested the best application to resolve all the Windows errors and manage your system, i.e. PassFab FixUWin.