If you have the question in mind that why does my phone randomly vibrate, then you have come to the right place.Many people all across the globe are searching for an answer to the same or similar questions like why does my phone vibrate for no reason?
To answer these questions we have compiled this article. Although the vibratory movement of mobile phones has been around for many years, sometimes our phones can act differently with this feature.Conventionally the vibration of a mobile phone is associated with important phone or message alerts, actions, and different types of notifications.
However, sometimes the android phone vibrates randomly or unusually stimulating you to wonder why is my phone buzzing.For those who are on the same bandwagon and are searching for ways on how to stop my phone from vibrating, we have some simple solutions in this article.
Part 1:Why Does My Phone Randomly Vibrate
Reason 1: Turn Off Notifications for A Particular App
Although there could be many reasons "why a phone vibrates randomly for no reason", one of the common issues is that the notifications for any one of your phone's apps might be turned off.
For example, if notifications for a messaging app or social media are turned off, the phone will vibrate without displaying the notification. This will answer your question as to your phone vibrates randomly.
Reason 2: System-Level Glitches or Bugs
A very common reason for android phone vibration without a reason can be bugs and glitches. This means that like any other software, an Android operating system may also encounter unprecedented bugs and errors due to unforeseen reasons.
These bugs and glitches within the system may lead to various kinds of issues including random phone vibrations without a reason.
Reason 3: Temporary Software Glitch
Sometimes a phone randomly vibrates because of a temporary software glitch. This means that you can fix the problem by updating your existing software and rebooting your device.
Reason 4: Buggy Software Update
An Android Software Update may lead to a bug that might be causing the unusual vibration on your android device. The simple solution to resolve this issue is to restart your phone.
Part 2:How to Fix My Phone Vibrating for No Reason
Solution 1: Turn off All Vibration in Settings
Open the settings tab and select Sounds and vibration.

To avoid vibration you can either click on the sound tab or mute.

Tap "System sound/vibration control".

Turn off the five choice at the bottom.
This solution will help you find an answer to why do my phone keep vibrating.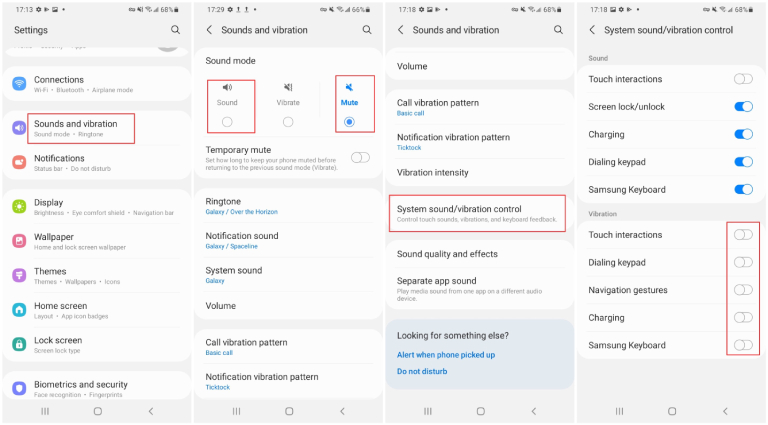 Solution 2: Close All Active or Open Apps
Any app running in the Android device background can cause a phone to vibrate if notifications are turned off and set on vibration. This is a possible reason for your phone to vibrate randomly. So you need to close all apps.
Tap on the 3 vertical lines at the bottom of your android phone display screen.

The list of recently used apps will be flashed on the screen.

Swipe them one by one and click close to disable them.
Solution 3: Factory Reset Your Android Phone
Factory resetting is a simple way to remove all data and apps from your device and set it up as a new mobile phone. You must back up all your data before undergoing the factory resetting process so that anything important on your device is not lost forever. But this is a great way to solve the mystery phone randomly vibrating for no reason.
Go to the device settings and choose the General Management option.

Select the Reset Option and click.

Choose "Factory Data Reset" from various listed options and click to proceed.
Solution 4: Update Everything on Your Device
Launch Google Play Store.

Go to manage apps for your device.

Select the Update All option and click on it. All pending application updates will be activated.

Go to the System Menu and select System Update. Execute updates if any.
Solution 5: Restart your Phone
Every Android device will have slightly different procedures for restarting but the basic steps remain similar.
Press and hold the side button along with the volume down button for a few seconds.

Menu or options to turn off or restart the device will appear on the display screen.

Click on the Restart button and wait for your phone to restart.
These were some easy and most effective solutions to your problem "Why does my phone keep randomly vibrating?"
Solution for Samsung Galaxy User
If you are a Samsung Galaxy user the following process can help you solve the issue of unusual vibrations without any reason.
Open the menu and launch the "Nice Catch" on your Samsung Device.

Toggle the app ON button.

Scroll down to the Vibration History option and toggle ON.

Now lock your phone and wait for the next vibration.

When your phone vibrates again without a reason, re-launch the app and check the vibration history for the latest information.

A list of applications or functions that caused the vibration will appear on the screen. You turn off notifications and vibrations on this app for resolving the issue.
Tips:
This method is specific to Galaxy Devices designed for Australia only. For any other origin of Samsung devices, you can get in touch with the corresponding Samsung subsidiary.
Bonus: How to Factory Reset your Android without Password?
If you are looking for an easy and effective way to factory reset your android phone without a password, then PassFab Android Unlocker is the right solution for you.
Enabling users to unlock phone screens and Samsung FRPs within minutes, the Passfab Android Unlocker does not require a pattern, PIN, fingerprint, or password. It allows window enabled Samsung devices to get unlocked without losing data.
So, the next time you want to unlock an android or Samsung device and reset its password without the old password, choose PassFab Android Unlocker.
Conclusion
If you are an Android user and your phone vibrating for no reason , then the above-mentioned solutions will help you resolve the issue without any hassle. One possible solution is to choose the factory reset option when you are wondering why does my phone randomly vibrate. Moreover,for factory resetting of your locked Android or Samsung phone without the password, you can use PassFab Android Unlocker.