Is the screen on your HP, Dell, Lenovo, or Asus computer dark, but the system is still running? Especially if you depend on your computer for business, study, or enjoyment, this may be an unpleasant experience. But as there are multiple probable causes for this problem, there are also several possible fixes to attempt.
In this article, we examine the underlying reasons for the issue computer screen went black but still running and, more significantly, provide you simple fixes to get your computer operating normally once again. Let's look at the proven methods for reviving your HP, Dell, Lenovo, or Asus computer screen.
Why computer screen goes black but computer still running windows 10
There might be a lot of causes for the problem when your Hp laptop turn on but screen is black.
Problem with the graphics driver: Damaged or outdated graphics drivers may prevent the display from properly communicating.
Poor Cable Connection: Signal disruptions can be brought on by loose or frayed wires between the computer and the display.
Overheating Components: A precautionary shutdown may be triggered if the GPU or other crucial components become too hot.
Power Settings: The screen may suddenly switch off if the power settings, such as display sleep or hibernation, are incorrect.
Conflicting background processes or applications: Some activities or software might obstruct the display.
How do you fix a computer that is on but the screen is black?
When your Mu computer turns on but the screen is black window 10 it can be difficult and stressful to figure out how to fix the issue. There are various approaches you may use to diagnose and resolve the problem, so don't worry. Here, we'll outline 8 helpful methods.
Fix 1: Verify Cable Connections
When your Laptop suddenly black screen but still running , there may be an issue with the cable connections. You might start by making sure the cable connectors are firmly plugged in on both ends before attempting to resolve this problem. These instructions will help you identify and fix any cable connection problems that could be causing your laptop screen to suddenly go dark.
Fix 2: Disconnect Unnecessary Accessories
It is strongly advised to unplug any attachments that aren't being used right now in order to guarantee the best possible performance from your device. This includes but is not limited to, USB drives, external hard drives, and charging cords. You may lessen the strain on your device's resources and save your computer screen went black but still running.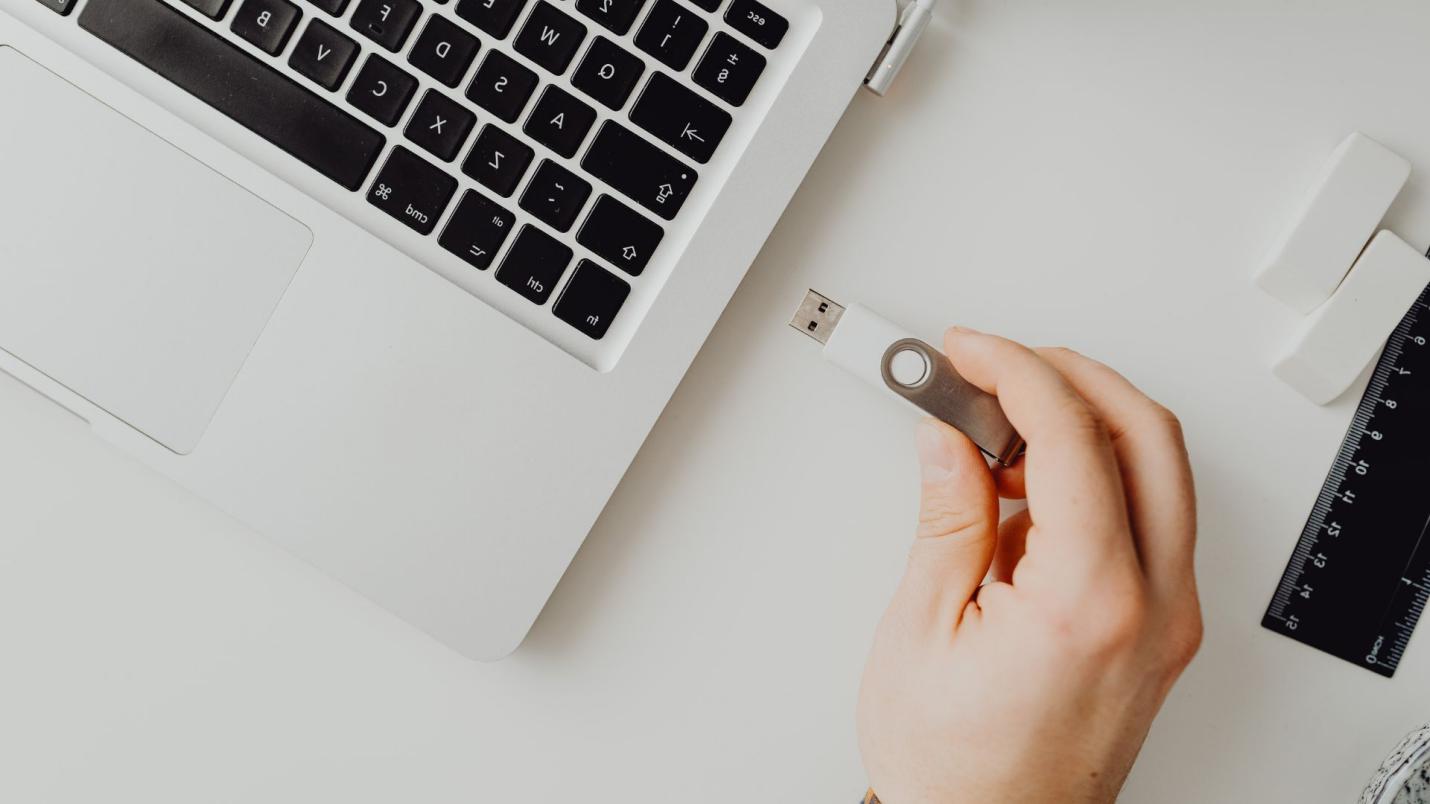 Fix 3: Reinstall Computer Memory Modules
If your computer screen remains black even after checking cables and disconnecting unnecessary accessories, the issue could be related to the computer's memory modules. Fixing computer memory can be a daunting task, but with the right steps, it can be done in no time
Step 1: Power off the computer and open the case.
Step 2: Remove memory modules by pressing clips.
Step 3: Reinstall memory modules firmly, close the case, and power on the computer.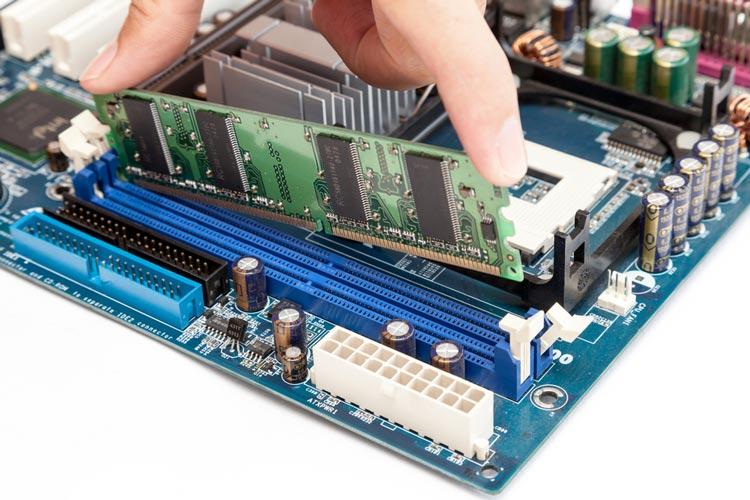 Fix 4: Repair Corrupted Files with PassFab FixUWin
Easy and Quick
Dealing with damaged files is one of the regular challenges that computer users have. To prevent losing any crucial data, it is crucial to solve the problem as quickly as you can. Fortunately, this issue pc screen goes black but still running may be resolved with the use of the right software. A Windows repair program called PassFab FixUWin may be used to resolve any Windows issue, including blue/black screen issues, system crashes, stuck on boot loops, and more. It operates by looking for damaged files on your computer and then fixing them.
Step 1: Install and run PassFab FixUWin on any available PC. Click Create boot disk now and insert a USB drive.
Step 2:Log into the problematic PC, insert the bootable USB drive, and restart the computer. At startup, press the Boot key to prioritise your USB and leave the boot menu.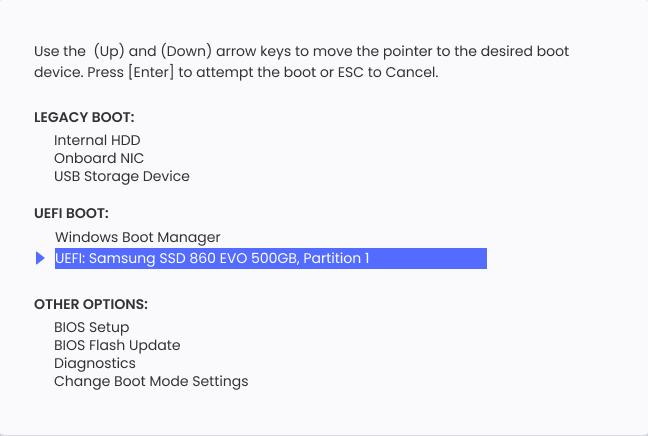 Step 3: To begin the repair, click "Automated repair".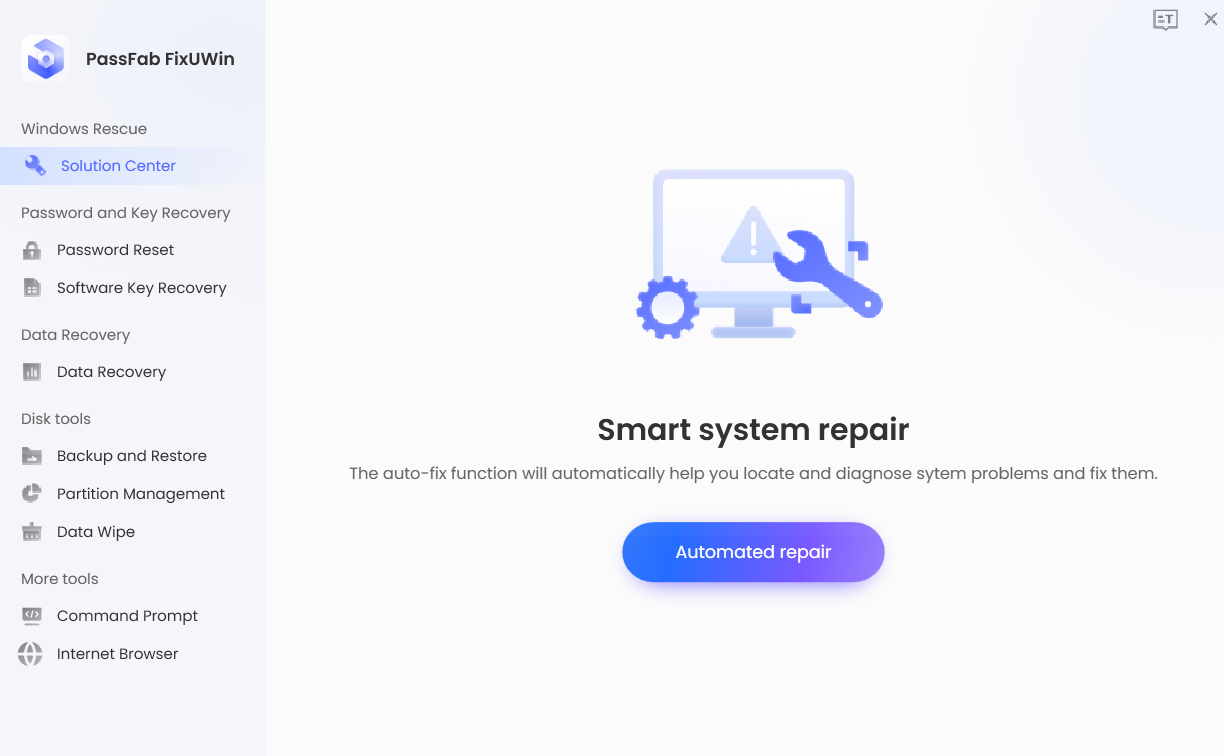 Step 4:After deciding which partition required repair, click "Start repair" to proceed.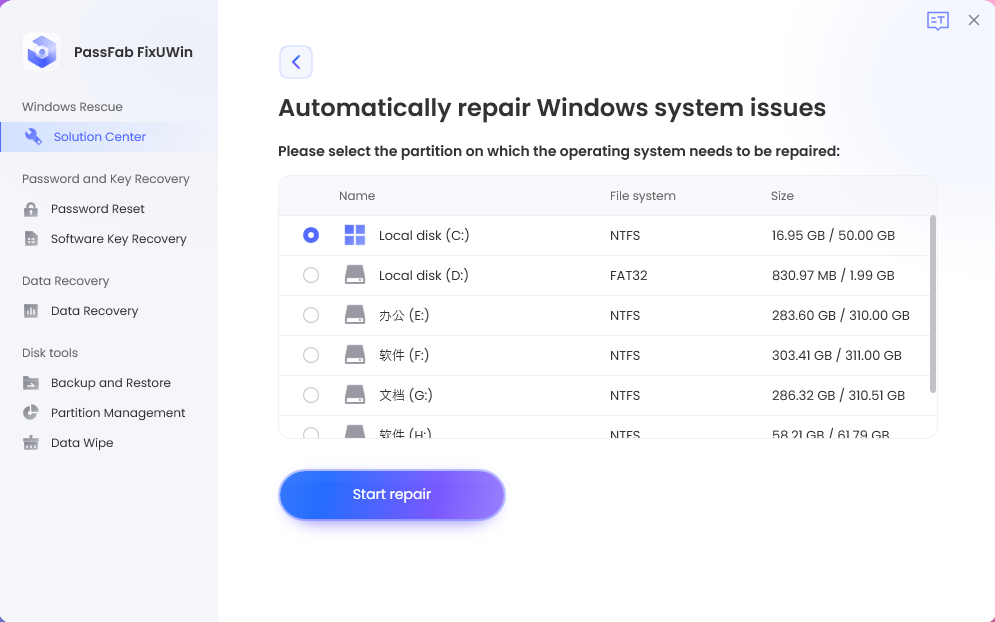 Step 5: After the successful completion of the repair, click "restart" to restart your computer.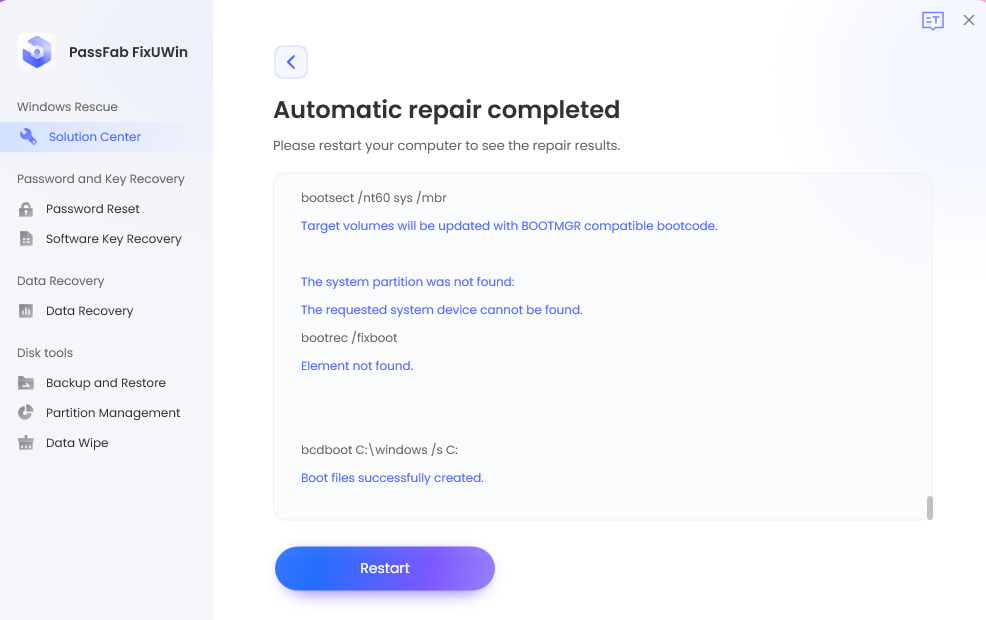 Fix 5: Boot In Safe Mode
It is a helpful tool for identifying and resolving issues with software or driver issues that might be the root of computer crashes or Laptop suddenly black screen but still running. Remember that your computer will only load the minimum number of drivers and services when in Safe Mode, so certain functionality might not be accessible. The general procedures to boot your PC in safe mode are as follows.
Step 1: To launch the "Settings" app, press the Windows key + I.
Step 2: Select "Update & Security" > "Recovery."
Step 3: Select "Restart now" under the "Advanced startup" option. Rebooting your computer is required.
Fix 6: Update Drivers In Safe Mode
If you're experiencing issues installing new drivers or if you believe a driver is creating issues with your system, updating your drivers in Safe Mode might be beneficial. You must first boot your computer into Safe Mode in order to update your drivers in Safe Mode.
Step 1: Prior to Windows loading, click F8 to start your computer in Safe Mode.
Step 2: After entering Safe Mode, select Device Manager by performing a right-click on the Start Menu.
Step 3: Locate the device driver you wish to upgrade and do a right-click. Choosing "Update driver."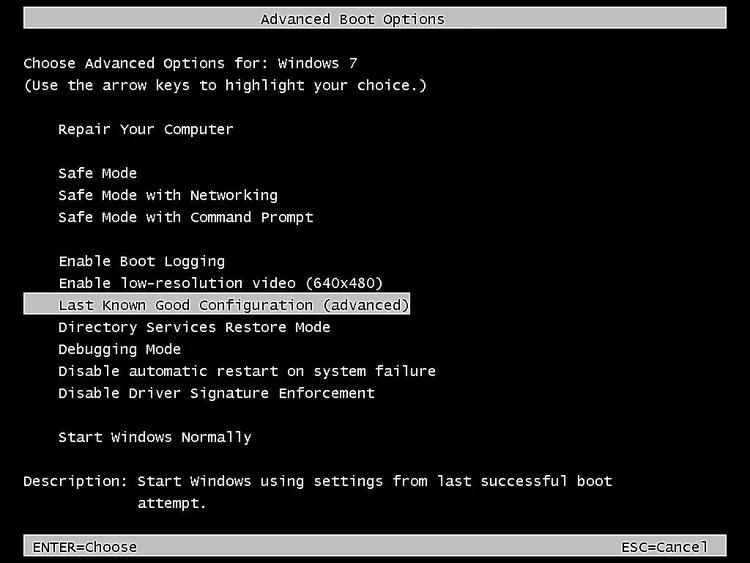 Step 4: Decide whether to enable automatic driver software updates.
Step 5: Hold off till the search is finished. If a new driver is discovered, adhere to the installation instructions.
Step 6: Restart your computer normally after the driver has been updated.
Fix 7: Manually control app updates
Controlling the app updates on your computer manually is an other viable option. When the other computers and Lenovo laptop screen black but still running, this fix is quite helpful. Follow these easy steps to manually manage app updates:
Step 1: In the lower left-hand corner of your screen, click the Start button.
Step 2: From the list of choices, choose "Settings".
Step 3: Select "Windows Update" after clicking on "Update & Security."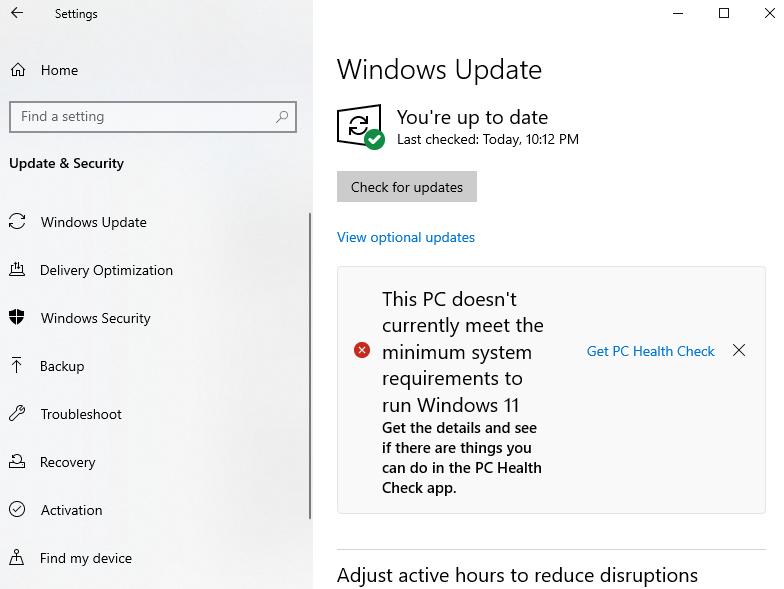 Step 4: Select "Advanced Options." Select "Notify to schedule restart" under "Choose how updates are installed."
Step 5: By doing this, you may choose when updates are installed on your device manually.
Fix 8: Restart the Explorer.exe Process
It might be annoying and challenging to utilise your device if the computer screen goes black but computer still running windows 10. Restarting the Explorer.exe process is one possible fix for this problem. The taskbar, desktop icons, and file explorer are all parts of the Windows Explorer interface, which is managed by the explorer.exe process.
Step 1: Click "Task Manager" with a right-click on the taskbar.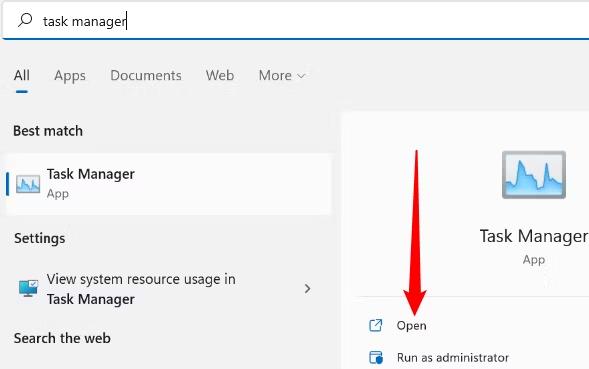 Step 2: Locate "Windows Explorer" by scrolling down in the "Processes" tab.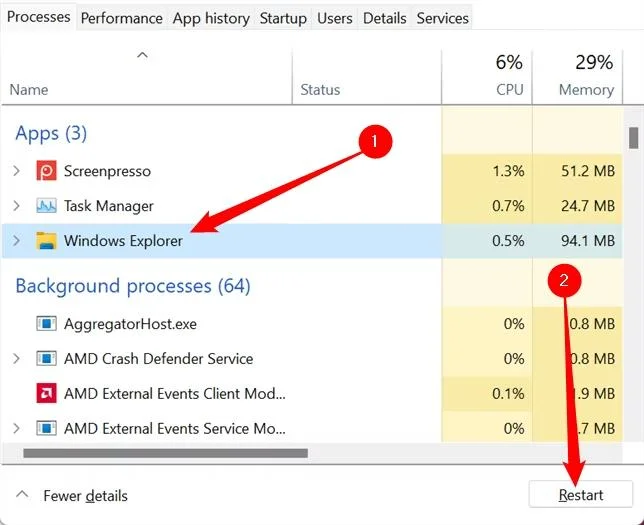 Step 3: In the bottom right corner of the Task Manager window, choose "Windows Explorer" and then click the "Restart" button.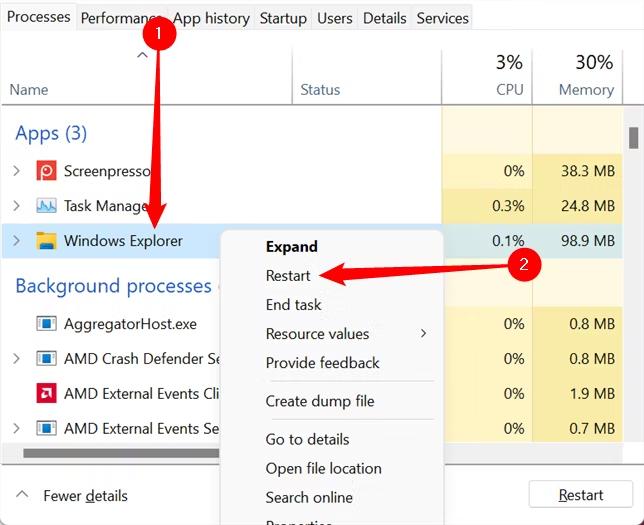 Note:
It's important to note that "fix 7" and "fix 8" are specifically designed to address an issue where the computer screen goes black but pc still running. This is different from a scenario where the screen goes black after logging in.
Summary
You could have wondered what to do next when the Hp, dell, lenovo and asus computer screen went black but still running. Well, we assist you with that in this article. We've given you eight different ways to attempt in order to restart your computer screen. The PassFab FixUWin software is one of the ways to fix screen-related difficulties in Windows that we highly suggest. This application has undergone extensive testing and has shown to be quite successful in resolving a variety of computer-related problems.