Has your Windows computer ever suddenly crashed, leaving you staring at a Blue/Black Screen of Death with cryptic error messages and the bugcheck code 0x0000003b? It can arise from a range of hardware and software issues. Don't let this error bring your productivity to a halt – in this article, we'll explore several powerful solutions for resolving the 0x0000003b error and restoring your system to peak performance.
Part 1: What is 0x0000003b Error?
Error code 0x0000003b is a common stop code that occurs when a SYSTEM_SERVICE_EXCEPTION error happens due to misconfigured system files or device drivers. This error can cause sudden crashes and reboots on your Windows PC, with the message "the computer has rebooted from a bugcheck. the bugcheck was: 0x0000003b". When the error occurs, you may lose any unsaved data and be unable to use your PC until you resolve the issue. In the following sections, we'll explore the root causes of the 0x0000003b error and provide effective solutions for troubleshooting and fixing it.
Part 2: What Causes the 0x0000003b Error?
No blue screen error occurs due to a single reason. Similarly, blue screen stop 0x0000003b can be encountered due to many factors, some of which are listed below:
1. Virus, Malware or Corrupt Applications: If you recently installed new software or a file from the Internet or plugged in a corrupted external device to your computer, it might have caught a virus or malware.
2. Incompatible or Outdated Drivers: If the drivers installed on your PC are incompatible, or if you have not updated them for a long time, they might cause a 0x0000003b error.
3. Damaged System Files: When, for some reason, the system files that contribute to the proper functioning of your computer get damaged or corrupt, they cause SYSTEM_SERVICE_EXCEPTION.
4. Damaged Memory: If RAM gets damaged, you see 0x0000003b because RAM is responsible for lining up all the system routines, and if it fails to do so, it causes different errors.
5. Damaged Hard Disk: The hard disk sector that contains the operating system gets corrupt or damaged, and the operating system fails to function properly.
Part 3: Spotting Error 0x0000003b: Common Symptoms and Warning Signs
When the system encounters a 0x0000003b error, you may observe the following symptoms:
Periodic Freezes
Recurrent system crashes
Sluggish system response when you perform an action
Takes more time to perform simple tasks, etc.
Part 4: Top Fixes for 0x0000003b Error for Windows 11/10/8.1/8/7
Solution 1: Run a Virus Scan
Suppose you doubt that your computer might have caught a virus or contains a malware program. In that case, you should run a virus scan using reliable antivirus software or Windows Virus and Threat Protection program. If there is any virus, the software will automatically remove it. Performing a full system scan is recommended rather than a quick one, as it can leave some viruses or malicious software in your computer.
Solution 2: Smart Repair by PassFab FixUWin
PassFab FixUWin is the simplest and easiest way to resolve BSoD error 0x0000003b. It is an amazing Windows repair tool that scans your computer for the potential cause of any error and resolves it automatically in minimum time. You can use this incredible tool to resolve any blue/black screen issues, PC crashing, stuck on boot loop and any other software-related problem. Here is how to get rid of blue screen stop code 0x0000003b using this outstanding tool:
Install and launch PassFab FixUWin.Plug in a USB/CD/DVD drive and click Create boot disk now button.

Let the system create a boot disk.

Plug the USB/CD/DVD drive into the faulty PC and restart it.
Press the boot key on startup repeatdly, set the bootable device on priority, save changes and exit the boot menu.
And you will see the interface of this tool, Click "Click Automated repair."
After the repair complete, click "Restart" to reboot your computer.
Solution 2: Run SFC Command to Repair Corrupt System Files
Corrupt or damaged system files usually cause the blue screen of death errors. However, you can repair all the system files by running the SFC command on your computer. The SFC (System File Check) command automatically scans for corrupt system files and replaces them with healthy files. You can run the SFC scan as follows:
Step 1. Press the Windows key to open the Start menu and type Command Prompt in the Search box.
Step 2. Right-click on the Command prompt option and choose Run As Administrator from the options.
Step 3. Type sfc /scannow, hit Enter.

Let the command run completely. If it finds any corrupt files, it will replace them.
Step 4. Once the command completes, close the Command Prompt and restart your PC.
After repairing the system files, you will no longer face the 0x0000003b error.
Solution 3: Check your RAM
As mentioned earlier, damaged RAM may cause your system to malfunction. It would be better if you check its health as follows:
Step 1. Press Windows + R keys to launch the Run dialog.
Step 2. Type mdsched.exe and press Enter.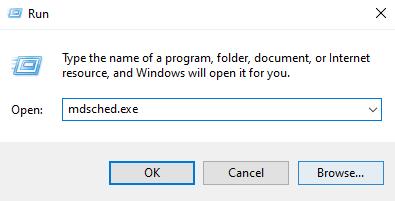 Step 3. When you see Windows Memory Diagnostics, click on Restart now and check for the problems option.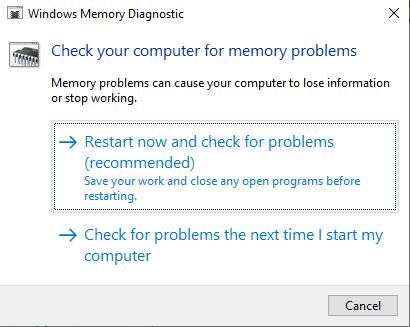 Step 4. Let your computer restart and diagnose the RAM. If it declares the RAM as faulty, replace it immediately.
After replacing the RAM, you will eliminate all the problems you might have faced due to faulty RAM. However, you can move to the next fix if your RAM is healthy.
Solution 4: Check your Hard Disk
When the sector of your hard disk that stores the system files gets damaged, you see different system errors, such as 0x0000003b. Such a sector is called a bad sector, and the system memory fails to access such a sector causing the issues. Here is how you can scan your hard disk.
Step 1. Open the Command Prompt as an administrator.
Step 2. Type CHKDSK /f and hit Enter.

The system will start to scan the hard disk for bad sectors. It will automatically repair any errors found on the hard disk. Any irreparable sector will be marked as unreadable, so no read or write operations are done. This way, it will prevent the SYSTEM_SERVICE_EXCEPTION from triggering.
Solution 5: Update Drivers
If you have not updated your device drivers for a long time, they might be the real culprit behind bugcheck 0x0000003b. Keeping your drivers updated is important for the smooth functioning of your system. You can update any outdated drivers in Windows 10 as follows.
Step 1. Press the Windows key.
Step 2. Search Device Manager using the Search box and open the program.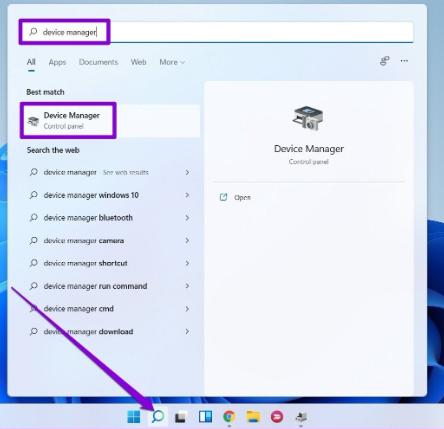 Step 3. Go through the list of all the devices.
Step 4. Right-click on the device having an exclamation (!) symbol, indicating a pending update.
Step 5. Click on Update Driver.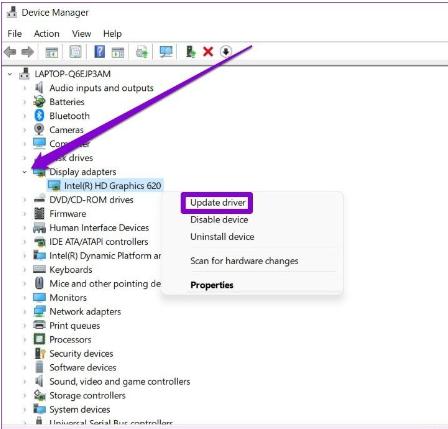 Step 6. Choose the "Search automatically for updated driver software" option to automatically install the latest driver updates.
Do this for all the outdated drivers.
Solution 6: Install Windows Updates
Pending Windows updates can make your PC slow and cause different problems. It is always recommended to install Windows updates as soon as you get them.
Step 1. Open the Settings app.
Step 2. Go to Update & Security settings.
Step 3. Click on the Check for updates button.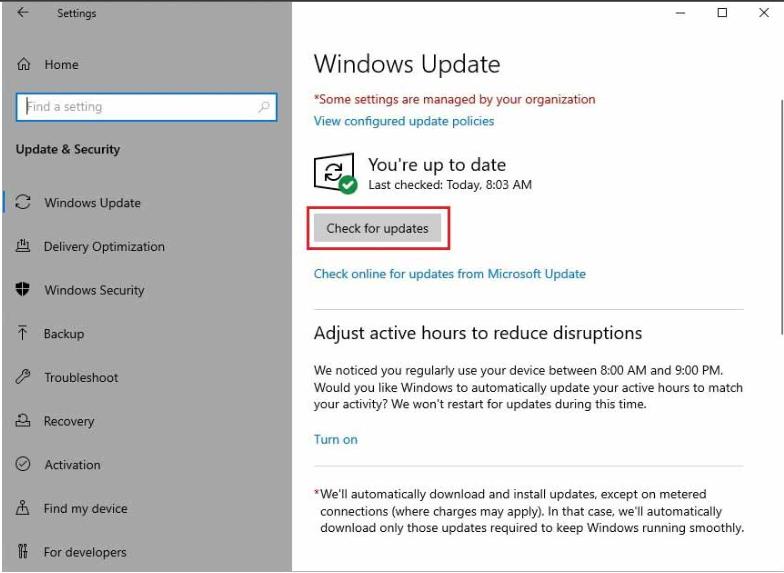 Step 4. If you see any pending updates, install them.
After the Windows updates have been installed, your computer will restart automatically. Hopefully, 0x0000003b will not appear again.
Solution 8: Perform a System Restore
If none of the above solutions worked for you and you did not get rid of the issue, performing a system restore is the last thing you should try. Restoring the system will undo all the changes you recently made in your PC settings and those done by other programs or malware.
Step 1. Restart your computer while pressing the Shift key.
Step 2. Choose Troubleshoot from Choose an option screen.
Step 3. Click Advanced options and then choose System Restore.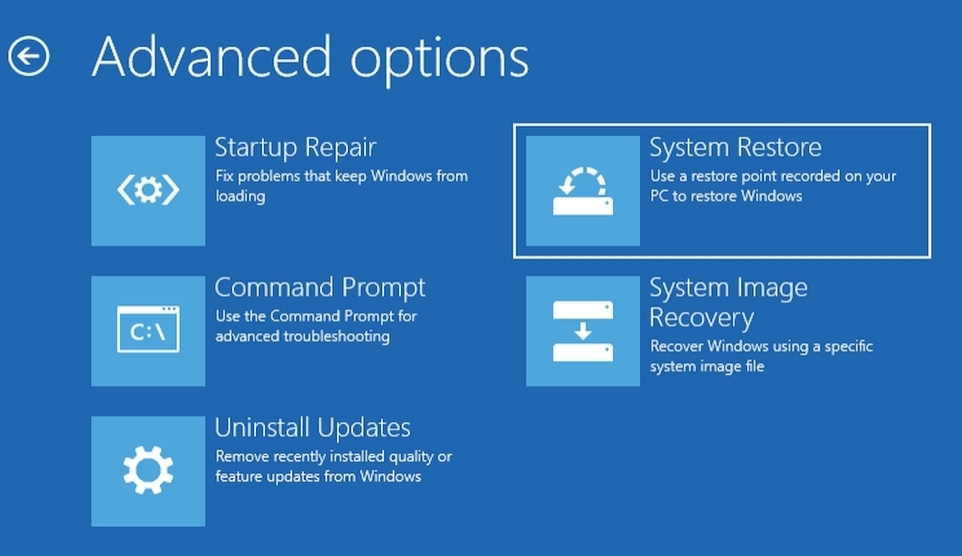 Step 4. Choose the Restore point from the available options and click Next.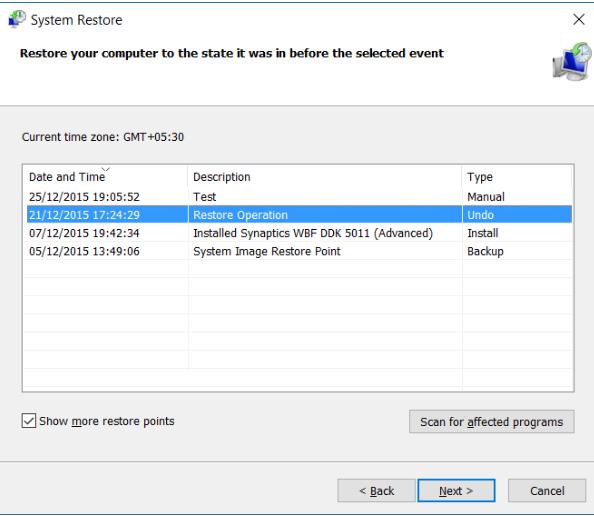 The system will restart after the restoration completes. All the recently installed programs and settings will have been removed.
Part 5: Preventing 0x0000003b Error: Tips to Keep Your Windows System Running Smoothly
If you want to avoid the bugcheck 0x0000003b error, here are some preventions that you can take:
Always keep your system updated
Never download or install programs and files from unauthorized sources.
Run a virus scan frequently. It is recommended to install a reliable antivirus program.
Shut down your computer properly.
Never mess up with critical system settings if you do not understand what you are doing.
Final Verdict
Resolving a complex system error like the SYSTEM_SERVICE_EXCEPTION error 0x0000003b can be a daunting task. In this guide, we have presented 8 effective solutions for this error.The most practical and recommended solution is using PassFab FixUWin, an exceptional Windows repair tool.If you have successfully resolved this error, we would love to hear about your experience in the comments section!