Kernel data inpage error Windows 10 usually occurs when you wake your computer up from sleep. It appears mainly due to damaged or corrupt kernel data files and makes your computer unusable. However, there are ways to fix this error which we will discuss in the sections below.
Part 1: Overview of Kernel Data Inpage Error on Windows 10
1. What is a kernel data inpage error?
Kernel data inpage error Windows 10 is a BSoD (Blue Screen of Death) error that indicates that some or all of your computer's kernel files have been corrupted or damaged. When you encounter this error, your PC crashes, run some diagnostic processes, and restarts. BSoD kernel data inpage error appears with a message stating:
"Your PC ran into a problem and needs to restart. We're just collecting some error info….
2. What May Cause kernel_data_inpage_error?
Faulty hard drive or RAM
Loose or faulty wires and connections
Misconfigured BIOS settings
Damaged motherboard chipset
Virus or malware
Corrupt System files
Outdated or corrupted device drivers
Corrupted paging file
Some serious hardware or software problem
Part 2: Some Basic Checks to Fix BSoD kernel data inpage error
Before attempting to resolve the kernel data inpage error Windows 10, we first need to understand the actual reason behind it. To do so, we will use Event Viewer as follows:
Step 1. Type "event" in the Search box.
Step 2. Check Windows logs.
Step 3. Now, check the status code to find out what is causing the error.
The followings are some status codes common with Kernel Data Inpage Error:
0x0000007A – Indicates files access error caused by a virus, bad sector, or device driver
0xC000009A – Lack of pool resources
0xC000009C OR 0xC000016A – Bad hard drive sector
0xC000009D – Loose wiring or hard disk failure
0xC0000185 – IRQL conflict or bad cabling
Based on the status code, you can perform the troubleshooting as follows:
If you encounter 0x00000007A, run an antivirus scan.
For 0xC0000009D, change IDE/ SATA cables and try again.
The 0xC0000185 can be addressed via full reboot.
In the case of 0xC0000009C or 0xC000016A, run the chkdsk command to identify and repair the bad sectors:
Step 1. Open an elevated CMD window.
Step 2. Type "chkdsk c: /f /r", hit the Enter.

Step 3. Wait for some time until the process completes.
This will display and repair any bad sectors found on your hard disk.
To check RAM for faults, follow the steps below:
Step 1. Go to the search box and type "memory" to open Windows memory diagnostic.
Step 2. Choose Restart now and check for problems and let the process complete.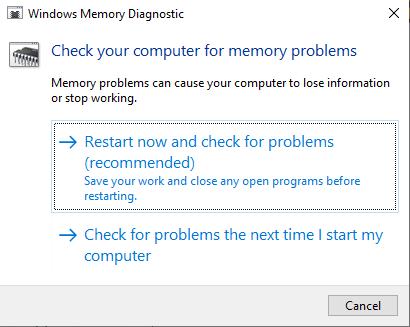 If the memory checker displays any error after this, turn off your system, plugin your RAM to a different slot, and re-run the test. If the error vanishes, it means there is a motherboard issue, and if the error moves with the RAM, it indicates a RAM issue.
Part 3: How to Fix kernel data inpage error Windows 10?
Fix 1: Restart your Computer
Restarting your computer whenever facing an error is the first thing you should do to resolve it. Sometimes the errors occur due to high resource usage, a hardware glitch, or a system update, and restarting can set all of these. When you face a BSoD error, your computer restarts automatically. So, it is recommended to restart your system after making any changes when you try to resolve kernel_data_inpage_error Windows 10.
Fix 2: Check your Hardware
Kernel data inpage error Windows 10 may also appear due to a loose wire, an improperly set RAM module, or a faulty connector. To resolve hardware-related issues, open the computer case, and check every connection. Especially inspect the wires that attach to your hard drive. Unplug the connectors and then replug them properly.
Here, you should also check the RAM chips. Check whether they are set properly in their slots or not. Remove the chips and then attach them firmly. In this way, check every component one by one that is connected through a wire. After ensuring all the components are connected properly, restart the PC and see if the issue still appears.
Fix 3: Use PassFab FixUWin
Resolving a Windows error sometimes becomes frustrating and risky if you are a non-technical person. In such a case, using a third-party Windows repair tool is all you need.
PassFab FixUWin is an all-in-one Windows repair tool that rescues you from 200+ Windows errors simply by scanning your system and repairing the causing factors. This incredible tool can fix any blue/black screen issues, restart loops, and PC crashing errors. Here is how to use the amazing tool to resolve kernel_data_inpage_error Windows 10:
Step 1. Install PassFab FixUWin software and connect a USB device to the accessiable computer.
Step 2. Create a boot disk by selecting the connected USB device and clicking on the "Create Boot Disk" option.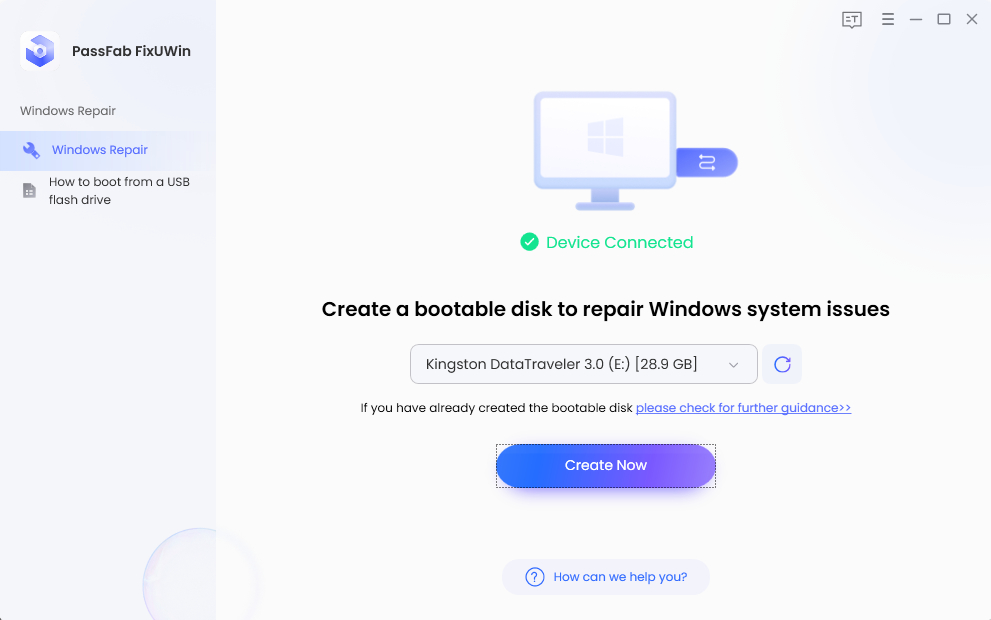 Step 3. Restart the computer and access the boot menu by pressing the designated boot key.
Step 4. Set the USB device as the primary boot option in the boot menu.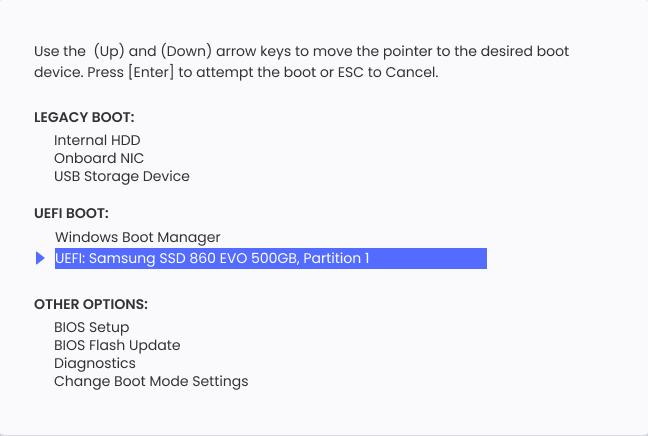 Step 5. Launch PassFab FixUWin software, select the partition that requires repair, and click on the "Automated Repair" option to initiate the repair process.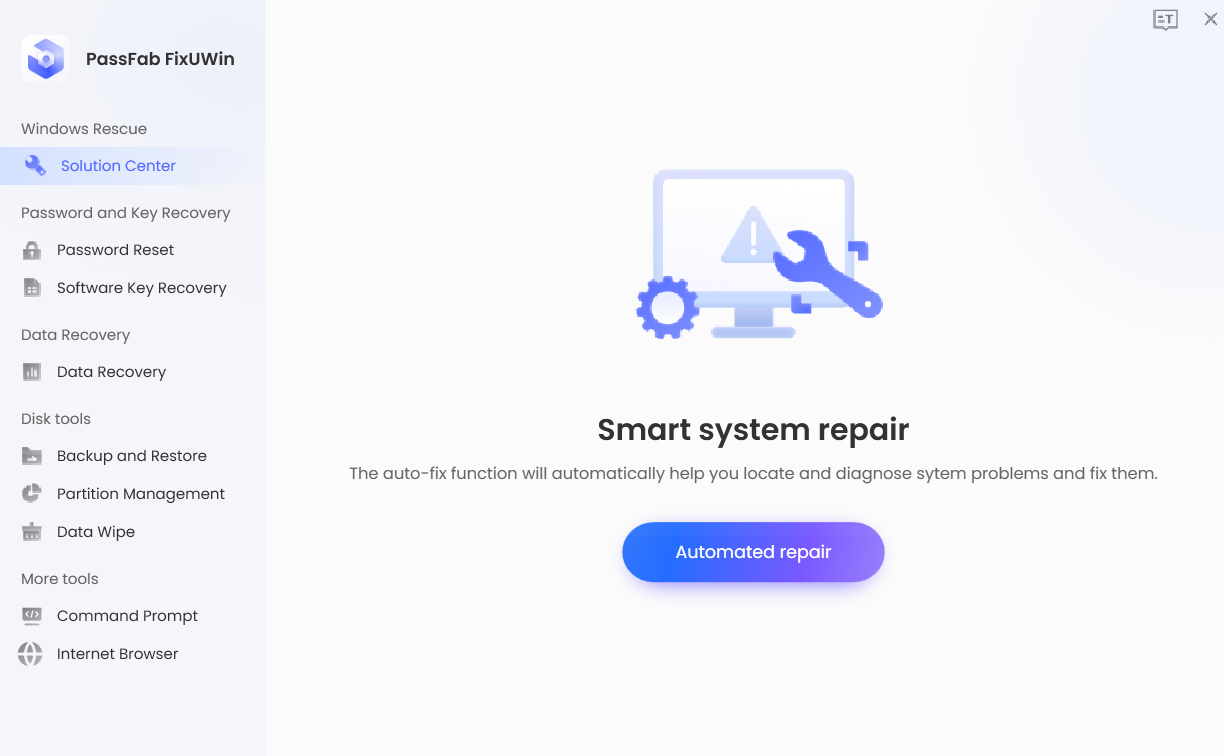 Step 6. Once the repair process completes, restart the computer to finalize the changes.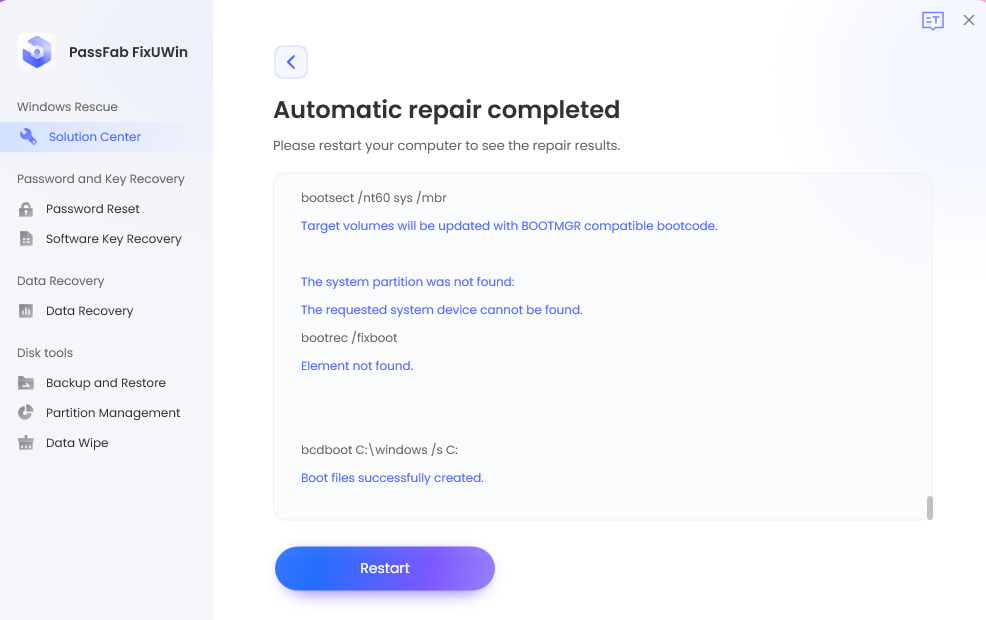 After using this tool, the problem will be resolved for sure.
Fix 4: Use Windows Memory Diagnostic Tool:
Memory Diagnostic Tool is a built-in Windows tool that scans and fixes memory errors. Running this tool can resolve the BSoD kernel data inpage error if the status code mentions any memory issue. Make sure to close any apps or files before running the diagnostics:
Step 1. Type "mdsched.exe" in the Run dialog and hit Enter.
Step 2. Select "Restart now and check for problems (recommended)" and wait for the PC to restart.
Step 3. Press the F1 key and choose Extended scan when the scanning starts.
Step 4. Press F10 and apply all the changes.
Ensure the scan is not interrupted, as it will take some time. After completion, a message will appear on the screen if any error is found when you restart your system. If you do not see any message, know that no errors were found.
Fix 5: Perform the CHKDSK Command
The CHKDSK command can be used if you doubt there is some problem with your disk. This command scans your hard drive for bad sectors and repairs them automatically to make them accessible. BSoD kernel data inpage error can be resolved by using the CHKDSK command as follows:
Step 1. Run Command Prompt with admin rights by typing CMD in the Search box.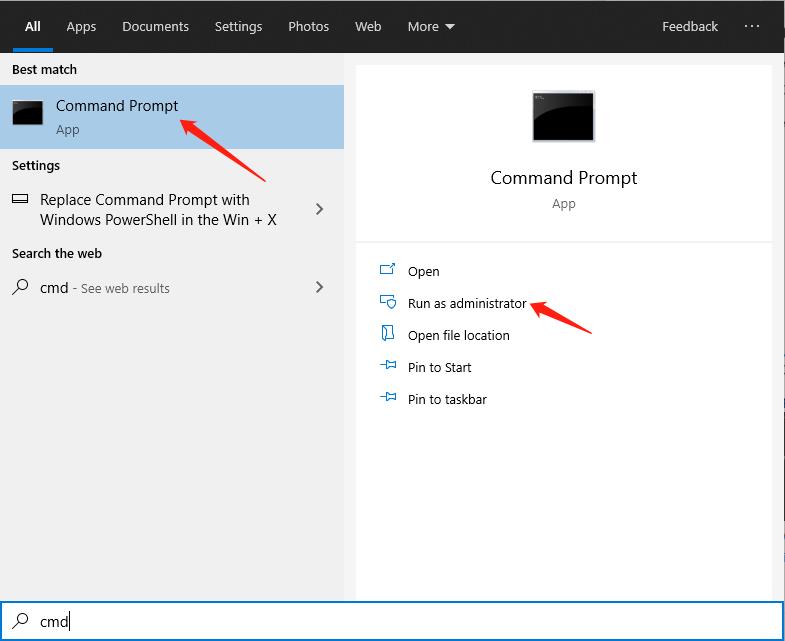 Step 2. Now, type "chkdsk /f" and hit Enter to detect and resolve the error.

Step 3. Restart your computer after the scan completes.
Fix 6: Update Outdated Device Drivers
Sometimes, damaged/ corrupted or outdated device drivers can cause kernel data inpage error Windows 10. You can try updating your drivers before replacing any hardware as follows:
Step 1. Press Win + X and go to Device Manager.
Step 2. Look for the exclamation(!) mark on the devices indicating outdated drivers.
Step 3. If you see nothing, expand Disk Drives and right-click on the hard drive.
Step 4. Choose Update Driver.
Step 5. Select Search automatically for drivers from the two options. If Windows fails to locate any device driver for the chosen device, visit the device's manufacturer's website and download the latest driver.
Fix 7: Perform a Clean Boot
Sometimes, the BSoD errors are caused by third-party software and their background services. These are the services that start automatically when you turn your PC on. By disabling these services, you can resolve BSoD kernel data inpage error by the clean boot method:
Step 1. Search msconfig by pressing Windows+R.
Step 2. Click System Configuration and switch to the Services tab.
Step 3. Check the Hide all Microsoft Services checkbox.
Step 4. Click Disable All, followed by the OK button.
Step 5. Open the Task Manager, switch to the Startup tab, and disable all the applications by selecting them individually.
Fix 8: Perform a Virus Scan
If the BSoD kernel data inpage error is caused by a virus or malware, you can get rid of it by simply running a virus scan. Using an antivirus program such as Windows Defender, you can scan your PC and remove any malicious programs as follows:
Step 1. Open Settings -> choose Update & Security.

Step 2. Go to Windows Security and choose the Virus & threat protection option.
Step 3. Click the Scan options link under Current Threats and select Full Scan.
Step 4. Hit Scan now.
Now, wait until the Windows defender finishes the scan. It is recommended not to use any resource-intensive program during this time because a full scan can slow down the system.
Bottom line
The Kernel Data Inpage Error is a common issue in Windows 10 that can cause blue screen errors and data loss. It occurs when Windows is unable to read or write data to the page file. We have introduced different solutions and hope they helps for you. PassFab FixUWin is a recommended tool to fix this issue and other Windows errors quickly and easily.