MDM (Mobile Device Management) is a protocol that enables system administrators to manage iOS devices by sending commands from a central server to iOS devices in the network. Using MDM solutions, organizations/school can monitor the activities of employees and even restrict their access to certain functions of the device.
Although MDM is a powerful feature for surveillance, it can become a huge problem, especially when employees decide to leave the organization and students graduated from school bringing their iPhones/iPad with them. If your iPad also has an MDM profile, the previous company/school may still have access to the entire data and even wipe them remotely. To avoid such situations, you must remove MDM profile iPad and gain full access to the device. There is a complete guide about MDM bypass.
Part 1: What is MDM and Why You Need to Remove it?
Before moving on, let's understand "What is MDM" and the reason why you need to remove remote management iPad.
What is MDM?
MDM is a cloud-based device manager for iPad, iPhone, etc. It provides a platform to simplify the deployment, collaboration and management of devices such as iPad, iPhone and Mac. With MDM, system administrators can manage company-owned and personal devices. They can configure the device remotely using whatever they like (including security settings and applications).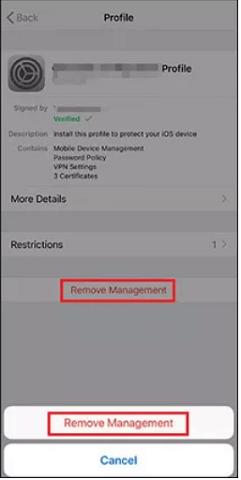 Why You Need to Remove MDM from iPad?
According to the above, which means that system administrators can delete passwords and erase data without any interruption, and all these operations are done remotely. This may cause restriction issues. You cannot install the application as you wishes, and your device may already have an MDM remote management lock screen that requires a user name and password to be activated. Your data may be monitored at any time, which is a very scary thing.
Besides, MDM can take the form of profile or MDM remote management. The MDM profile can change the settings of devices that have installed iOS. It can configure password, VPN, application lock, etc. On the other hand, MDM remote management refers to remote control equipment. It may appear when you reset the iPad with MDM installed.
Therefore, if you find MDM on your iPad, remember to remove it in time by following the below ways.
Part 2: How to Remove MDM Profile iPad in Settings with Passcode
"How to remove MDM profile from devices" is the major issue while using an MDM managed device. We can solve this issue by adopting two reliable methods. The first method to solve this problem is to remove MDM profile iPad in setting. Following are the some simple to learn how to remove MDM profile from iPad:
Firstly, open the "Settings" application on the iPad, and then press "General" in the left window.

The General Settings window will open in the right pane. Now, scroll down and you will see the option "Device Management".

Click it to go to the MDM configuration file.

Next, click "MDM Profile" and hit "Remove Management."

If it requires the passcode, enter it to free your device from the MDM control.
Part 3: How to Remove MDM from iPad without Username and Password
In order to completely remove a device from all forms of management, the necessary process will ultimately depend on how the device is registered as an MDM. If the device is manually registered, you can delete MDM by changing the settings.
If the device is registered through the "Auto Registration" of the "School Administrator/Company", you need a third-party tool to remove it from the iPad withou the username and password. In this case, PassFab iPhone Unlocker is the best solution for how to remove MDM profile from iPad because it can help you remove MDM profile iPad within minutes, 100% success, and without no technical operation.
Here are the detailed steps to remove MDM from iPad with PassFab iPhone Unlocker:
Firstly, download and install PassFab iPhone Unlocker on your Mac or Windows computer. Launch the software and you will see three options on the screen. Click "Bypass MDM".

Now, Connect Your iDevice to Computer by clicking "Start" button in this interface. In this way your iPhone or iPad will connect to the computer running PassFab iPhone Unlocker.

Wait patiently. It will take a moment to remove MDM on your iPad.

Now, you have bypassed MDM.
Part 4: Questions about Remove MDM Profile iPad
Q1: Does "Erase All Content and Settings" remove an MDM profile?
I have also thought of this method, but after trying it I found that MDM still appears. So "erase all content and settings" can't remove the MDM. You'd better try other ways.
Q2: Can I remove MDM from iPhone?
Of course! MDM allows people to control the device and also to delete it from the device. Generally, there are two methods to delete MDM from iPhone: One method is to delete MDM profile from iPhone Settings>General>Device Management>MDM Profile; but if your device is under the supervision of school or company, this method Does not work for you. You will need professional third-party software, such as PassFab MDM unlocking software.
Q3: Is there any way to get rid of MDM on iPad without contacting the administrator?
Yes, there has a way you can use to remove MDM profile iPad without contacting the administrator. It is PassFab iPhone Unlocker. You can use it to bypass MDM without the username and password
Summary
If you encounter MDM management problems due to forgetting your passcode and don't know anything about "how to remove MDM from iPad", then don't treat it as a serious problem. You can get rid of this situation.just, there is little you have to do. The methods discussed above can help you solve this problem. The best way to unlock iPad is to use passfab MDM unlock software PassFab iPhone Unlocker, which can quickly solve related issues in a short time.