You bought a second-hand iPhone and when you try to set it up, you find that your iPhone has been enrolled with Mobile Device Management (MDM). Or you want to remove school's or company's MDM profile to get rid of supervision. This is frustrating. You may start to think about how to remove MDM from iPhone.Is there a way to remove MDM from iPhone? Luckily, the answer is YES! You can remove MDM from your iPhone. Check this article and find out the best MDM removal tool.
Part 1. What Is an MDM on iPhone?
What Is iPhone MDM?
Mobile Device Management (MDM) is used for mobile device administration.
MDM iPhone stands for Mobile Device Management on iPhone.
MDM is a protocol that allows system administrators to control iOS devices from a central server.
Administrators can remotely manage iPhones and iPads using the MDM service.
Once a device is enrolled, administrators can remotely install/uninstall apps, access device information, configure settings, and lock/restart/wipe the device.
What Is MDM Profile?
Configuration profile is another kind of MDM used to manage the settings of various features of a device remotely.
MDM enables enterprises to manage and update the enrolled mobile devices remotely.
One of the examples of such configuration profiles is the one that manages APN settings. This allows the users to not enter any kind of information for the configuration of data on their devices.
MDM iPhone is Mobile Device Management iphone. Mobile Device Management (MDM) aims at mobile device administration. MDM is a protocol that enables system administrators to control iOS devices by sending commands from a central server to the network's iOS devices. Using the MDM service, administrators can remotely manage iPhones and iPads, inspect, delete, or install profiles, and remove passcodes or erase controlled systems.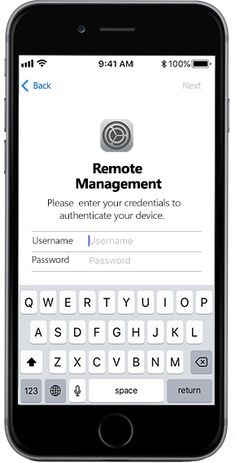 Tips on Remove MDM from iPhone
Back up your iPhone before removing MDM.
Ensure Your Device has Sufficient Power.
Change Your Passcode After uninstalling MDM profile iPhone
Part 2. What Scenarios Do You Want to Remove the iPhone MDM?
When you're going to resell your iPhone, you probably want to get rid of the iphone MDM profile to protect your privacy.

Get a second-hand iPhone with an MDM lock and wonder how to remove MDM from the iPhone to get full access to the device?

You've been stuck on the "Remote Management" login screen but you forget the password, unsure how to remove MDM Profile from your iPhone without a password?

A remote management screen occurs when you factory reset or restore your iPhone. To clear your iPhone's MDM profile and continue with the setup, you need to enter your user name and password.

You want to use your phone in a personalized way without anyone watching your device.

No Option to Remove MDM Profile

...
Part 3. How to Remove MDM from iPhone?
After understanding what MDM is, you will see how important it is to bypass MDM in your second-hand iPhone, as you definitely want your own iPhone to be used and controlled by yourself, instead of whoever you don't know. In this part we summarize three ways to remove MDM iPhone. If you have access to the administrator you can try this Way, otherwise you can try iPhone Unlock.
Remove MDM from iPhone via PassFab iPhone Unlocker
Many Apple users may run into circumstances like forgetting MDM username and password, forgetting iPhone password or iPhone being disabled. In these case, you can bypass MDM activation screen using PassFab iPhone Unlocker.
PassFab iPhone Unlocker is one of the best remote MDM removal software. It can:
Remove iPhone 4-digit/6-digit numeric code, custom alphanumeric code, and Touch ID/Face ID.
Factory reset iOS devices without password.
Bypass Apple ID without password.
Remove MDM without username and password.
Video Tutorial About How to Bypass/Remove MDM from iPhone:
Here are the steps to bypass MDM via PassFab iPhone Unlocker:
Download and install PassFab iPhone Unlocker in your Windows computer or Mac. Connect your iPhone with your computer/Mac via a USB cable. Be sure to tap Trust on your iPhone if you are asked to trust the computer or not.

Launch PassFab iPhone Unlocker, and click "Bypass MDM".

Once the program detects your iPhone, click Start to Bypass.

After a few seconds, it will prompt that you remove MDM successfully.
Part 4. How to Remove MDM Profile from iPhone Free?
1. Remove MDM from iPhone without Computer
If you can access to the administrator, then it won't be difficult to remove MDM from iPhone, as iPhone allows users to remove MDM profile easily.
Here is how to do it:
Open the Settings app in your iPhone.

Tap General > Device Management. This will open the enrolled management profile.

Tap MDM Profile.

You will see the button to remove MDM profile, then tap Remove Management.

You may be asked to enter a passcode, enter your passcode. If your passcode is incorrect, head to the administrator for help.
Tada! The MDM profile has been removed from your iPhone. If this method doesn't work for you, don't worry. There is alternate method for you.
2. Remove MDM from iPhone via iActivate
If you can't remove MDM from your iPhone settings, you may try a third party software that specializes in bypassing MDM for iOS devices. You can do it using iActivate software. It is a lightweight program that helps remove MDM profile iPhone (iOS 12 included) and bypass MDM activation screen. It is available on Windows and macOS, and it supports iPhone/iPad/iPod.
Can't wait to try and remove MDM iPhone? Follow these steps:
Download and install iActivate software in your computer.

Turn Off Find My Phone in your device.

Connect your iPhone to your computer, and your iPhone must be turned on while removing.

Allow your computer to connect to your iPhone, and be sure to tap Trust while being asked to trust this computer or not.

Launch iActivate software and once connected, the program will show you the information about your iPhone.

Click Start MDM Bypass. Now the program will do the rest for you.

Wait until your iPhone reboots.
Now MDM has been removed from your iPhone and you can connect to WiFi to set up and use this device.
Part5. Extra Tip: How to Remove MDM Profile iPhone Jailbreak?
You need to perform the following steps if you want to jailbreak your iPhone or iPad.
Download and install the Checkra1n on your computer.

Start the software on your PC, connect your device's port to iProxy, and then connect the SSH to it.

Now, run the "cd../../" to get to your device's root directory.

Then, execute the "cd/private/var/containers/Shared/SysteGroup/" command. This path will take you to the folder where the MDM files are placed.

You need to finish the procedure by running "rm-rfsystemgroup.com.apple.configurationprofiles/." This command will erase all MDM files from your iPad or iPhone.

Reboot your iPad or iPhone. The device will display a welcome screen, as expected.

Start updating the device. After completing the update, you will need to return to Remote Management and install a profile. The new profile will not have any limitations. Furthermore, your device will be devoid of any MDM setups.
Jailbreak is undoubtedly an effective way to remove MDM from iDevice. However, if there are so many hazards involved in using a jailbreak to uninstall MDM, it is also risky. Then why not go with PassFab iPhone Unlock. You can easily remove MDM without jailbreak.
Part 6. More FAQs About Removing MDM iPhone
Q1:Why I Cannot Remove MDM Profile iPhone?
The most possible reason for no option to remove device management is that the MDM profile is non-removable. If the organizer or administrator of the configured MDM profile chooses that it cannot be deleted without his authority. Hence, the Remove Management option is not visible in Settings.
Q2: Is there a way to remove MDM from iPhone? How do I get rid of MDM from iPhone?
Yes, definitely! MDM enables people to control the device and it also can be removed from the device. Usually there are two methods to get rid of MDM from iPhone: one is to remove MDM profile from iPhone Settings > General > Device Management > MDM Profile; the other method is to bypass MDM using a third-party software like PassFab iPhone Unlocker.
Q3: What's the difference between MDM profiles and MDM Remote Management?
MDM profile allows people to change settings in iOS devices, while MDM Remote Management is designed for administrators to configure settings for all the devices and control these devices remotely.
Q4: Does Jailbreak Remove MDM?
It is, indeed. Essentially, Jailbreaking provides unrestricted access to iPhones and iPads, enabling MDM setup removal.
Q5: Is the MDM Profile Safe to Keep on iPhone?
From the user's end, retaining the MDM profile on an iPhone is not secure because it will have many restrictions that can make you frustrated. If you are the device owner, removing the MDM profile becomes imperative. Specifically, these primary restrictions include: App Restrictions(The first restriction that MDM imposes is that the user cannot delete the applications.); Connection with Other Device(There can be restrictions on connecting the device with other devices); Privacy(Apple's mobile device management limits privacy-affecting actions, such as media, iCloud Photos, and messaging, while not directly accessing your messages and photos.)
Final Words
There you go. This post has summarized some effective methods on how to remove MDM from iPhone. You can always rely on an MDM removal tool—— PassFab iPhone Unlocker. It is a very easy-to-use software to unlock iPhone/iPad/iPod without much effort.