Have you heard of MDM before? What issues can MDM cause you on iPhone or iPad? How to bypass it? Worry no more! We have answers to all your questions. In this article, we will tell you what MDM on iPad is, and answer some of the very common questions about MDM. Also, we will share two easy methods on how to bypass the MDM on the iPad. Lastly, we will introduce you to fantastic software that can unlock your iDevice's passcode and even Apple ID without a password. So, let's get started to know how to remove remote management iPad.
Part 1: How to Bypass MDM on iPad
How to bypass MDM on the iPad. Here, we have shared two ways using which you can bypass the MDM on the iPad. So, let's have a look at these methods.
Way 1: Remove MDM on iPad from Settings
You can bypass the MDM on the iPad by following some simple steps. Check the steps below to see how to bypass MDM on the iPad.
First, open the "Settings" app on the iPad and press on "General" in the left window.

The general setting window will open in the right pane. Now, scroll down and you will see the option "Device Management." Click it to go to the MDM profile.

Next, click "MDM Profile" and hit "Remove Management."

If it requires the passcode, enter it to free your device from the MDM control.
Read Also: Top 4 Easy Ways to Unlock An iPad
Way 2. Bypass MDM Using PassFab iPhone Unlocker
You have seen the method with steps on how to bypass MDM on the iPad using Settings. Now, let's see how to bypass MDM using a professional MDM profile removal program. If, by any chance, you forgot the password to enter MDM profile or locked out yourself because of too many attempts, you cannot use the device, we have brought a reliable and easy-to-use solution for you. PassFab iPhone Unlocker can bypass MDM, unlock your screen passcode on iPhone or iPad in minutes. Follow the steps below to do it.
01First, download and install PassFab iPhone Unlocker on your Mac or Windows computer. Launch the software, and you will see three options on the screen. Click "Bypass MDM".

02Then, connect your iPad to the computer. On the main interface, you will see "Start to Bypass". Click the start button to start the process.

03

Now, wait for a while, and your MDM activation screen will be removed.
Video Tutorial About How to Remove MDM from iPhone/iPad
Way 2: Bypass iPad MDM via iActivate
The second method to bypass the MDM on the iPad is via third-party software. You can use iActivate tool to get rid of MDM. See the steps below to learn how to use iActivate to bypass MDM on the iPad.
Download the iActivate software on your Windows or Mac PC.
Install and launch the program.
Next, turn on the iPad and connect it with the computer. Make sure it has to Find My iPhone turned off.
Allow iTunes to detect the device. Once the device is detected, you will see its IMEI, serial number, etc. on screen. Also, click "Trust the computer" on your iPad if it is your first time to connect the device to the PC.

Then, follow the prompt. Click "Start Bypass MDM" and wait until it is removed. Then, activate it with WiFi.
Read Also: Useful Tips on How to Remove MDM from iPhone
Summary:
So, all your questions have been answered now. We discussed what MDM is, how to bypass MDM on iPad with three simple methods. Also, if you ever forgot the passcode or Apple ID, you know how to unlock it using a reliable tool, PassFab iPhone Unlocker .
Part 2: People Also Ask About MDM
People may ask about MDM. So, Let's first see what MDM is. Also, we will answer some common questions that people have related to MDM.
1. What Is MDM in iPad?
So, MDM stands for Mobile Device Management. As the name suggests, MDM is a cloud-based device manager for iPad, iPhones, etc. Basically, it is a protocol by which system administrators can have the power to change the settings and control all iOS devices from a centralized server in the iOS network. It provides a single platform to streamline the deployment, collaboration, and management of devices like iPad, iPhones, and Macs.
With the help of MDM, system administrators are able to manage the corporate-owned and personal devices. They can configure the devices remotely with whatever content they like, including security settings and apps.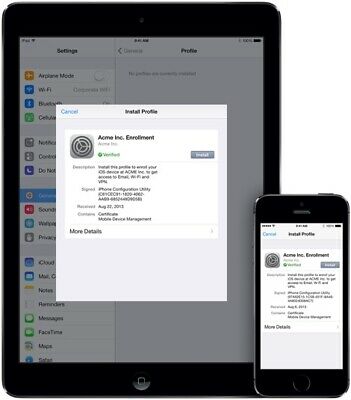 It means, the system administrator can remove the passcode and erase data without any interruption, and all of that is done remotely. However, it may cause an issue of restrictions. The user cannot install apps of his will, and he may already have MDM remote management lock screen on his device that requires username and password to activate.
2. What's the Difference between MDM Profiles and MDM Remote Management?
MDM profile can change the settings of the devices that have iOS installed. It can configure the passcodes, VPN, App lock, etc. Moreover, you can install the MDM profiles by installing some apps. On the other hand, MDM Remote Management refers to controlling the devices remotely. It may appear when you reset your iPad or iPhone that has MDM installed in it.
Other than that, MDM Remote management refers to tasks like wiping the data, changing passwords, putting an MDM activation lock screen, installing and uninstalling apps remotely.
3. Can MDM activation lock screen actually be removed?
On supervised devices, an MDM solution can clear the Activation Lock if the user has Find My iPhone. turned on. It can also enable the Activation Lock during the setup. Moreover, we will also share two ways to bypass the MDM on iPad. You can use settings or third party software to do it.