A phone user's worst dream is dropping your phone in water. It is far more problematic when it is your business phone, and you need it to connect with your clients or colleagues. While drying out a wet phone here and there allows you to continue to utilize the gadget, you might see that parts of the phone don't function as in the past. It is possible the water forever harmed your microphone and speaker and your iphone 12 ear speaker not working, so count yourself fortunate if the headphones work.
Here, we will guide you on how to get water out of your phone speaker and make it work like usual again. Keep following us to learn how to get water out of phone speaker and keep your phone from getting wasted.
Part 1: Why Is iPhone Ear Speaker Not Working on Calls?
Your phone's speaker, earpiece, and microphone are frequently connected. However, this differs from one model to another. For instance, the microphone and earpiece are the same equipment on an iPhone, so harming one harms both. A few phones connect both of them to the external speaker, so if any of the three is harmed, you will not be able to repair it customarily.
So when a phone gets wet, or dropped phone in toilet speaker not working,any or every one of its parts can cause long-lasting harm. Setting your phone in uncooked rice for a little while can help by sucking the dampness out. However, a few fragile parts might get irreversible damage. If you, in any case, can't hear and talk during calls, your earphone or microphone might be damaged. 
Part 2: What to Do When Your Phone Has No Sound after Water?
This one shocks no one except it is the best method and is the thing you ought to attempt. So ensure your phone is switched off. Likewise, eliminate any cover on the phone. That is done as it might slow down the process as water can, in any case, be caught in the holes.
The first thing you must do to save your phone from a short circuit is turn the device off. Put the phone on a paper towel or a very dry towel and try to eliminate any wetness that actually might remain. Try to get water out of phone speaker to keep it from damaging. One more thing you must do is to eliminate the sim card.
Things to Do:
Switch the gadget off right away and make an effort not to turn it on.
Utilize a microfiber fabric and dry the entire surface out. Rub it along the corners and holes to eliminate the surplus water put away in it.
Things to Avoid:
Try not to connect a charger since it can create a short circuit.
Try not to blow air in it or utilize a blow dryer on the gadget before opening it.
Try not to plug the charger.
Do whatever it takes not to press any key or volume buttons as it can compel the water behind the elastic into the phone and bring on additional harm.
Blowing into your phone is the same thing that drives water into the phone again. You need to quit doing that and attempt to keep the phone inactive and take it directly to the repair shop.
Try not to overreact and proceed to utilize a dryer or anything on your phone. 
Part 3: How to Get Water out of Your Phone Speaker
Way 1: Use the Sonic app
Introduce the free Sonic application from the App Store and open it.

Put the iPhone on a level surface or one that is somewhat inclined toward the base (gravity will help). Please go through the volume button to set it to the max.

Click and hold the water drop symbol.

Presently, swipe anyplace on the screen to set the frequency between 160 to 200.

Rehash the above cycle on various occasions (until you see no water beads being pushed out of the speaker.) 
Automatic: If this doesn't work, tap the water drop symbol and let the application make the suitable frequency to push water out. That is one way of how to get water out of phone speaker.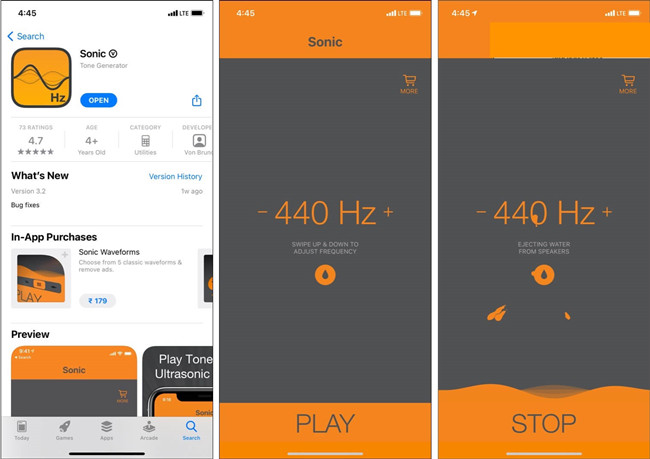 Way 2: Use Water Eject Shortcut
Before you start, you need to permit untrusted shortcuts on your iPhone. For this, open Settings and go to Shortcuts, where you need to switch on "Allow Untrusted Shortcuts."
Add the shortcut for the water Eject.

From that point forward, tap My Shortcuts. Then, tap the shortcut to start running it.

Click the "Begin Water Ejection" button but ensure your iPhone volume is max.
Way 3: Use Free Apps
Your phone endures contact with water. However, the sound coming from the speaker currently sounds suppressed? Some water might, in any case, be caught in the speaker. The speaker cleaner will assist you with unclogging your speaker by recovering any damage. The speaker cleaner currently discharges water from your speaker inside a couple of moments and fixes your device.
With the Speaker Cleaner app, you can get water out of phone speaker in term of seconds. This simple course of eliminating water from the speaker is straightforward and is successful almost 90% of the time.
Speaker Cleaner application utilizes sine waves of predefined frequencies to eliminate water from the speaker. Sound waves make the speaker vibrate and shake off the water stuck inside.
Way 4: Use these Methods When Your Phone Has No Sound after Water
Dry It with a Lint-Free Towel
This is the right time to indulge in this piece of tech. You most likely have a lint-free towel if you wear glasses or own a DSLR. If you don't, a paper towel or washcloth should do.
Dispose of as much water as possible. The front and back of the phone ought to be dry when you finish. Make sure to get the fabric into the charging port, headphone jack, SIM tray, and some other little hiding spots you can find.
Utilize a Desiccant
Lower your phone in a desiccant or a substance that will form dryness by retaining water. Leave the phone, and its separated battery lowered in a bowl of rice for the time being. Silica gel is an ideal choice, assuming you have them.
Sound wave to remove water from mobile speaker
If you have enough patience and time, you can check it out by clicking here to learn how to get water out of your phone speaker ,This sound will eject water from your phone speaker and completey remove water from your mobile speakers.
Way 5: Turn to Apple for help When Your iPhone Ear Speaker Not Working
At long last, if you accept that your iPhone speakers sound sloppy, allow it a few hours, and afterward, contact Apple Support. Likewise, you may take your gadget for repair at an Apple Store or authorized repair shop.
Besides, do remember to clean your Phone's speaker regularlly. If you want to know how to clean iPhone speaker,you can also find your answers here.
Bonus: A Fabulous App to Unlock a Disabled iPhone
You must have suitable instruments in hand to help if you find yourself unfit to get to your iPhone. You might need to consider the various choices accessible to you if your phone has no sound after water.
Luckily to this end, there are different iPhone software you should attempt, but PassFab iPhone Unlocker is the best of all. PassFab may be a decent choice for you to unlock a disabled iPhone .
Final Words
You did the best you could to save your cell phone along these lines. We believe that you get to restore your speakers on the phone with this aide on the most proficient method on how to fix phone speaker water damage. However, if they don't work even after a long delay, we prescribe you to take your cell phone to a nearby store. Moreover, in case of any damage to your phone like how to bypass remote management or bypass iPhone passcode, we suggest you use PassFab iPhone Unlocker to resolve your issues.