Hi all, anyone else come across iPhone storage full bug where it seems iOS will use the remaining storage space on the phone as 'system data'?
Many other iPhone users are complaining about the same glitch on iPhone 14 after updating it to iOS 17 or iOS 16.
If you're also experiencing "iPhone Storage Almost Full but its not " issue, then there's nothing to worry about. This article is going to show you several easy ways to fix this problem once and for all.
Part 1: Why does my iPhone Say Storage is Full when it's not?
Apple hasn't responded to this glitch yet. But our research shows that this iPhone storage bug occurs due to two reasons.
1. Your Phone's Memory is Full
The storage on your iPhone is full but you don't know about it. You may have installed a couple of large-sized games that regularly store data or you have many apps that you don't even use, consuming a lot of space on phone.
So,when you have such query as "why my iphone storage is full but its not",the first thing you should do is to check whether iPhone memory full or not. To do that:
Go to Settings > General > iPhone Storage. The bar chart will show the total space left on your device.
2. Glitch in the Latest iOS Update
If your iPhone still has enough space left but you're facing the iPhone storage full bug , it can be due to a glitch in the iOS update. Unfortunately, minor bugs in iOS updates are too common and happen to many people.
Part 2: How to Fix iPhone Storage almost Full Issue after Updating iOS 17
Now that you know the probable cause of why your phone is showing the iPhone storage almost full iOS 17/iOS16 error, the next step is to fix it. Below are a few simple solutions.
1. Delete Unused Apps
First things, you need to uninstall all the applications of your iPhone that you don't use or rarely use.
This is the simplest way to get rid of the iPhone system data bug. Just go through all the apps, including games, fitness, entertainment, and other stuff, and choose the ones you don't want.
And then delete apps to free up some space on your iPhone.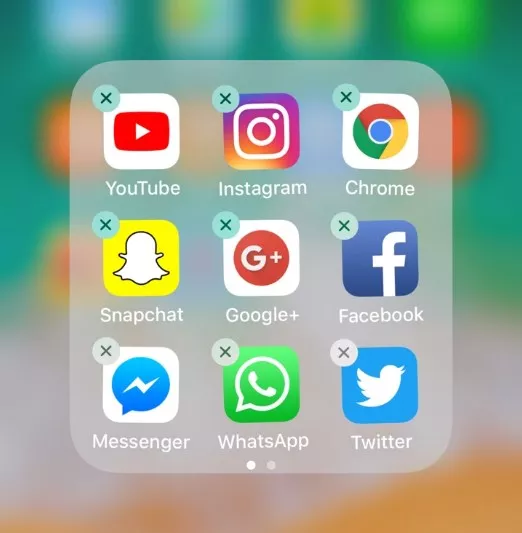 2. Delete Your Photos and Videos thoroughly
Just as mentioned earlier, photos and videos consume the bulk of storage on your iPhone without you even knowing.
So, you should go through your whole gallery and delete the unwanted photos to regain storage space. This won't take more than a few minutes.
Tips:
If your iPhone is running on iOS 17, you can apply the duplicate filter to delete duplicate photos.
Please follow the steps below
Go to Photos > Albums, and scroll down to Utilities.
Select Duplicates and tap Merge.
Delete all the duplicates photos.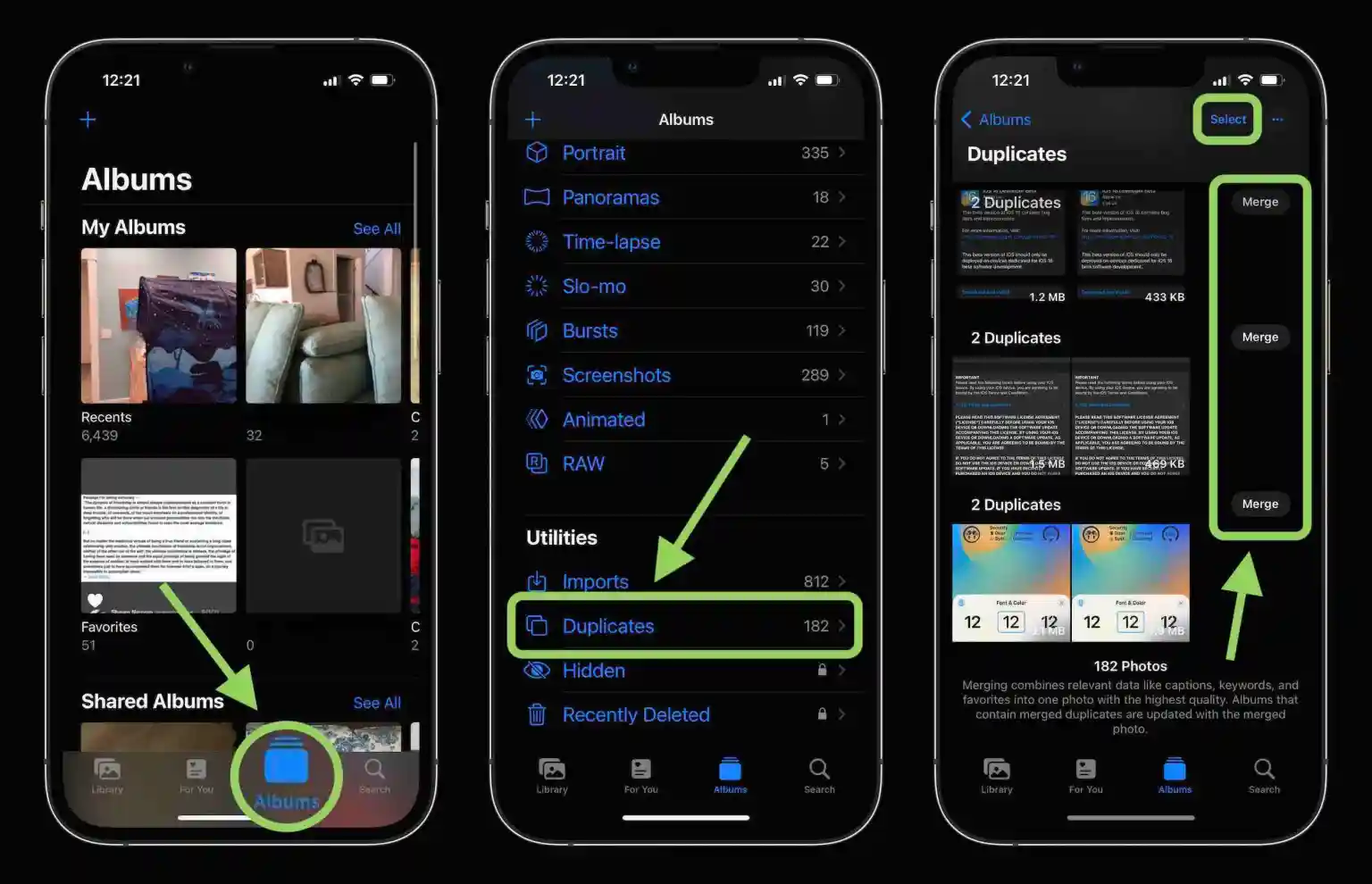 3. Clear Safari Caches
Every smartphone stores temporary data called caches whenever you use apps or browser. While this data helps in improving user experience, it can get accumulated over time and take a lot of extra space.
Thus, if you're getting the iPhone storage almost full notification, try to delete cache files from Safari and other apps.
Go to Settings > Safari.
Tap "Clear History and Website Data." Confirm the action to proceed.
Go to Settings > General > Storage.
Open each app and delete the cache files that you don't need.
4. Back Up and Delete Data
One of the most useful ways to troubleshoot the iphone memory full device will not work is backing up your data and deleting it. Now, you have tons of ways to backup your files including iCloud, iTunes, Google Photos, Google Drive, OneDrive, and any third-party app.
Whatever method you choose, be sure it's reliable and doesn't cause any data loss. Here's how you backup iPhone data on a PC using iTunes:
Launch iTunes on your PC and connect your iPhone to it.
When the devices are connected, hit the Device option on iTunes and go to Summary > Back Up Now.
Wait until the process is finished and then, hit Done.
Note that not all your data is backed up using iTunes. For instance, iTunes does not back up photos of the iPhone downloaded from either the system PC or another source.
5.Reinstall iOS 15/16 to Fix iPhone Memory almost Full
Sometimes, there's a bug in your iPhone's system that can lead to the iPhone storage full bug. All you need to do is to reinstall iOS 15/16 using iTuns.
Extra Tip: iPhone 14 Screen Got Disable? Fix with PassFab iPhone Unlocker
Hot
Apart from ios 15 storage bug issue, one of the worst nightmares of any iPhone user is getting their phone locked. This happens mostly when you have entered the wrong screen passcode for several times.
But luckily, there's a way out. All you need is to get PassFab iPhone Unlocker . This feature-rich tool offers a click-through procedure to regain access to any disabled iPhone quickly and safely.
Thanks to its sleek interface, even first-time users can navigate its features without any hassles. Here are its key features:
Unlock any disabled iPhone effortlessly
Remove screen lock with just a few clicks
Reset your iPhone without password
Using PassFab iPhone Unlocker is as easy as it can get. Here's how to do that:
Install and launch, then click on "Start".
Connect the disabled phone to the computer and hit Next to get started.
The program will automatically find the right firmware package for your phone. Hit Download and wait until it's downloaded.
Next, click on Start Remove. Within a few minutes, you'll be able to access the iPhone.
Part 3: Other iPhone Storage Full Bug Issues on iOS 17
Aside from the iPhone memory full problem, you can also encounter other storage-related bugs as well.
1. Wrong storage capacity reports
It often happens that your iPhone misreads the device storage and shows the available storage more than the total storage. Wrong storage capacity could be the reason of ios 16/ios 15 storage almost full bug issue sometimes. This may sound funny and impossible, but you can be victim of this bug.
Without worrying about anything, be sure to confirm your storage in Settings > General > About. Here, compare the Capacity and Availability readings to get an idea.
2. Storage report fails to load
Another common issue that irritates many users is when the iPhone fails to load storage reports after the iOS update. You are unable to view the summary of the space in Settings > General > iPhone Storage.
This iphone storage not loading bug often doesn't hold for too long and it automatically gets fixed in the Apple's next iOS release.
Part 4. FAQ about iOS17/iOS16 Storage almost Full
Here are the common queries of users pertaining to iPhone memory full device will not work that you should know about.
Q1. How to buy more iPhone storage?
To buy more storage:
Go to Settings > [your name] > iCloud > Manage Storage or iCloud Storage.
Tap "Buy More Storage" and choose any plan you want.
Follow the on-screen instructions to buy.
Q2. How to buy more storage on iPhone not iCloud?
Unfortunately, you cannot increase the storage of an iPhone after buying it. If you want an iPhone with more space, you have to buy a new device. That's just how it works.
Final Words
You're not alone if you're getting the iPhone storage full bug notification. But with the aforementioned solutions, anyone can fix this problem with minimal hassle. All you need to do is implement the steps carefully to get the job done.
And if ever your iPhone is disabled for any reason, use PassFab iPhone Unlocker to bypass the screen lock and regain access to it.