There are multiple methods for iCloud activation unlock, some of them are free while some are paid. Here we will share 6 iCloud activation unlock methods with you in which 4 methods are free of cost and you have to pay some money for two of them. If you also want iCloud unlock free methods, then this guide can be very helpful for you.
Part 1: iCloud Unlock Free Methods
Here we will share a step by step guide for each method so that you can unlock your iPhone easily.
1. Use Device Passcode to Unlock iCloud
When two-factor authentication is on, you can use the device passcode for unlocking iCloud locked iPhone.
You can see "Unlock with Passcode" below the Apple iD password bar, tap it.

Select "Use Device passcode" and enter your screen passcode. You will bypass the iCloud lock.
2. Apple iCloud Unlock from iCloud
Now another method for iPhone 6s plus iCloud unlock or for any other iPhone is by removing the device from the iCloud account. You can easily erase a device from your iCloud account to unlock the iCloud locked iPhone. Even if your phone is not in your possession, you can unlock it from anywhere.
Follow the following steps for removing the device from iCloud or to erase the device from iCloud:
First of all visit icloud.com from any browser on any device.

Now sign in with your Apple ID details.

Then select the Find My Phone icon, and click All Devices.

Select the device you want to unlock or you want to remove it from your iCloud account.

Now click Erase Device and then click Remove from account.
By following the above steps, you can easily unlock activation lock for free.
3. Free iCloud Unlock with DNS
Now another method for iPhone Activation Lock removal free is by using DNS servers. Using the DNS method to unlock activation lock is completely free of cost.
Follow the following steps for iCloud DNS bypass:
First of all, Go to Hello scrceen.

Go to the Choose WiFi Network page, then tap on the 'i' button next to your WiFi network.

Now you have to tap on Configure DNS and then tap Manual.

Click on +Add Server, a blank will come up where you can add server address.

You have to enter the server address of your location here.

USA: 104.154.51.7
Europe: 104.155.28.90
Asia: 104.155.220.58
Australia, Africa, or Other Locations: 78.109.17.60

Now click on Save and then press the back button.

Now select your WiFi network and connect to it by entering the password.

When your phone tries to activate, hit the back button to go back on the WiFi network settings until you bypass the activation lock.
4. Ask Apple Support for iPhone Unlock iCloud
If you are unable to remove the iCloud Activation lock from any other free methods then you can contact Apple support to help you.
Visit Apple Support and request an activation lock support.

Follow the instruction, and leave your email and device information.

Wait for a few workdays for Apple unlock your activation lock.
If you want to unlock your device immediately, you can reset your Apple ID password.
First of all visit appleid.apple.com.

Now click on forgot Apple ID or Password.

Enter your Apple ID and click on continue. Now fill in all the details.
This method is the official method to get the lost Apple ID or Password of your iCloud account. In this method, you have to answer various security questions asked by Apple support. These questions are to verify the ownership of the device. If all of the information provided by you, matched in their records then they will send you a confirmation mail to reset your password.
Part 2: Paid iCloud Unlcok Services
| | PassFab Activation Unlocker | AppleiPhoneUnlock |
| --- | --- | --- |
| Ease of Use | There is detaied steps on the interface you can follow to unlock your device through this method. | In this method, you only have to enter your device's IMEI number and select your device's model. It is a very easy-looking process. |
| Price | Starts from  $29.99 | $28 + |
| Efficiency | PassFab Activation Unlocker is one of the most efficient ways to unlock activation lock. | This service is a mixup of good and bad reviews. |
| Support | You get full support from PassFab professional Support Teamto unlock your locked device. | There is no official support from these service providers. |
| Success Rate | 99% success rate with guarantee. | There is no guarantee of positive results. |
1. iCloud Locked Fix with PassFab Activation Unlocker
PassFab Activation Unlocker is one of the most reliable and effective methods to unlock iCloud locked iPhones. It allows you to bypass iCloud lock without a password.
Follow the following steps for apple iCloud activation unlock with PassFab Activation Unlocker:
First of all Download PassFab Activation Unlocker on your PC/Mac and then run the downloaded file to install the PassFab Activation Unlocker in your system.

Now launch Passfab Activation Unlocker and select Remove iCloud Activation Lock.

Now click on the start button to start the process of unlocking the iCloud lock on your device.

Read all the terms and conditions carefully and then press the Next Button.

Now connect your locked device to the computer via USB cable. Let the PassFab Activation Unlocker automatically detect your device. And it will download a jailbreak tool for you.

Now insert a USB flash drive into your computer to burn the jailbreak environment into it, and press the Start button.

When PassFab Activation Unlocker successfully burns the jailbreak environment, it will give you some further instructions on your screen. Read all these instructions carefully and follow them to avoid jailbreak failure.

After jailbreaking successfully, confirm the device information on the screen and click on the Start button. Now Passfab Activation Unlocker will remove the iCloud lock from your device.

Congratuations! iCloud lock on your device has been removed successfully.
2. Unlock Activation Lock Online
You can also use AppleiPhoneUnlock to unlock the activation lock of your device. This is also one of the paid methods for iPhone to unlock activation lock.
How to iCloud unlock through AppleiPhoneUnlock:
First of all visit AppleiPhoneUnlock official website. Go to iCloud Unlock.

Now enter your device's IMEI number and select the Model of your device.

Now click on Remove Activation Lock and make the payment.
When your payment is received, they process your order, and confirmation of your unlock will be sent to you via email.
Frequently Asked Questions
Q1: What happens if your iCloud is locked?
When your device is iCloud locked, it means that you can't access your device unless you have Apple ID and password that logged in on the device before.
Q2: How can I unlock my iCloud without security questions?
Unlock activation lock without security questions using the following methods:
Unlock Using Two-Factor authentication
Unlock using the recovery key
Contact Apple Support for help
Q3: Will a factory reset remove the iCloud lock?
No. factory reset could only erase personal data on iPhone/iPad. If you didn't sign out of your Apple ID before factory reset, you will meet the iCloud lock.
Here we mentioned four iCloud unlock free methods and two paid methods. Among all of these methods, PassFab Activation Unlocker is the most reliable and trustworthy method used by most people. If you have any queries you can contact us anytime.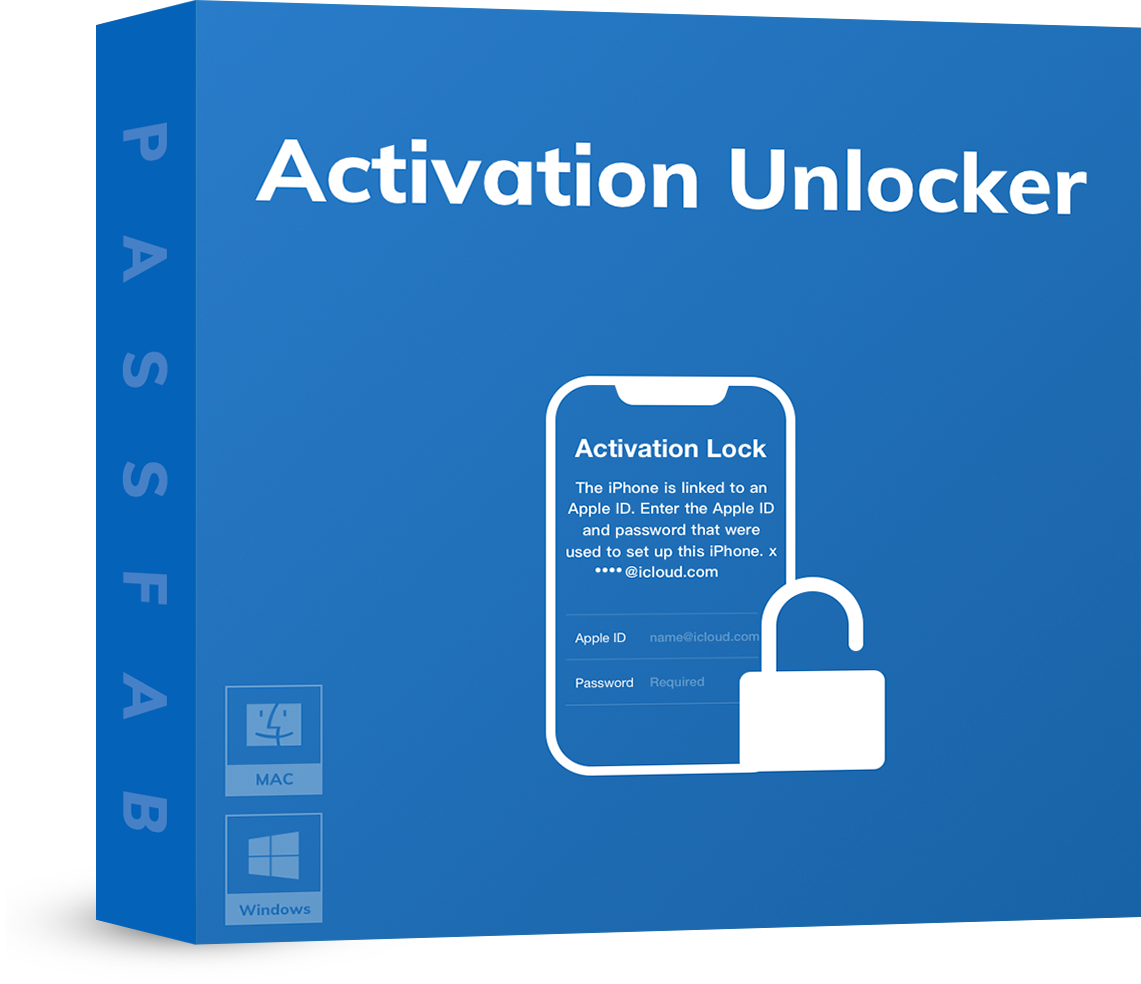 PassFab Activation Unlocker
Remove activation lock on iPhone, iPad or iPod touch.
Turn off Find My iPhone/iPad without Apple ID password.
Unlock Apple ID without password..
Removing iCloud Activation Lock supports iOS 12-14.7.
Removing Apple ID or FMI is now available on iOS 12-15.
Compatible with Windows 11/10/8.1/8/7, MacOS 10.11-11.1.
---
PassFab Activation Unlocker has Recommended by many medias, like macworld, makeuseof, appleinsider, etc.