Unexpectedly failed to remember the lock password of your Samsung gadget? How to factory reset Samsung A11 without password? Are you looking for a solid approach for a Samsung A11 locked out? The following article provides productive answers to Samsung A11 factory reset without password.
If your cell phone, Samsung Galaxy A11, works extremely sluggish and hangs, you may have a full memory. You need to eradicate everything, or you need to sell it or part with it. So, you need to remove your documents and passwords by factory resetting it.
Practically all Samsung models are secure, permitting clients to set passcodes. That is a decent plan to forestall undesirable admittance to our device, but it can be a problem when you forget it. However, each coin has different sides, so that we will show you how to factory reset a locked galaxy A11.
Part 1: Will Factory Reset Remove All the Data?
A factory reset erases all information on your Samsung device aside from the Android OS, and the information isn't recoverable after the reset has been finished. Thus, rethink before playing it out.
Assuming your lock screen is connected (or signed in) to a Google or a Samsung account, ensure you have the email address and password for that. After resetting, you have to enter them to restart and unlock the phone.
If you have failed to remember your Google account email or password, don't be concerned; you can reestablish your Google record and password or bypass your Google account.
Part 2: How to factory Reset a Locked Galaxy A11?
Way 1: Use iOS Setting
Swipe up from your device screen and see the app screen. Then go to the Settings application, to begin with.

Open the "General Management" tab and select the Reset option.

Select the "Factory Data Reset" option to reset a locked Samsung Galaxy A11.
Way 2: Use Find My Device
You can reset or unlock your Samsung Galaxy A11 phone with Google Find My Device remotely without much of a stretch. So, here is how to factory reset Samsung A11 without password:
Begin by visiting the Google Find My Device on your OS.

Sign in utilizing the login details of your Google Account.

After signing in, there will be three unique choices: Play Sound, Secure, and Erase device.

Then tap the "Erase Device" choice. Then you will see the menu of data erasure on your screen.

At long last, Tap on the Erase choice.

You have effectively Reset your phone.
Way 3: Use a Google Account
Do you have at least some idea of how to reset a locked Samsung phone with a Google account? Imagine a scenario where you need to utilize your Google Account to reset the password on your Samsung device. This part will show you a Samsung galaxy A11 factory reset without password:
Try to unlock your phone five times by entering a random password or on the home screen. Following that, a notification will display; select "Forgot Pattern/Password" from the rundown.

Then, at that point, enter your Google Account or Backup PIN data.

Tap Google Account and afterward "Account Unlock" starting from the drop menu.

After finishing this activity, you will have your device unlocked for a brief timeframe; in any case, remember that everything depends on the Android OS version you currently have.
Part 3: How to Factory Reset Samsung A11 without Password?
Way 1:Hard Reset Your Phone
This section shows how to factory reset a locked Samsung phone without utilizing a Google account or a Samsung account, but only by clicking and holding the reset button.
Step 1: Booting into Android Recovery mode 
For the Samsung phone with a Home button:
Press and hold the Power and Volume buttons for 7 to 10 seconds.

When you notice the phone vibrating somewhat, press and hold the Power + Volume Up + Home buttons together for a couple of moments.

Assuming you release every one of the buttons when the SAMSUNG logo shows up, you will see Android Recovery on your screen.
For the Samsung phone doesn't have a home button:
Press and hold the Power and Volume Down buttons for 7 to 10 seconds.

At the point when you see a slight vibration, press and hold the Power, Bixby, and Volume Up buttons for a couple of moments.

Hold down each of the buttons until you see the Samsung logo, and the boot screen will appear.
Step 2: Perform a factory reset: 
Follow the means illustrated underneath to factory reset your locked Samsung phone while on the Android Recovery screen.
To pick the "factory reset" choice, press and hold the Volume Up or Volume Down button to scroll down, then press the Powerlock button to affirm.

Select Yes under "Wipe all User Data" on the accompanying page using the Volume Up/Down buttons all the while, and the phone will start to go to its factory settings. It will simply require a couple of moments to complete.

Select "reboot system now" to guarantee that your phone is appropriately restarted when the factory reset is finished.
Way 2: Use PassFab Android Unlocker[Highly Recommended]
Failed to remember the Android lock screen passcode or pattern? Pass on the issues to PassFab Android Unlocker. As an expert Android unlocker tool, it empowers you to eliminate Android PIN, Pattern, or fingerprint passcode without stress. Presently, how about we continue toward the manual to know how it functions.
Step 1: Launch PassFab Android Unlocker
Launch the item and select the "Remove Screen Lock" option from the screen. Connect your Android gadget to a PC by USB link from that point onward.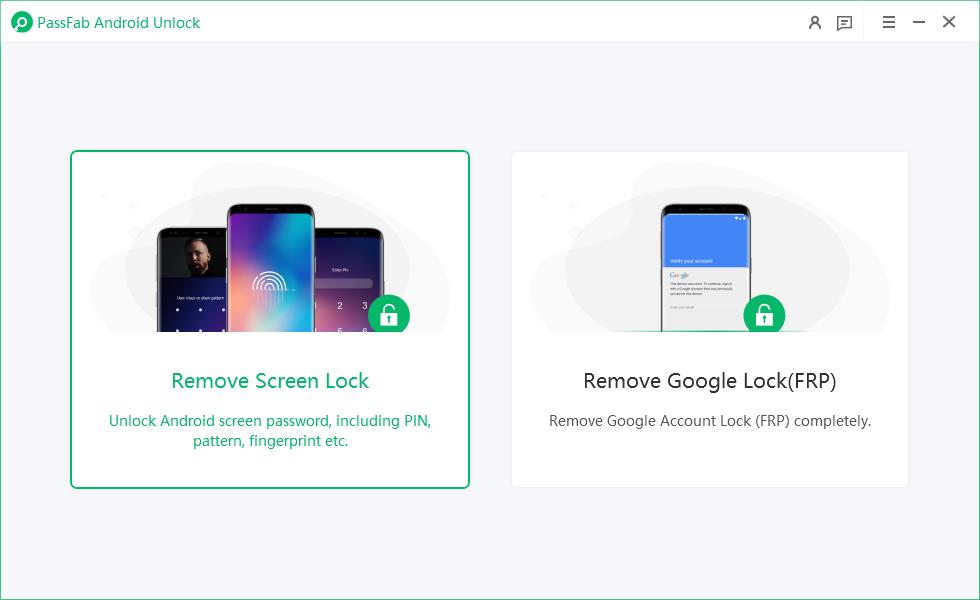 Step 2: Remove the Screen Lock
Situation 1: Remove Screen Lock on Most Android Devices
Pick "Remove Screen Lock" and click "Start" for more up-to-date Samsung gadgets and other Android gadgets.

Presently, you will see an update saying that removing the lock screen passcode will eradicate all data on the gadget and ask you whether you are sure you need to continue? Click "Yes" to go on.

Sit tight for a couple of moments, and your Android lock screen passcode will be eliminated. Click "Done" to complete the thing.
A video instructional exercise about utilizing the tool is included in PassFab Android Unlocker.
Tips:
You will lose your data while utilizing this tool.
Situation 2: Unlock Samsung Devices without Data Loss
PassFab Android Unlocker upholds eliminating the screen lock without losing data on Windows for some early Samsung gadgets. To start, pick "Remove Screen Lock without Data Loss" from the homepage.

Then, at that point, click "Start" to get the process of removing the screen lock on old Samsung gadgets going.

Then, select the correct phone name and model as per your phone and affirm your choice.

It will naturally download the data bundle. After it gets done, click "Next" to proceed.

Then put your old Samsung into download mode as indicated by the guidance, and tap the "Start" button to eliminate the screen lock.

Sit tight for some time, and the screen lock will be taken out effectively.
Part 4: FAQs about Factory Reset Samsung A11
Q1:How do I format or Erase the Phone Memory of the Samsung Galaxy A11?
There are two memory types in Samsung Galaxy A11, one is the internal memory, and the other is external. If we desire to format the internal memory, we need to do a hard reset or reformat the OS. It will reformat the factory default OS and eliminate or eradicate any data inside it.
To reformat or wipe or eradicate everything from external memory, we can utilize the menu Setting > Storage > Erase External Storage/SD Card. Kindly ensure all information has a backup present before wiping everything.
Conclusion
Every one of the methods portrayed in this article is very valuable in figuring out what to do when Samsung A11 locked out. However, there have been circumstances in which these methodologies have failed.
The expert tool PassFab Android Unlocker has been used by specific clients to figure out how to factory reset a locked Samsung A11. However, it has announced positive outcomes simultaneously.