One frustrating issue many Windows users face is the computer stuck on getting Windows ready. The screen stating Getting Windows ready usually occurs during or after you install Windows updates. Normally, this screen disappears in 4-5 minutes. After which, you can use your computer as usual. But, sometimes, this takes longer than usual, and you are stuck with this screen.
In this article, we will discuss the best fixes to apply If Windows stuck on getting ready after installation.
Why is My Computer Stuck on Getting Windows Ready?
One common issue that many Windows 10/8/7 users face is a blue loading screen with a message stating, "Getting Windows ready don't turn off your computer." It usually occurs after you install or update the current Windows version. Besides, it can also appear when you try to start or restart your PC. For a simple update, this should take no longer than 5 to 10 minutes. If it does, it means that your system is having some issue completing the process and hence the "computer stuck on getting Windows ready".
Here are some causes why you may face this:
Corrupted system files
Malware infection
Incompatible drivers
Incorrect boot device
Damaged or incompatible hardware
Poor Internet connection
Regardless of the reason, you can apply the fixes in the next section to eliminate the addressed issue.
How to Fix Dell Computer Stuck on Getting Windows Ready Windows 10?
Solution 1: Wait for a While
When you update your system or clean install Windows, it does not indicate how long it would take to be prepared. The message, "Getting Windows ready don't turn off your computer", on the screen points to some processes running in the background, such as starting Windows Update, configuring applications and modules, downloading and installing files, etc. There is no fixed time for how long it would take to complete. Therefore, your best bid to eliminate the issue is to wait a while.
We recommend you wait for at least 3 hours. If you still face the issue, you should try any other method to resolve it.
Solution 2: Restart your Computer
Restarting or shutting down your computer during update installation can lead to catastrophic consequences such as BSoD error or data corruption. However, in recent Windows versions, the chances of such problems have decreased significantly, and you can try restarting your system to fix Dell stuck on getting Windows ready don't turn off your computer error.
Step 1. Force shutdown your computer by holding the Power button for up to 30 seconds.
Step 2. Remove all the external devices like hard drives, USB flash drives, and power cable and take off the battery if you are using a laptop.
Step 3. Wait 1 minute and reattach the battery and other devices to your system.
Step 4. Now press the Power button until the system restarts.
Solution 3: Check your Network Connection
At times, due to a bad Internet connection, your system cannot finish the update installation, leading to the HP "stuck on getting Windows ready don't turn off your computer" error. The updates and Windows installation rely on your Internet connection. Therefore, you should ensure you are connected to high-speed Internet. If you use Wi-fi, connect another device to it and see if it works fine. Or, try restarting the router or connecting the computer directly with Ethernet cable.
If it still doesn't work, detach the Ethernet cable and check for any damage.
Solution 4: Smart Repair by PassFab FixUWin
Easy and Quick
If restarting the PC or checking the Internet connection didn't work, you should try PassFab FixUWin. PassFab FixUWin is a Windows repair tool that can fix a variety of problems, including blue screens, black screens, stuck on loading screen, welcome screen, boot issues and more. It can also repair corrupted system files, registry errors, and other Windows problems.
As HP/Dell or other computer stuck on Getting Windows ready is usually caused by file corruption or faulty software, this tool might be useful. Its amazing interface lets you resolve any Windows error in a few clicks while preserving your privacy and security.
Step 1. Download and install PassFAb FixUWin on another PC and connect a USB drive to it
Step 2. Click on Create boot disk now when you see the following interface: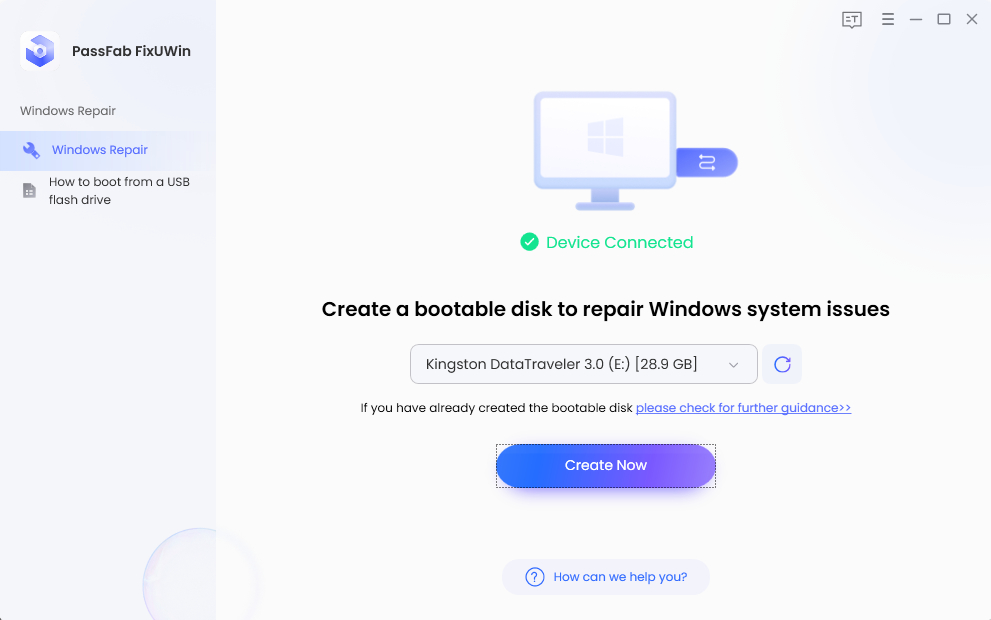 After creating the bootable USB, switch to the problematic computer stuck on Getting Windows ready.
Step 3. Restart the computer -> hit the boot key to enter into the boot menu-> set the bootable USB on priority -> Save changes -> Exit.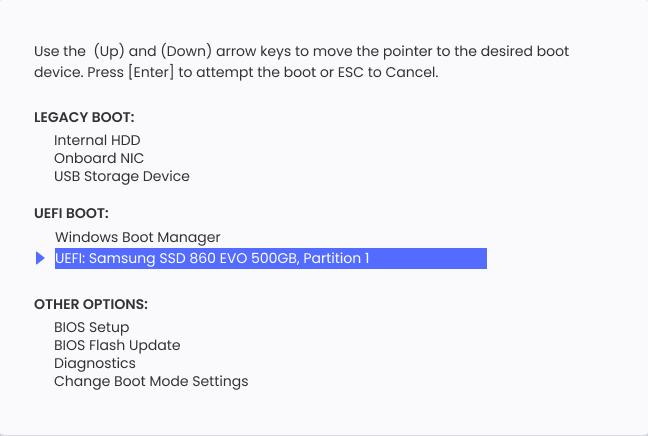 Step 4. Then you will see Passfab fixuwin interface. Click Automated Repair when you see PassFab FixUWin's interface.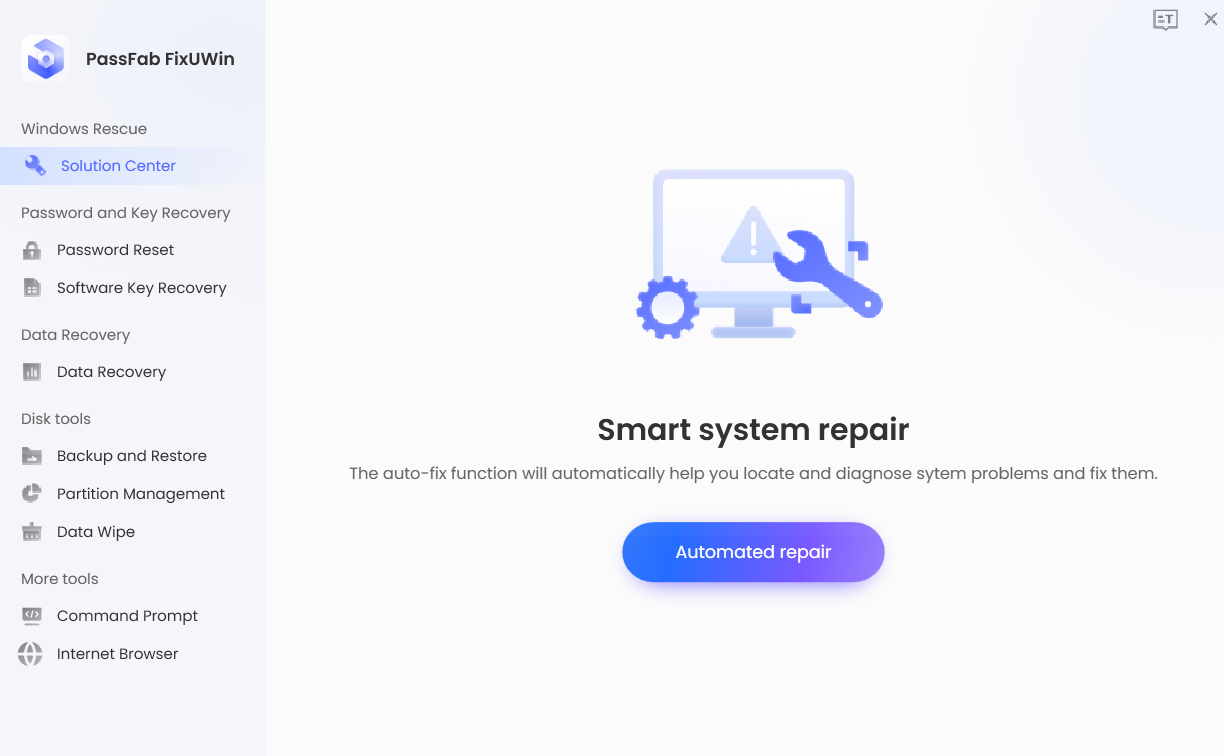 This may take some time based on the data on the chosen partition.
Step 5. Click Restart to reboot the system normally.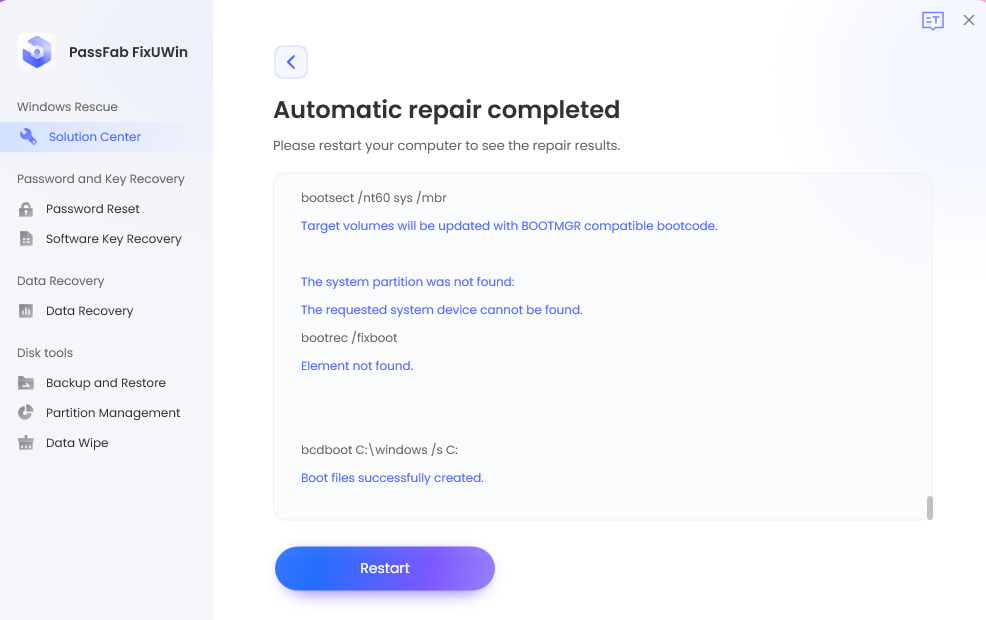 Solution 5: Perform Windows System Startup Repair
The startup repair tool is a nice fix if you see Getting Windows ready after starting the computer. However, you will need Windows Installation Media to proceed with this method. Once you have created the media, follow the steps below:
Step 1. Boot your system with Windows Installation USB.
Step 2. After choosing language and keyboard layout preferences, click Repair your computer link.
Step 3. Choose Troubleshoot and then Advanced options, followed by Startup Repair.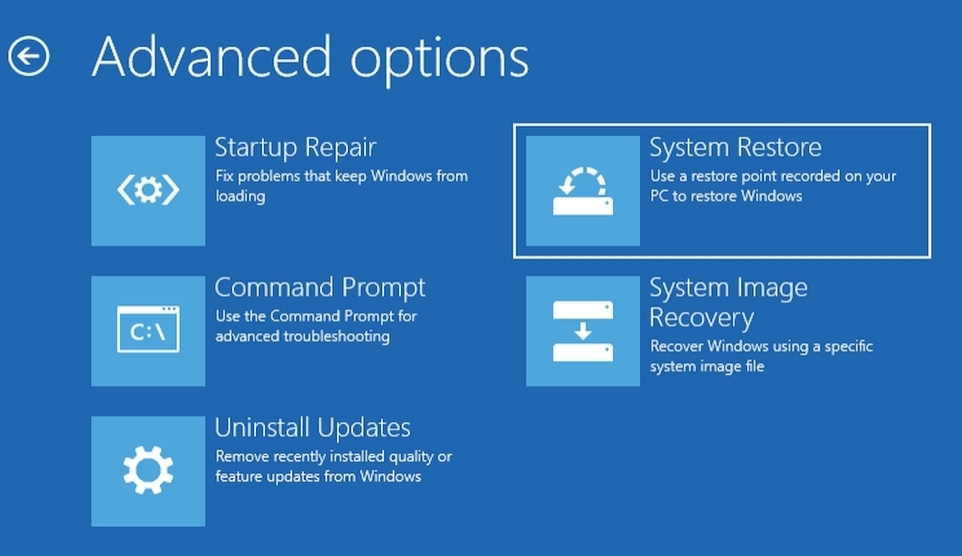 Step 4. Wait for the repair tool to run. When your system restarts, remove the bootable USB and check if it boots up normally.
Solution 6: Run System File Checker
The System File Checker tool is a useful utility that replaces corrupted system files automatically. It can help resolve "my computer is stuck on getting Windows ready" as some faulty files might be causing it.
Step 1. Plug in Windows installation Media and boot your system through it.
Step 2. Go to Repair your computer link, and choose Troubleshoot.
Step 3. Open the Advanced Option and click on the Command Prompt.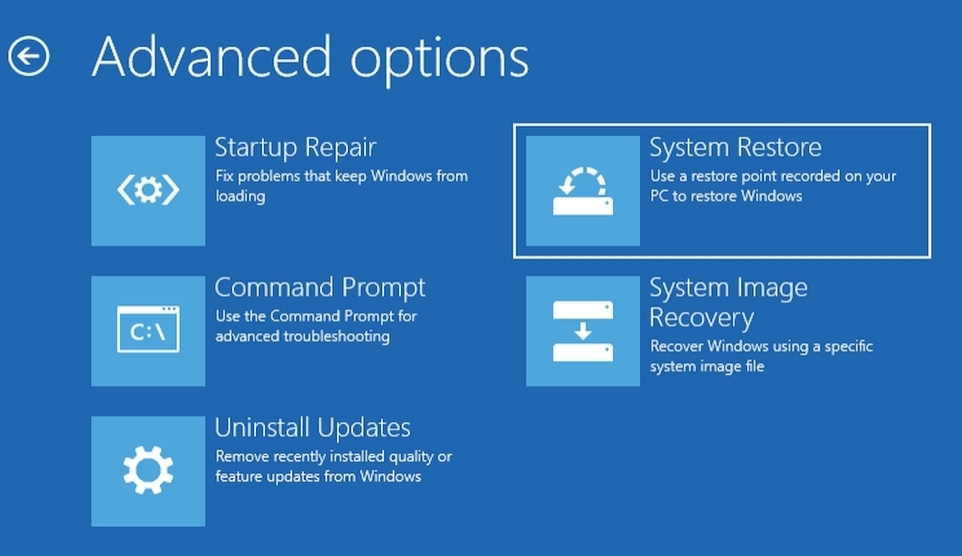 Step 4. Type "sfc /scannow" command and hit the Enter button to execute it properly.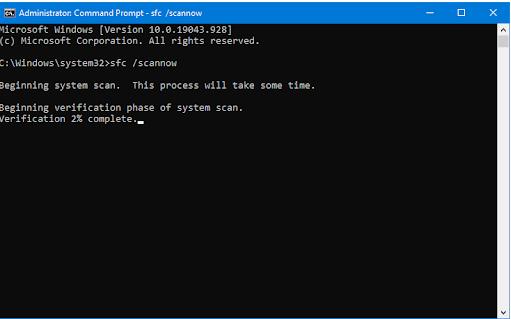 Solution 7: Run System Restore
If you created a restore point before updating the Windows, you can perform a system restore to troubleshoot the Dell computer stuck on getting Windows ready.
Step 1. Create Windows Installation Media and boot the problematic computer through it.
Step 2. Select the language, time, and keyboard method and choose Repair your computer.
Step 3. Now, select Troubleshoot -> Advanced Options -> System Restore.
Step 4. Follow the instructions to complete a system restore in Windows 10.
Solution 8: Factory Reset your PC
Unfortunately, if nothing resolves your issue, your last resort is factory resetting your PC. In this process, your important data will be lost if you do not choose to keep it. This utility clean installs the Windows after deleting the existing copy. Therefore, back up all the necessary data from the system partition before performing the factory reset. When you reset your system, you will be given two options:
Keep my files: This is the recommended option. Choose this if you want to keep your data intact.
Remove everything: This will wipe out your hard disk completely.
Choose these options wisely, and your problem will be resolved for sure.
FAQs
1. How long should I wait for Getting Windows ready?
You should wait for 2 to 3 hours patiently to get Windows ready. If, after this period, you are still stuck on Getting Windows ready screen, stop waiting and try troubleshooting methods to resolve this issue.
2. What happens if I accidentally shut down my laptop while updating?
If you accidentally shut down your laptop while updating, it may cause data loss, and there is also a chance that it will corrupt your OS.
Final words
If your Windows stuck on getting ready after installation Windows 10, you have nothing to worry about as we have proposed the best solutions to this problem. Try out these solutions, and you will be able to resolve the issue. However, if, for some reason, the basic methods don't fix computer stuck on Getting Windows ready, try PassFab FixUWin, as it is the most recommended fix due to its simplicity and success rate.