How to Remove Password in Windows 7
"I forgot my Windows 7 Administrator password, what should I do?"
"I exactly don't remember what my password was, when I tried to log in to my Windows 7 computer, the system shows wrong password message. How to get into my computer, I need some data urgently from it?"
For problems like this, when you have lost access to your Windows 7 computer and finding it tough to retrieve some significant documents which are urgently needed. What you can do is, remove password on Windows 7 computer to unlock it. We understand, it's not easy for most Windows users. So, to make your job easier, we have collated some quick and easy methods for you in this article. Keep reading to explore more!
Part 1. Top Way to Remove Password in Windows 7
In this part of the article, we are introducing an ultimate tool for Windows 7 password removal, named PassFab 4WinKey. This software can even create a password reset CD/DVD/USB disk for removing the password and unlock the system. Be it a user, admin or Microsoft account, PassFab can seamlessly create, change, remove and reset Windows passwords. In case you are keen to know the workings of this method, here is the detailed guide explained to you.
How to Create Windows Password Reset Disk
Step 1: Launch PassFab 4WinKey in a computer and select an empty USB flash drive and plug into the computer.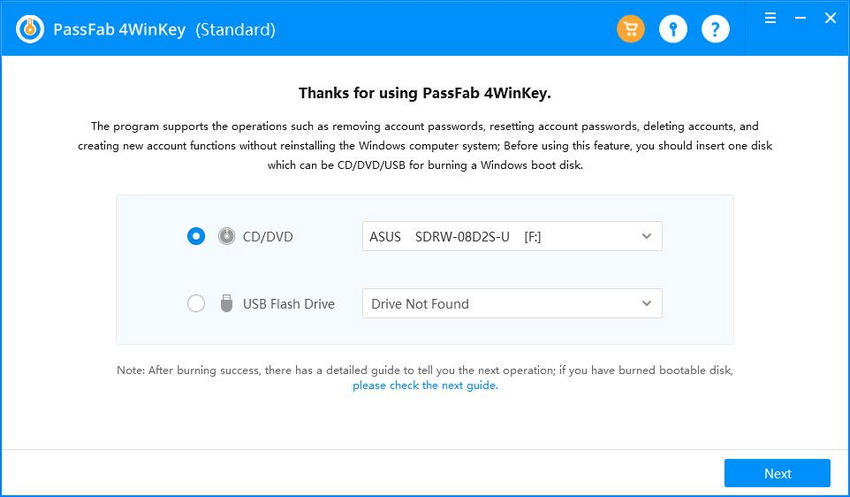 Step 2: Either select "USB" or "CD" depending upon your preference. Plug the selected media into the computer and then hit "Burn". Upon completion of the burning process, hit the "OK" button before ejecting the flash drive.
Step 3: Now, connect the USB drive to your locked and password forgotten computer. Click "F12" (Boot Menu) followed by selecting the flash drive. Hit "Enter" afterwards.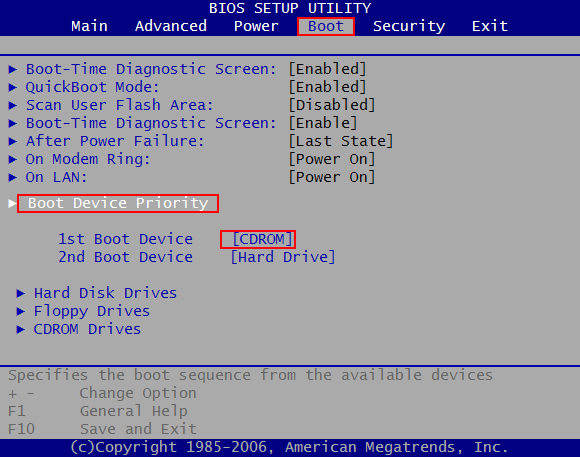 Now, that we're done with creating a password reset disk, let's now have a look on.
How to Remove Login Password Using Passfab 4WinKey
This process is effective in removing the login password of a Windows 7 computer.
Step 1: Right after the Passfab 4WinKey boots upon your computer, click on "Reset your password" and tapon the "Next" button. Then, opt for the preferred OS, i.e. Windows 7 in this case, installed over your PC.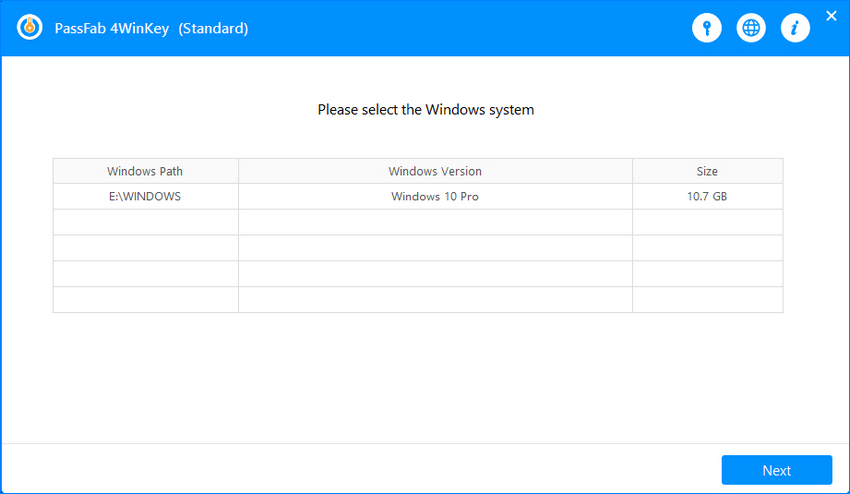 Step 2: You can find all the accounts under the selected Windows 7 OS. Tapon the account you wish to remove password from. Select "Remove the password" against the account and tapthe "Next" button.
Note: This process can't remove the Microsoft account password.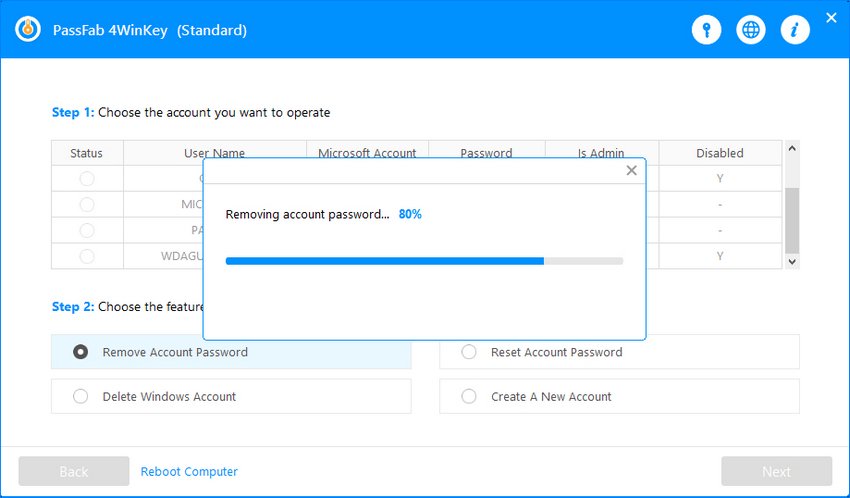 Step 3: After removing the Windows 7 password, click on "Reboot" for restarting the system. No password prompt will be there asking you to enter a password.
Note: The boot disk should be removed from the PC after you hit "Reboot".
How to Remove Administrator Password Using Passfab 4WinKey
Now, that we are thorough with login password removal, let's proceed to admin password removal process. Here is the guide to learn how to remove Windows password from Windows 7 system.
Note: Administrator password only supported by Professional version or higher.
Step 1: As soon as the PassFab 4WinKey boots upon your computer, go to the "Windows Operating System" section and select the desired "Windows 7" installed over your PC.
Step 2: Press the "Reset your password" option followed by "Next".
Step 3: Select "Admin" under the account type and then the "Username and New Password". Tapon the "Next" button here.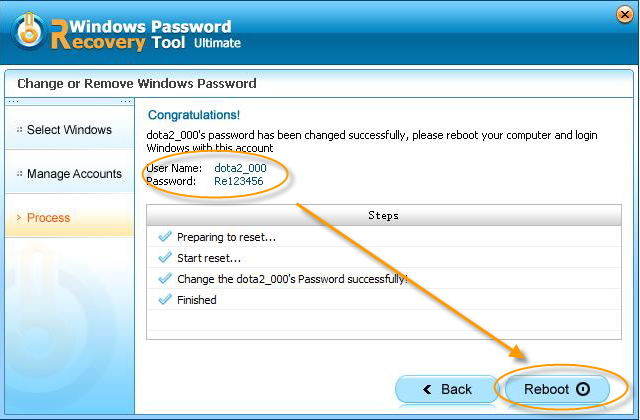 Step 4: Click the "Reboot" button followed by the "Restart Now" button. You can then login to your Windows account without any login password.
Part 2. Get Know More About Windows 7 Issues
Except the problem of Windows password recovery, there are also many problems troubling Windows user. Let's discuss some prominent Windows 7 issues and how could you tackle them.
What to do if my Windows 7 Aero stops working?
After understanding how to remove Windows 7 password through USB, we will see how to resolve Windows 7 Aero stopped working issue. Make sure that the graphics card is compatible with Aero and has been updated. You need to disable Aero in your registry which at times affects the Windows installation. So, backing upyour registry is a wise option.
/powse "Start" > on the search box enter "regedit" > launch "regedit".
Move to "KEY_CURRENT_USER\Software\Microsoft\Windows\DWM" under "regedit" > "EnableAeroPeek" > set the value to "1".
Easy fix for slow Windows 7
Apart from how to remove password from Windows 7, you got to understand how to speed upyour super slow Windows 7 computer. With plethora of visual effects weighing down your graphics card as well as system memory, the performance gradually gets affected. Disabling the superfluous effects would helpyou to great extent.
Step 1: Click "Start" > on the search box, enter "Performance" > "Adjust the appearance and performance of Windows".
Step 2: Move to "Visual Effects" > "Adjust for best performance" afterwards.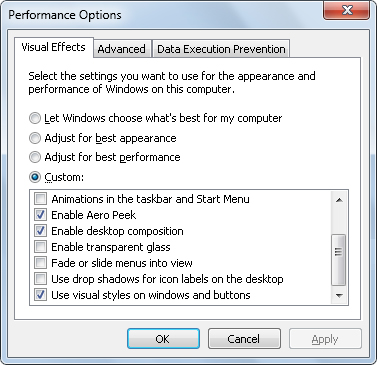 Step 3: In case you are upfor an interesting interface, click "Custom" > "Use visual styles on windows and buttons".
Conclusion
From the above article, we conclude that for every kind of password forgotten or lost issue you can always turn to PassFab 4WinKey without any issue. The software can effectively reset, change Windows 7 password or bypass Windows 10 password without much hassle. Apart from password issues, this software is capable of cloning and backing uphard drives as well as recovering data from bootable and unbootable drives.