You must be in trouble caused by forgotten administrator password Windows 8/8.1. The only access is denied and you didn't prepare a password reset disk in advance either. Ease down, still not that bad yet. Actually you can use Command Prompt to change or crack the login password. Underneath I will show you how to reset Windows 8 password with CMD in different scenarios.
Part 1: Remove/Reset Windows 8 Password Command Prompt If Computer is Accessible
Theoretically, it's difficult to directly find Administrator password with CMD on your Windows 8/8.1 computer, but you can use it to bypass or change the admin password, which also allows you regaining access your PC.
How to remove administrator password in Windows 8 using CMD
Type

cmd

on the search box and right click to run as Administrator.
Enter

net user

and hit Enter key. You will be displayed with the user account info of this PC.

Keep typing net user (your administrator username) *and hit Enter.

If you want to create a new password to replace the forgotten one, just enter and confirm it. However, if you want to log in Windows 8 without password, leave it blank and press Enter key twice.
When it says The command completed successfully. Type Exit to close CMD.
How to find Administrator password using CMD in Windows 8/8.1
Another trick is to use random password to log in your computer. Here is what to do:
Similarly, run CMD as Administrator.
Type net user Administrator /random and press Enter button.

You will see a message saying Password for Administrator is, followed by a string of characters. This can be used to access your PC. Do write the random password down as you will be asked to enter it on the next login.
Part 2: Reset Forgotten Administrator Password Windows 8 If Locked out
However, if you forgot the Windows 8/8.1 password and wonder how to bypass windows 8 password using command prompt when above methods are not workable. If you are in this situation, below I will show you how to reset forgotten admin password Windows 8 with Command Prompt. Make sure you have a Windows installation disk on hand.
Insert the installation CD/DVD to your computer. Restart your computer and press certain keys like F2 to select boot menu.
You will see Choose the language interface. Please follow the instruction to finish initial setup.

On Choose an option screen, select Troubleshoot > Advanced options > Command Prompt.

Command Prompt windows will pop up. Type c: and press Enter.

Type below commands in order and press Enter key each time after entering it.

cd windows
cd windows 32
copy cmd.exe cmd.exe.cmd2
copy Utilman.exe Utilman.exe.Utilman 2
del Utilman.exe
ren cmd.exe Utilman.exe
exit

After exiting CMD, restart your system. Click the Ease of access icon on login screen. Command Prompt will pop up.
Type

net user

and press Enter.
Keep typing

net user (your administrator username) *

and press Enter.
Create and confirm a new password or hit Enter key twice to skip password protection.
Exit Command Prompt window.
After all these operations, you should now get past login screen with new password or without it. Don't forget to restore the system to original state when logged in. To do this, you also need to put a serial of commands like below pictures shows.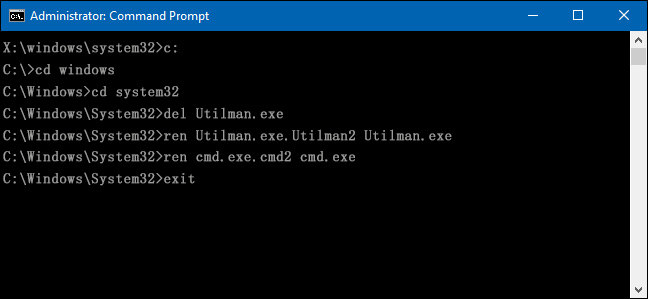 Part 3: Neither Situation Applies? Try Ultimate Way
The worst situation is you neither have an installation disk nor password reset disk. If so, it's less possible to reset password using Command Prompt in Windows 8/8.1. To solve your problem, I would suggest you take PassFab 4WinKey in to consideration. It can quickly reset administrator password Windows 8 as well as local user password. All the process can be finished within a few steps.
Run PassFab 4WinKey after downloading and installation on another available PC.

Insert a CD/DVD/USB drive to create password recovery disk.

When the disk is ready, switch it to your password-locked computer and boot from it.

The Windows password recovery tool will be automatically loaded, where you can choose whether to remove the password, or reset it, or even create a new account for login.

After that, save the changes and reboot your computer. You won't be bothered by the password issue any more.
Summary
Here we have shared 3 ways to bypass Windows 8 Administrator password using CMD, as well as how to reset Windows 8 password with PassFab 4WinKey. Feel free to decide which method to proceed. And the last advice we can offer is always making sure you have a password reset disk on hand in case of unexpected situations.