Does your PC suddenly show the Blue Screen of Death (BSOD) while you work? Does it mention the memory management error? Do you want to resolve this error? If yes, you are not the only one facing this problem. Many people face this issue daily and end up re-installing Windows or factory resetting their PCs. Most people think there is no solution to this problem, but every problem brings its solution with itself. So, we have got the best solutions for Windows 10 blue screen memory management. Stay tuned, read this article and try out the ways mentioned!
Part 1: What is Memory Management Blue Screen?
Memory management is the way of allocating and freeing up the memory space, done automatically by the processor. The processor keeps track of every bit of the memory. It is also responsible for storing any new data or removing any unwanted data from memory.
Memory management is a way of performing all memory-related operations. The smooth performance of your operating system depends upon this system.
Now, the question here is how does memory management cause Blue Screen of Death (BSoD)? The answer is: Like any other process, the memory management process gets crashed, causing BSoD to appear.
Part 2: What causes Blue Screen Memory Management on Windows 10?
Various problems could cause the Windows 10 blue screen memory management issue. Some of these are as follows:
Issues with RAM or faulty physical memory
New hardware
Faulty drivers
Software problems like corrupt files
Hardware and software conflicts
Hardware failure
Virus, malware, or firmware
Outdated Operating system
Disk issues
This error is often related to faulty RAM over any other part of your computer. Having that said, let's move to the solutions to Blue screen memory management Windows 10 error:
Part 3: How to Fix Blue Screen Memory Management Windows 10 Error?
1. Smart Repair by PassFab FixUWin:
Recommended
PassFab FixUWin is an ultimate tool that allows you to manage your computer. Using this incredible software suite, you can easily repair blue or black screen issues, boot computers that do not start properly, manage memory, and more!
You can get rid of the memory management blue screen through the PassFab FixUWin tool very quickly in three simple, safe, and reliable steps without worrying about any data loss or system crash:
Creating a Bootable disk:

Download, install and launch the PassFab FixUWin suite on any available PC.
Now, insert CD/DVD or connect the USB drive to the computer and click the Create boot disk now button.
Now, choose the bootable device, and click Next.
Once the boot disk has been created, plug it out and switch to the faulty PC.

Boot Windows System with CD/DVD/USB:

Now, plug in the bootable device created in the last step.
Restart the PC. Press the Boot Key continuously to open Boot Menu.

| Boot Key | Desktop | Laptop | Motherboard |
| --- | --- | --- | --- |
| F12 | ASUS, Acer, Founder, HP, Hasee, Haier, Lenovo, THTF | Acer, BenQ, Dell, Emachines, eMachines, Fujitsu, Founder, GIGABYTE, Gateway, IBM, Lenovo, SAMSUNG, ThinkPad, Hasee, TOSHIBA, THTF, MSI | Great Wall, Dell, TOSHIBA, Foxconn, GIGABYTE, Fujitsu, Gamen, Haier, IBM, Lenovo, Topstar, SONY, THTF, SAMSUNG, ThinkPad, Acer, HP, Hasee, Founder |
| Esc | Dell | ASUS, Sony | Great Wall, Foxconn, ESC, SOYO, MAXSUN, Colorful, SONY, SAMSUNG, Spark, UNIKA |
| F9 | | BenQ, HP | BISOTAR, HP |

When your PC restarts, you will land on the PassFab FixUWin interface.

Fix the error:

Click on Automated Repair to start repairing.
Click on Automated Repair to start repairing.
When the repairing process completes, click Restart.
2. Update Drivers:
An out-of-date driver installed on your PC can also cause the Windows 10 blue screen memory management problem. To ensure that all the drivers are up-to-date, you have to check them and see whether an update is available. Here are the steps to follow:
Open Settings by pressing Windows Key + I.

Navigate to Update and Security, and click on View update history. You will see all the driver updates.

Now, open the Device Manager by typing in the Search bar.

Go through the list and look for the error symbol. A device with uninstalled updates will show an error.
If you find the error symbol, we recommend you update the driver. If you do not see any issues, an uninstalled driver update is not the problem.
3. Run SFC Scanner:
SFC is a Windows tool that checks the entire system thoroughly and detects corrupt system files. Doing an SFC check can also resolve the BSoD error. Here is how to run the SFC scanner:
Type cmd in the Search box, right-click on the Command prompt and click on the Run as Administrator option.

Type the command given below. Press Enter:DISM /online /cleanup-image /restorehealth

Let the process complete. It may take up to 20 minutes.

Type sfc/scannow and press Enter.
4. Run Windows Memory Diagnostics:
RAM plays a vital role in processing, and if there is an issue with it, you would be unable to do anything on your PC. Faulty RAM is the most common reason for BSoD issues. However, you can easily detect faulty RAM by running Windows Memory Diagnostics. To run Memory diagnostics, follow these steps:
Open the Run dialog and type mdsched.exe. Press Enter.

Select the recommended option.

When the diagnostics run, you will see the following screen showing the progress:
If you do not see any issues in diagnostics, the chances are that the blue screen memory management Windows 10 issue is not due to any faulty RAM.
5. Detect Virus Infection:
A virus might be the reason behind Windows 10 blue screen memory management error, so here is how to scan your PC for viruses:
Open the Start menu and search for Windows Defender Security Center.

Go to Virus and threat protection, click Advanced Scan

Select the Full Scan and wait for the scan to complete.
6. Check Recent Software Installation:
If none of those mentioned above ways worked for you, you need to check if you installed any software recently. If you installed any program, it might conflict with other programs or be incompatible with your system. Removing such software can be a solution to BSoD.
Part 4: Extra Tip. How to Protect Data from Crash Windows 10?
Data security is crucial when something unusual happens with your device's memory. The first thing to do is to protect data from getting lost while resolving the problem. PassFab FixUWin - Data Recovery tool can rescue you from such a situation. This tool will help you recover any lost data while resolving the memory management issue.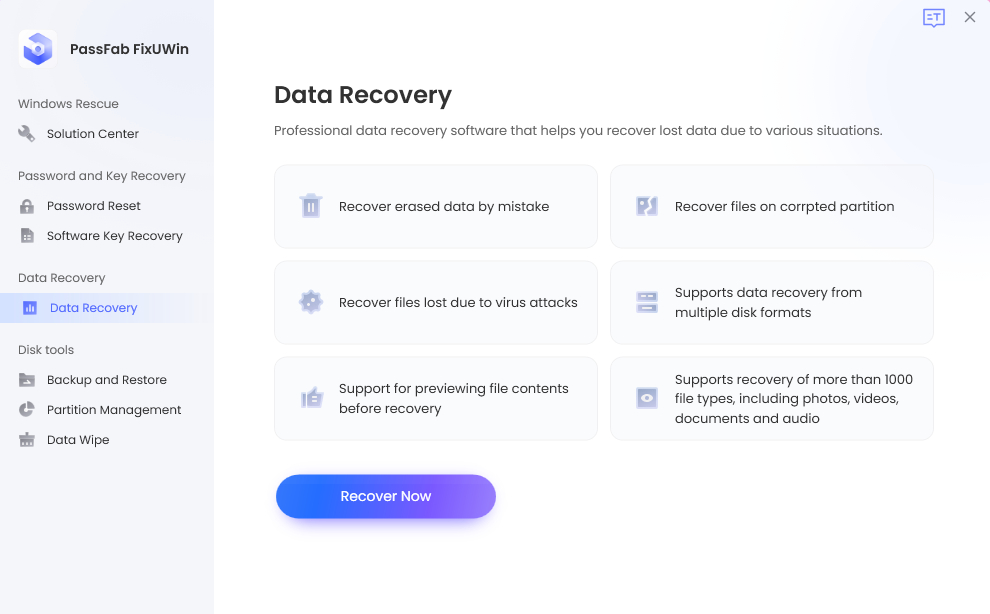 Conclusion
We sometimes see the Blue Screen of Death (BSoD) when the PC runs into an issue. The common reason behind BSoD is Memory Management. This article proposes various ways of resolving blue screen memory management Windows 10 issue, but we recommend PassFab FixUWin for fast, easy, and reliable recovery.