The motivation behind using a lock screen security is to safeguard your smartphone and privacy. A lock screen password forestalls others from accessing your confidential messages or photographs.
If you are here, you've presumably lost or failed to remember your Android phone's Pin or password and are searching for a method for unlocking it. Just sit back and relax; it happens more than you could imagine, and we have methods of unlocking with a universal unlock pattern for Android without losing data.
To assist you with escaping this issue, we have assembled a few ways of bypassing the Android lock screen so you can get once more into your phone without the risk of losing any data.
Part 1: Is there a Universal Unlock PIN for Android?
When you forget your phone's security lock, and there comes an issue with unlocking your Android phone, the main thing clients look for is a universal unlocking password. So, if you are wondering if there is a universal unlock PIN for Android without losing data, then you are right. Yes, a universal unlock PIN for Android can easily let you access your phone once more without any risk of data loss.
Some people may recommend using "* # * # 7780 # * # *" as the password for your Android reset. Still, we strongly suggest using PassFab Android Unlocker because of its safe, secure, and quick process, which only takes three simple clicks to complete the job.
Part 2: The Easiest Way to Bypass PIN/Pattern Lock in 3 Steps
PassFab Android Unlocker is an expert and simple to-utilize tool that supports rapidly removing entire kinds of screen locks on Android, such as PIN, pattern, face lock, fingerprint, etc.
It allows you to sidestep Google FRP locks. PassFab Android Unlocker works with different Android phones and up to 10.0 variants. You can eliminate any screen lock with a 100% success rate, even on the new Samsung Galaxy S21 Ultra 5G. Or on the other hand, even if your Samsung phone is old with an old OS, PassFab can sidestep locks rapidly and productively. It simplifies the process since you can remove screen locks with a few clicks.
Unlock all sorts of screen locks on new and older Samsung devices without losing any data.
You can reset a locked Android device without a passcode.
Best FRP lock bypass tool on Samsung using Windows.
It can work properly with Android phones such as Google, HUAWEI, Motorola, LG, Oppo, Xiaomi, etc.
Open PassFab Android Unlocker
Launch the program and select the component "Remove Screen Lock". From that point forward, have your Android device and PC connected by a USB link.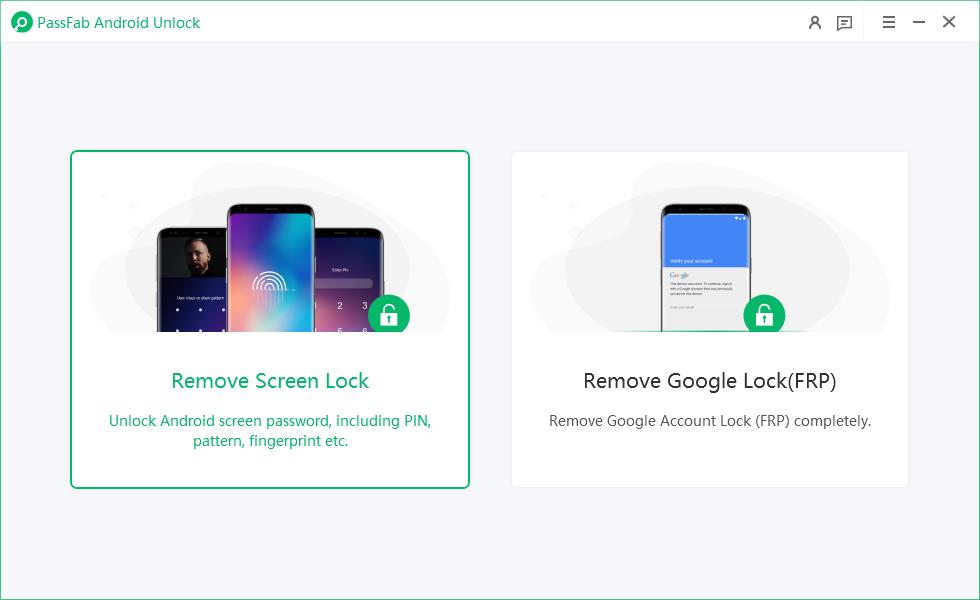 Situation 1: Remove Screen Lock on Most Android Devices
Video guide for universal unlock pin/pattern
Click the "Start" button after the first step for current Android devices.

You will see an update asking to remove the lock screen PIN with complete data loss. If you are sure, click "Yes" to go on.

Wait for a few moments, and the software will remove your Android lock screen. Click "Done" to complete the thing.
Situation 2: Unlock Samsung Devices without Data Loss
Here is video guide for universal unlock pin/pattern without losing data
PassFab Android Unlocker upholds clearing the screen lock without data loss on Windows for some old devices. To start, pick "Remove Screen Lock without Data Loss".

Then, at that point, click "Start" to eliminate the screen lock on the old phone.

Then, select the right device name and model per your phone and affirm your choice.

The tool will download the data package needed, and then you need to click "Next" to proceed.

Put your device into download mode, and tap the "Start" button to eliminate the screen lock.Wait for a while and the screen lock will be removed successfully.
Tips:
You will not face any data loss for older Samsung devices.
There is a chance of data loss for other devices.
Part 3: 3 Useful Way to Bypass Pin/Pattern Lock
Way 1: Use Backup PIN to Unlock Android Password
It is another strategy to unlock Android passcodes without a reset. At the hour of setting a pattern or a password, you could see that you get the choice of setting a security PIN. This PIN is utilized as a Backup PIN when you can't unlock your device.
So here are steps to unlock your device after you've forgotten your password:
Go to Pattern Lock and attempt five wrong tries, and a message will incite on your screen asking you to try after 30 Seconds.
Then, you will get the choice Backup PIN, click on it and proceed.
Presently enter the Backup PIN and tap OK.
Entering the right Backup PIN can unlock your phone in just a second.
Way 2: Use Find My Mobile to Unlock Android Password
If Android Device Manager (ADM) is enabled on your phone before locking, you can get help from this feature to unlock your Samsung phone. It permits you to unlock your phone's passcode remotely, in any event, when your phone is lost. Note that your phone should run on Android 4.4 or more.
Visit Google Find My Device from a browser on your PC or another device and sign in to your Samsung account that is open for sync in your locked phone.

Pick the Unlock option from the choices below.

When it finishes, you will see an affirmation underneath. Click Unlock to confirm.

Finally, all your passwords, patterns, and pins will be removed after the verification.
Way 3: Use Google Account to Unlock Android Password
Google Account has trend-setting innovation to inform clients of malicious and strange activities. All the Android phones are associated with Google. To that end, it can assist you with removing your lock screen passcode. For this reason, there are preconditions that your device should follow to continue.
Your device ought to be running on Android 4.4 or a prior rendition, as this component is presently not accessible for the most recent variants. There are different ways you can pick to reset your Android PIN after you fail to remember it. The steps below will clarify how to unlock an Android phone PIN with a Google account:
Enter some unacceptable pin on your Android cell phone multiple times.

Then go to the "Forgot Password" or "Forgot Pattern" choice.

Presently, decide to unlock your device with the Google account. You will need to add your Google account credentials.

After filling in all the required fields, you will see the option to reset your passcode.
FAQS about the Universal Unlock Pattern for Android without Losing Data
1.How to use the "Forgot Password" feature?
This strategy is the universal pattern example for Android phones. The "Forgot Password" feature is not difficult to utilize, and all the more critically, it works for nearly all Android phones. So beneath are the steps to get help from it:
Attempt five wrong patterns to unlock your device.
Then, click the "Forgot Pattern" option as you see it.
Click the "Enter Google account" option.
When chosen, a window asking for your Google account credentials will appear.
Fill the boxes, and from that point onward, you will get an email with an address to set another password/PIN for your phone.
2.How would I guess a forgotten pattern?
You can get into your locked phone by activating ADM. Follow the straightforward steps beneath to do such:
Search and open the Android Device Manager site from a web browser.
Log in to your Google account and click Lock.
Please enter a short and temporary passcode.
Presently restart your locked phone and enter the code you just entered, and your phone will open.
Summary
Locking your phone is normal and important to avoid outsiders' admittance to your device. Subsequently, failing to remember passwords is likewise a common situation, which pays special attention to a universal unlock pattern for Android without losing data. Indeed, the above are a couple of strategies that will assist you with unlocking your device, but the best and easiest way to get rid of the issue is using PassFab Android Unlocker.