Your iPhone stuck on recovery mode, and you have no idea what to do to fix it? Don't worry. No matter what iOS system problems you have, Tenorshare ReiBoot will be your best choice. Now without any further ado, we will tell you what Tenorshare ReiBoot is and how to use it.
Part 1. What is Tenorshare ReiBoot and ReiBoot Pro?
Most iPhone users should be familiar with Tenorshare ReiBoot as it is the best iOS recovery tools. As the software name indicated, ReiBoot is designed for iOS devices, and it is used to fix iOS system problems and software-related problems. It would be helpful in the following scenarios:
1. iPhone/iPad stuck on Apple logo;
2. iOS device screen won't turn on;
3. iPhone/iPad stuck on recovery mode or DFU mode;
4. iTunes errors liker 4013/4005;
5. iPhone boot loop screen;
6. iPhone fails to connect to computer or Mac via the USB cable;
7. …
Overall, ReiBoot is a one-stop tool that helps you fix most iPhone issues without data loss.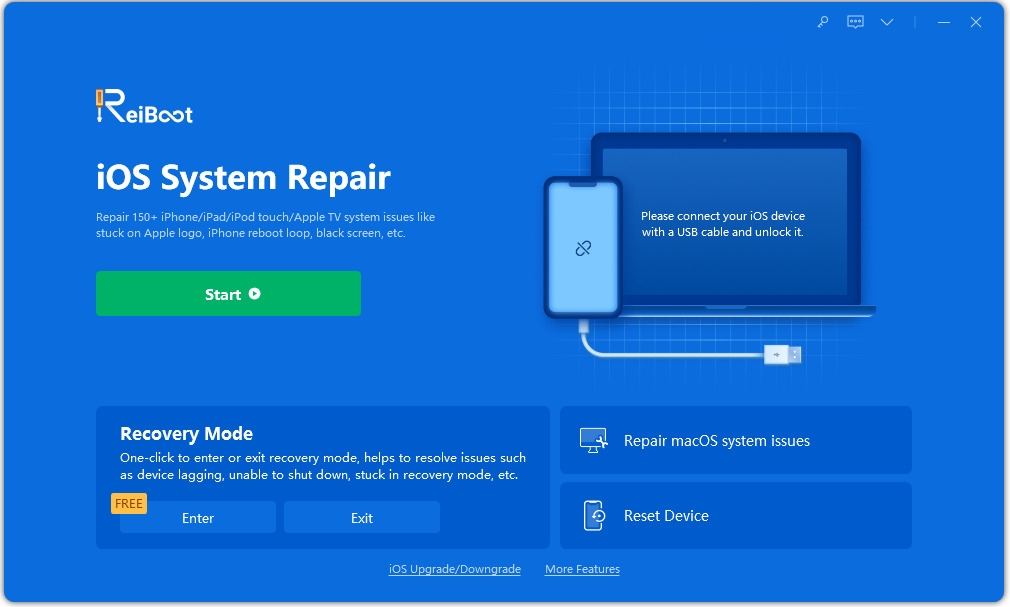 When you have understood what Tenorshare ReiBoot is, you may also want to know what ReiBoot Pro is. ReiBoot Pro is the Pro version of the Tenorshare ReiBoot. ReiBoot has a free version and Pro version, while the ReiBoot Pro requires purchasing to enjoy all the features.
Part 2. Is Tenorshare ReiBoot Safe?
Before trying Tenorshare ReiBoot, many users would ask: Is Tenorshare ReiBoot safe? Tenorshare ReiBoot is definitely safe to download and use as it doesn't include any ads or malware in the program, so you don't have to worry about the safety issue at all when you are using the software. And the developer team has valued the user privacy very much, so there is no disclose or reports about the data leaking with Tenorshare ReiBoot.
Part 3. Is Tenorshare ReiBoot Free? Does ReiBoot Cost Money?
Is Tenorshare ReiBoot free? If you are having the same question, then the answer is: partly. Tenorshare ReiBoot has the free version and also the pro version. So the free version allows you to enter and exit the recovery mode in iPhone with only one click! However, if you would like to have more from the software, such as fixing stuck screen or factory reset, you will need to buy the ReiBoot Pro version.
Version
Price
Features
ReiBoot Free
Free
Enter/Exit Recovery Mode
ReiBoot Pro
$29.95/Month
1. Enter/Exit Recovery Mode
2. Factory reset iPhone without iTunes
3. Fix iPhone stuck issues like Apple logo/recovery mode/DFU mode
4. Fix iPhone black/frozen screen
Part 4. Does ReiBoot Delete Data?
You may have seen many iPhone users complained that the device lost data after repairing using the recovery tool, and so you will want to know if it is the same with Tenorshare ReiBoot. Most software couldn't guarantee no data loss while using their program to resolve the system issues, as it is risky somehow.
As a matter of fact, ReiBoot does NOT delete data in most cases, so if you are using ReiBoot to resolve problems like downgrading iOS, repairing iTunes backup and restore errors, or Apple TV stuck issues, you are assured that it won't cause data loss. However, if your iPhone is damaged seriously and needs a deep repair, ReiBoot will erase all the data in your device.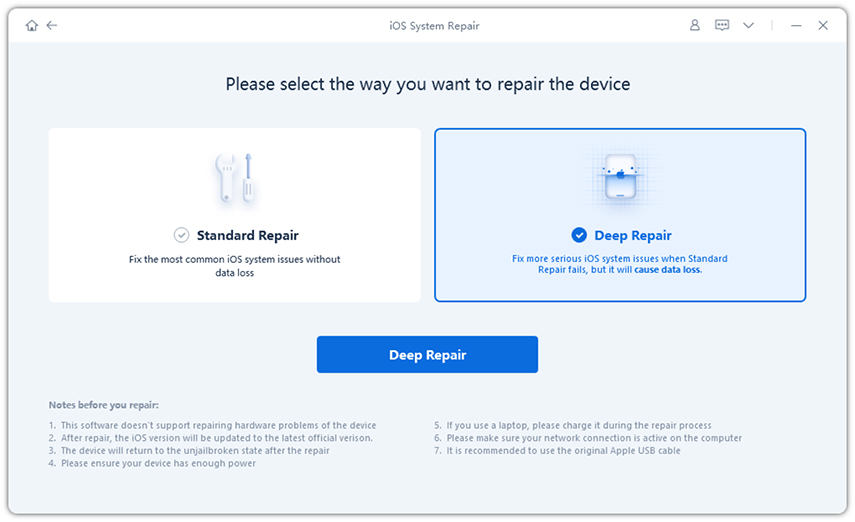 Part 5. Key Features of Tenorshare ReiBoot
Since you know what Tenorshare ReiBoot is and what is it used for, then it is time to dive into the key features of Tenorshare ReiBoot:
1. One click to enter or exit recovery mode on iPhone/iPad
2. ReiBoot can resolve iTunes errors such as 4013
3. ReiBoot can fix iOS system problems easily, including iPhone loading screen or black screen
4. ReiBoot allows you to downgrade iOS system on iPhone/iPad
5. You can factory reset without iTunes using ReiBoot
6. …
All in all, ReiBoot can fix almost all the software-related problems or iOS system issues in iPhone/iPad, and it delivers much more functions that have been described here in this article. So if you would like to know more, try to download the app and explore it by yourself. It won't let you down.
Part 6. How Do You Use ReiBoot on iPhone?
If there is something wrong with your iPhone and you are just about to try Tenorshare ReiBoot, you can follow these steps to use ReiBoot and fix your iPhone issue:
Step 1. Download and install Tenorshare ReiBoot on your computer (it is available for Windows and Mac).
Step 2. Launch the program in your computer, then connect your iPhone with your computer via a USB cable.
Step 3. Click Repair Operating System to fix your current issue.
Step 4. There you can see a home screen with a Fix Now button. Click it.
Step 5. Then the guide to enter the recovery mode will show up, you should follow the guide to make sure your iPhone gets into recovery mode.
Step 6. Once in recovery mode, you will be directed to start downloading the firmware, then click Download button on the program. The firmware package is large size, so wait patiently.
Step 7. After downloading, click Repair Now and the program will start repairing your iPhone. All you need to do is to wait.
Step 8. Once done, click Done. And you are good to go.
Now you can restart your iPhone and check if your problem has been fixed. Good luck!
Final Words
Here we go. This article fully reviews Tenorshare ReiBoot in different aspects - one of the best iOS recovery tools, answering questions like: what ReiBoot is, is ReiBoot safe, is ReiBoot free, how to use ReiBoot, etc. Last but not least, if your iPhone or iPad stuck on the lock screen as you don't remember the password, PassFab iPhone Unlocker is your best pick as it can remove the lock screen quickly.